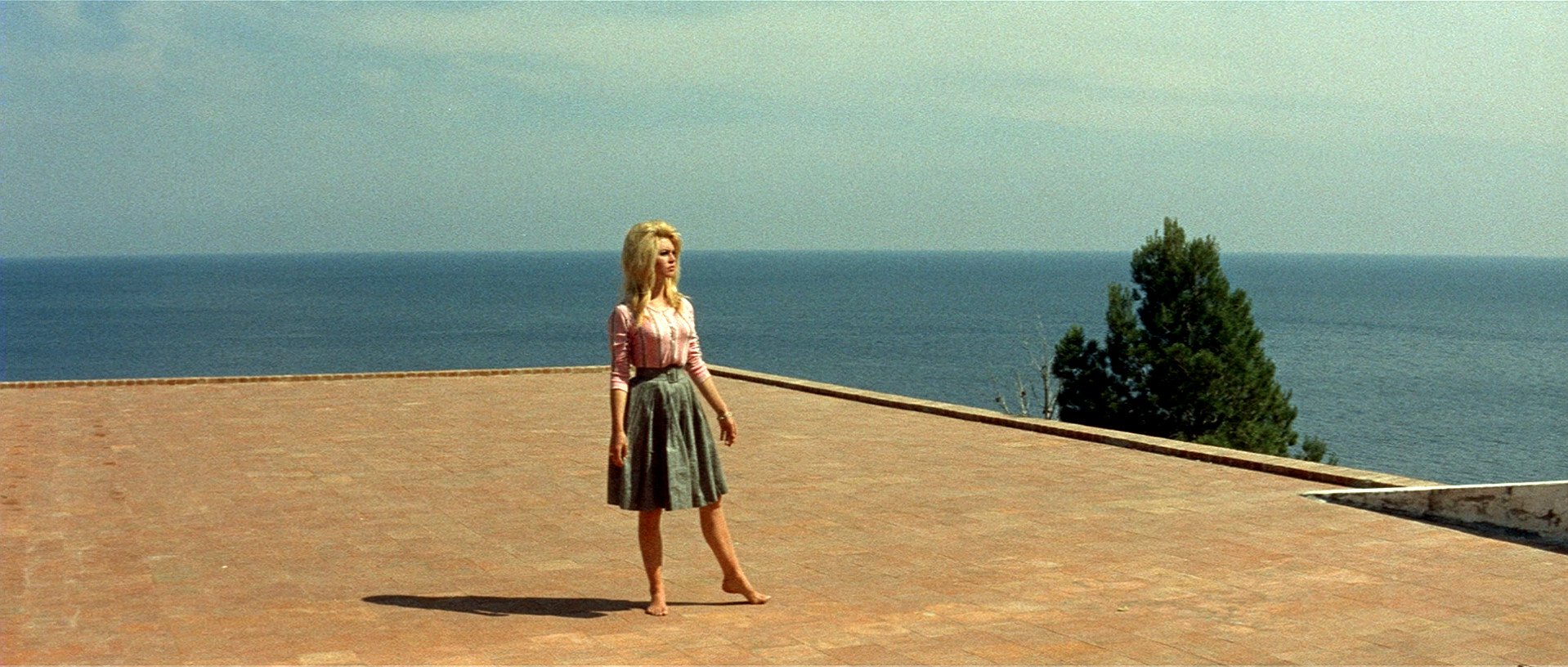 Le Mépris (Original languages with English subtitles)
Location
Main screening room
Cycle
Jean-Luc Godard, premières manières
In 1960, Jean-Luc Godard directed his first feature film and joined the nascent French New Wave, of which he would become the emblematic figure. In the following years, he shot nearly two films a year, drawing on his rich cinephilia to revolutionize cinema in his own way. Even the works that would later become his most famous and acclaimed were then received as a small earthquake, disconcerting more than one critic. From 1960 to 1965, from Breathless to Pierrot le fou, this first period will be called "the Karina years" but it is not a homogeneous whole; in fact, it already shows what will always characterize Godard: constantly reinventing himself, with as much playfullness as intelligence, refusing to freeze the cinema in any way whatsoever.
Contempt
Directed by
Jean-Luc Godard
Language
French, English, German, Italian with English subtitles
Actors
Brigitte Bardot, Michel Piccoli, Jack Palance, Fritz Lang
Synopsis
The screenwriter Paul Javal and his wife Camille leave for Italy to join the filmmaker Fritz Lang and his American producer, who are shooting an adaptation of the Odyssey at the Villa Malaparte on the island of Capri. In the midst of the tumult of the production, something breaks down between Paul and Camille. Based on the novel by Alberto Moravia.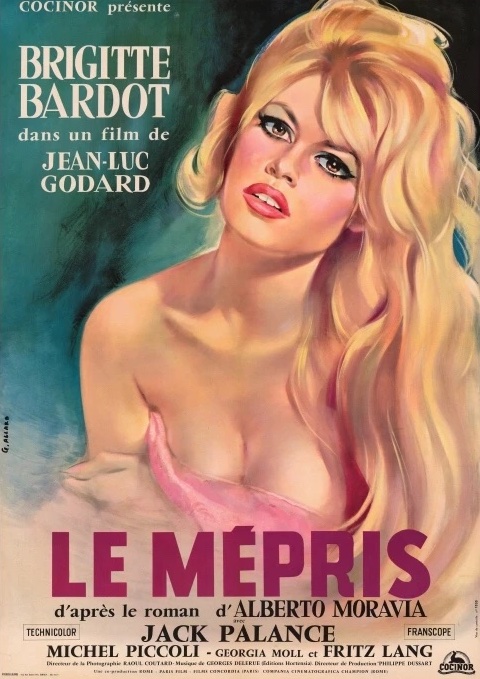 Jean-Luc Godard
Born in Paris in 1930, Jean-Luc Godard grew up on the shores of Lake Geneva, and his first passion was painting. After the Second World War, which he spent in Switzerland, his family sent him to study in Paris, but Godard mainly attended film clubs and the Cinémathèque française. At the beginning of the 1950s, he attended the Ciné-club du Quartier Latin (Cinema club of the Latin Quarter) where he met Maurice Schérer (soon to be Eric Rohmer), François Truffaut, Claude Chabrol and Jacques Rivette, among others, with whom he took his first steps as a critic and embarked on the adventure of the Cahiers du cinéma. After directing a few short films, he moved on to feature films in the wake of François Truffaut by directing A bout de souffle in 1960, which contributed to the launch of the French New Wave. He will not stop shooting until the 2010s, constituting over the decades an exploratory work that has always pushed the boundaries of cinema.
Photo: ©Bertrand Carrière | Collections de la Cinémathèque québécoise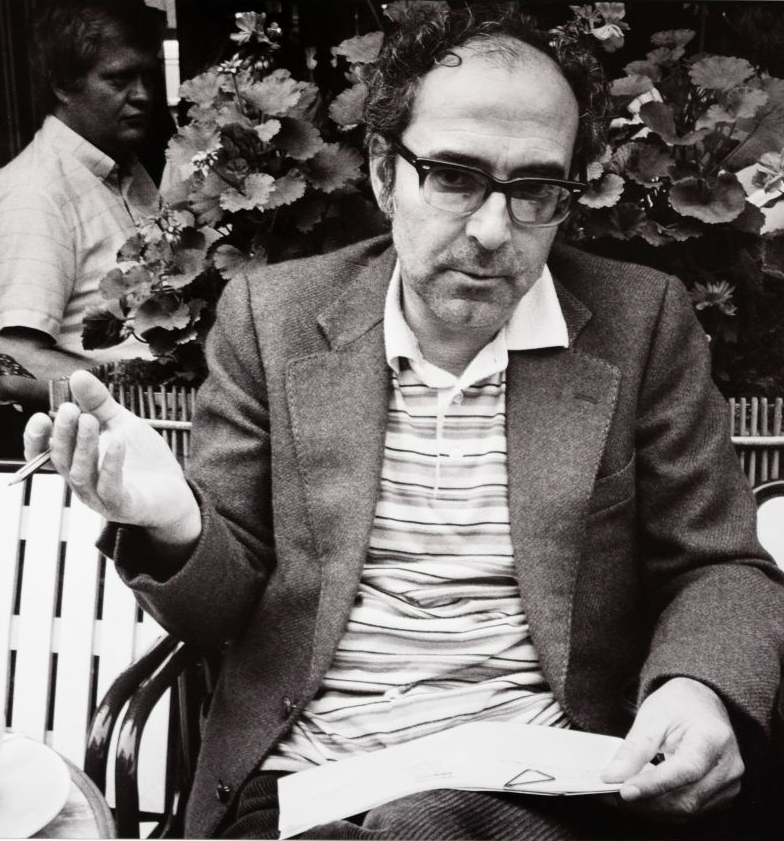 About Jean-Luc Godard
1958 : Une histoire d'eau (coréalisé avec François Truffaut)

1960 : À bout de souffle

1960 : Le Petit Soldat

1961 : Une femme est une femme

1962 : Vivre sa vie. Film en douze tableaux

1963 : Les Carabiniers

1963 : Le Mépris

1964 : Bande à part

1964 : Une femme mariée. Fragments d'un film tourné en 1964

1965 : Alphaville, une étrange aventure de Lemmy Caution

1965 : Pierrot le Fou

1966 : Masculin féminin

1966 : Made in USA

1966 : Deux ou trois choses que je sais d'elle

1967 : La Chinoise

1967 : Week-end

1967 : Camera Eye, séquence du film documentaire Loin du Vietnam de Chris Marker.

1968 : Le Gai Savoir

1968 : Cinétract (numéros 7, 8, 9, 10, 12, 13, 14, 15, 16, 23, 40)

1968 : Un film comme les autres (revendiqué a posteriori par le Groupe Dziga Vertov)

1968 : One American Movie (abandonné par le Groupe Dziga Vertov, puis terminé par Richard Leacock et D.A. Pennebaker en 1971 sous le titre One P.M.)

1968 : One Plus One (distribué dans une version modifiée par le producteur sous le titre Sympathy for the Devil)

1969 : British Sounds (signé a posteriori par le Groupe Dziga Vertov)

1969 : Pravda (signé a posteriori par le Groupe Dziga Vertov)

1969 : Vent d'est (signé par le Groupe Dziga Vertov)

1970 : Luttes en Italie (Lotte in Italia) (signé par le Groupe Dziga Vertov)

1970 : Vladimir et Rosa (signé par le Groupe Dziga Vertov)

1972 : Tout va bien (coréalisé avec Jean-Pierre Gorin)

1972 : Letter to Jane (coréalisé avec Jean-Pierre Gorin)

1974 : Ici et ailleurs (coréalisé avec Anne-Marie Miéville)

1975 : Numéro deux (coréalisé avec Anne-Marie Miéville)

1976 : Comment ça va (coréalisé avec Anne-Marie Miéville)

1976 : Six fois deux (Sur et sous la communication) (coréalisé avec Anne-Marie Miéville)

1977 : Quand la gauche aura le pouvoir

1979 : France tour détour deux enfants (coréalisé avec Anne-Marie Miéville)

1979 : Sauve qui peut (la vie)

1982 : Passion

1983 : Prénom Carmen

1985 : Je vous salue, Marie

1985 : Détective

1985 : Soft and Hard. Soft Talk On a Hard Subject Between Two Friends (coréalisé avec Anne-Marie Miéville)

1985 : Grandeur et décadence d'un petit commerce de cinéma révélées par la recherche des acteurs dans un film de télévision publique d'après un vieux roman de J.H. Chase (alias Chantons en chœur – titre de la sortie VHS)

1986 : Meetin' WA (en)

1987 : Soigne ta droite. Une place sur la Terre

1987 : Armide

1987 : King Lear

1987 : On s'est tous défilés

1988 : Puissance de la parole

1988 : Histoire(s) du cinéma

1990 : Nouvelle vague

1991 : Allemagne année 90 neuf zéro. Solitudes, un état et des variations

1991 : Ecrire contre l'oubli – Pour Thomas Wainggai

1993 : Hélas pour moi

1993 : Les enfants jouent à la Russie

1993 : Je vous salue, Sarajevo

1995 : JLG/JLG. Autoportrait de décembre

1995 : Deux fois cinquante ans de cinéma français (coréalisé avec Anne-Marie Miéville)

1996 : Espoir/Microcosmos

1996 : Le Monde comme il ne va pas

1996 : For Ever Mozart

1996 : Adieu au TNS

1996 : Clip vidéo Plus Oh! de France Gall

1998 : Histoire(s) du cinéma

1998 : The Old Place. Small Notes Regarding the Arts at Fall of 20th Century (coréalisé avec Anne-Marie Miéville)

2000 : L'Origine du XXIe siècle

2001 : Éloge de l'amour

2002 : Dans le noir du temps (épisode du film Ten Minutes Older : The Cello)

2002 : Liberté et patrie (coréalisé avec Anne-Marie Miéville)

2004 : Notre musique

2004 : Moments choisis des Histoire(s) du cinéma

2006 : Vrai faux passeport. Fiction documentaire sur des occasions de porter un jugement à propos de la façon de faire des films

2006 : Ecce homo

2006 : Une bonne à tout faire (nouvelle version)

2010 : Film Socialisme

2014 : 3x3D, coréalisé avec Peter Greenaway et Edgar Pêra

2014 : Adieu au langage

2014 : Les Ponts de Sarajevo

2015 : Remerciements de Jean-Luc Godard à son Prix d'honneur du cinéma suisse

2018 : Le Livre d'image

2018 : Bande-annonce de la 22ème édition du Festival international du film documentaire de Jihlava
Jean-Luc Godard en 9 minutes - Blow Up - ARTE
Jean-Luc Godard "Le possible n'est pas impossible" chez Thierry Ardisson | INA Arditube
Le réalisateur Jean-Luc Godard est mort - 28 minutes - ARTE