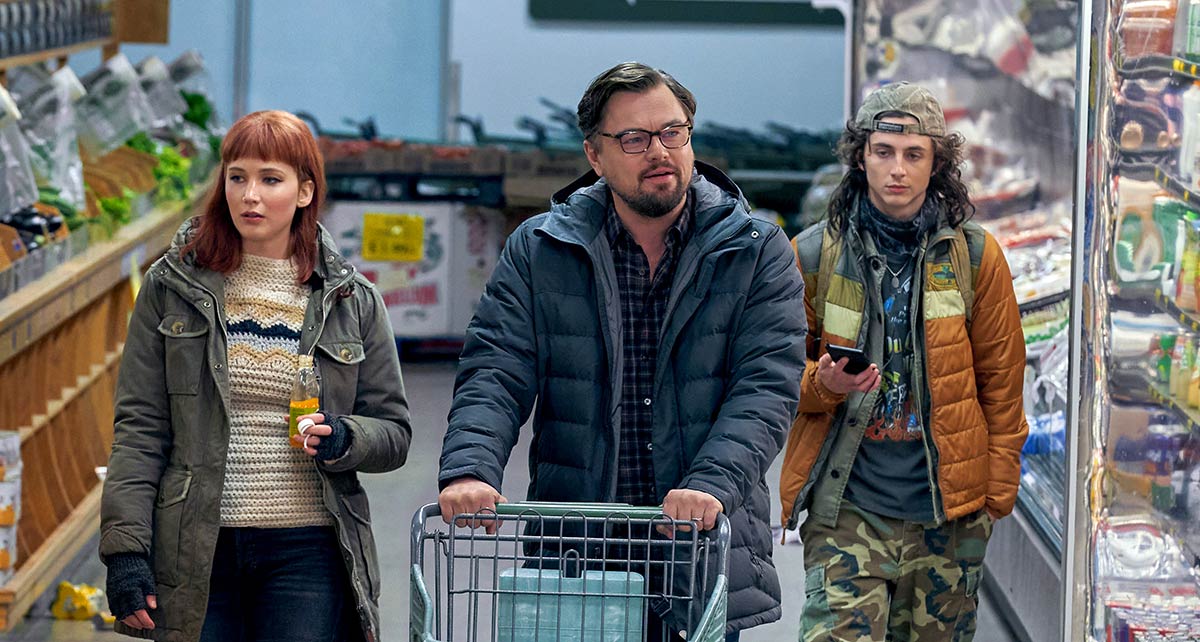 Wednesday
, February 9th, 2022
at 19:30
Wednesday
, February 9th, 2022
at 19:30
Location
Fernand-Seguin screening room
Cycle
The mission of the Centre d'art et d'essai de la Cinémathèque québécoise (CAECQ) is to primary program Quebec-made documentaries and independent fiction, as well as international documentaries, animated and foreign films, while encouraging opportunities for meetings between the public and the artists. Its programming is presented in conjunction with the Cinémathèque québécoise's under the label Nouveauté.
Don't Look Up
Actors
Timothée Chalamet, Leonardo DiCaprio, Jennifer Lawrence, Jonah Hill, Meryl Streep
Synopsis
Two low-level astronomers must go on a giant media tour to warn mankind of an approaching comet that will destroy planet Earth. (Wikipedia)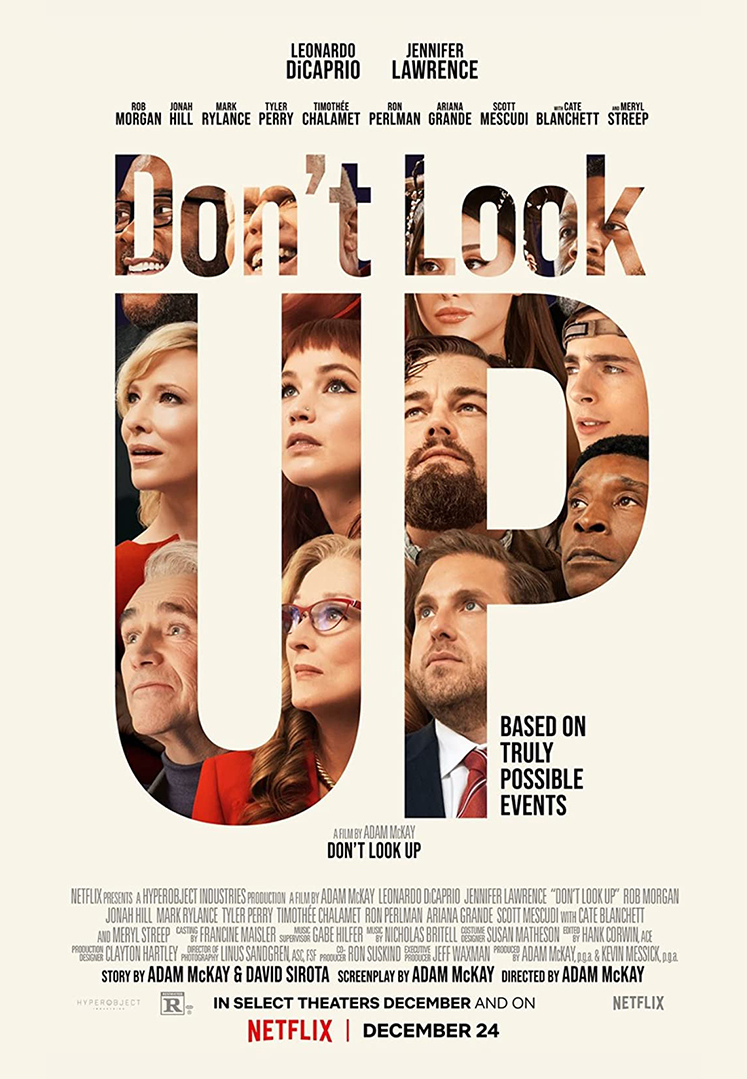 Adam McKay
Adam McKay is an American film and television director, producer, screenwriter, and comedian. McKay began his career in the 1990s as a head writer for the NBC sketch comedy show Saturday Night Live for two seasons and is the co-founder of the Upright Citizens Brigade. He rose to fame in the 2000s for his collaborations with comedian Will Ferrell and co-wrote his comedy films Anchorman, Talladega Nights, and The Other Guys. Ferrell and McKay later co-wrote and co-produced numerous television series and films, and produced their comedy website Funny or Die through their company Gary Sanchez Productions.
(Wikipedia)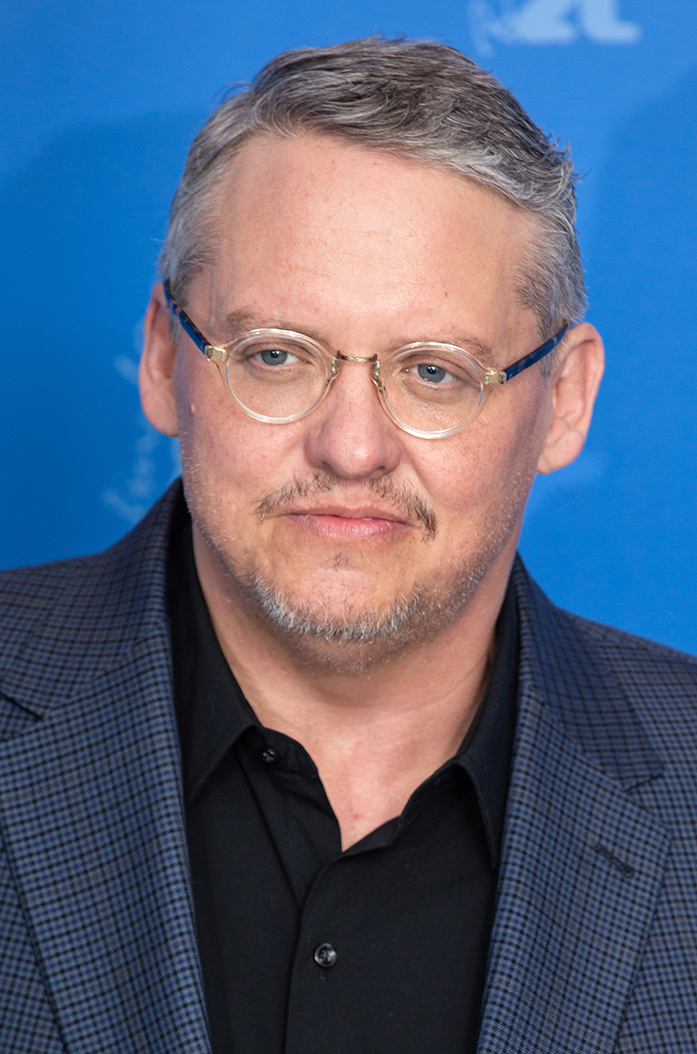 About Don't Look Up
Leonardo DiCaprio as Dr. Randall Mindy, a low-level astronomer

Jennifer Lawrence as Dr Kate Dibiasky, a low-level astronomer

Rob Morgan as Dr. Clayton "Teddy" Oglethorpe, a scientist who aids Dibiasky and Mindy on their quest

Jonah Hill as Jason Orlean, President Orlean's son and Chief of Staff

Mark Rylance as Peter Isherwell

Tyler Perry as Jack Bremmer

Timothée Chalamet as Yule

Ron Perlman as Colonel Ben Drask

Ariana Grande as Riley Bina, a pop star.

Scott Mescudi as DJ Chello

Cate Blanchett as Brie Evantee

Meryl Streep as President Janie Orlean

Himesh Patel as Phillip

Matthew Perry

Chris Evans

Tomer Sisley as Adul Grelio

Melanie Lynskey as June Mindy

Gina Gershon

Michael Chiklis as Dan Pawketty

Paul Guilfoyle as General Themes
À propos d'Adam McKay
2004 : Anchorman: The Legend of Ron Burgundy

2004 : Wake Up, Ron Burgundy: The Lost Movie

2006 : Talladega Nights: The Ballad of Ricky Bobby

2008 : Step Brothers

2010 : The Other Guys

2013 : Anchorman 2: The Legend Continues

2015 : The Big Short

2018 : Vice

2021 : Don't Look Up