Location
Fernand-Seguin screening room
Cycle
Le Centre d'art et d'essai de la Cinémathèque québécoise (CAECQ) a pour mission de programmer prioritairement des documentaires et des fictions indépendantes québécoises, mais également des documentaires internationaux, des films d'animation et des films étrangers sous-titrés en français en privilégiant les occasions de rencontres entre le public et les artisans des films. Sa programmation est présentée conjointement à celle de la Cinémathèque québécoise sous la mention Nouveauté.
Mandibules
Directed by
Quentin Dupieux
Actors
David Marsais, Grégoire Ludig, Adèle Exarchopoulos
Synopsis
Two hapless losers discover a giant fly in the trunk of a stolen car and decide to domesticate it in a bizarre get-rich-quick scheme.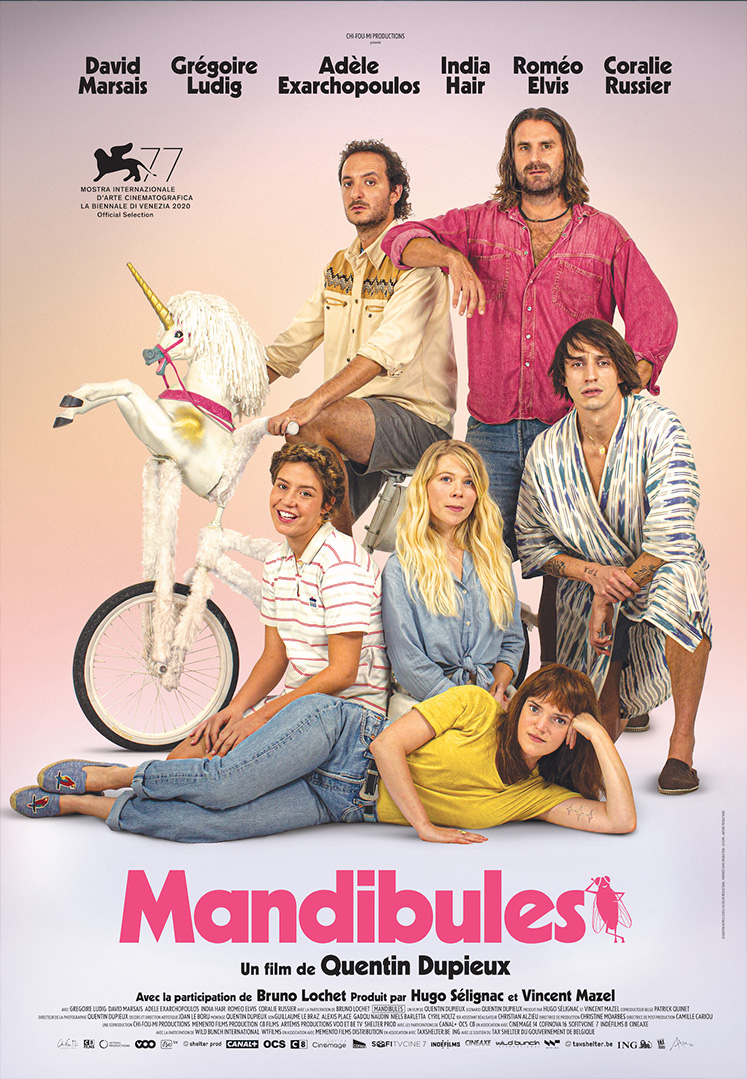 Sitges - Catalonian International Film Festival - 2020
Best Actor - Grégoire Ludig, David Marsais
Quentin Dupieux
Quentin Dupieux born April 15, 1974, is a French filmmaker, electronic musician and DJ. Dupieux uses his full name for his filmmaking career, Mr. Oizo being only used for his musical career. Dupieux directed films such as Rubber (2010), Wrong (2012), Wrong Cops (2013) and Reality (2014), shot in the United States and began making films in France in 2018. Since then, he has released Keep an Eye Out! (2018), Deerskin (2019) and Mandibles (2020) which have been entirely filmed and produced in France. Moviefit.
Deux idiots et une mouche ★★★
En Europe, le réalisateur Quentin Dupieux (Steak, Rubber, Le daim) passe pour un ovni dans le paysage cinématographique français. Sans avoir vu ses précédents films, à n'en juger que par son plus récent opus, Mandibules, ce réalisateur a un style hors du commun, avec un humour décalé doublé d'une vision fraternelle de ses contemporains...
About Mandibules
Grégoire Ludig : Manu

David Marsais : Jean-Gab

Adèle Exarchopoulos : Agnès

India Hair : Cécile

Roméo Elvis : Serge

Coralie Russier : Sandrine

Bruno Lochet : Gilles

Raphaël Quenard : Raimondo

Gaspard Augé : Security guard

Thomas Blanchard : Policeman

Philippe Dusseau : Michel Michel

Olivier Blanc : Majordome

Jean-Paul Solal : Maître Wolf

Jézabel Marques : Madame Wolf

Marie Narbonne : Daughter Wolf

Pablo Beugnet : Son Wolf

Marius Colucci : Policeman

Dave Chapman : The Fly
Director's notes (en français)
About Quentin Dupieux
2019 - LE DAIM

2018 - AU POSTE !

2014 - RÉALITÉ

2013 - WRONG COPS

2012 - WRONG

2010 - RUBBER

2007 - STEAK