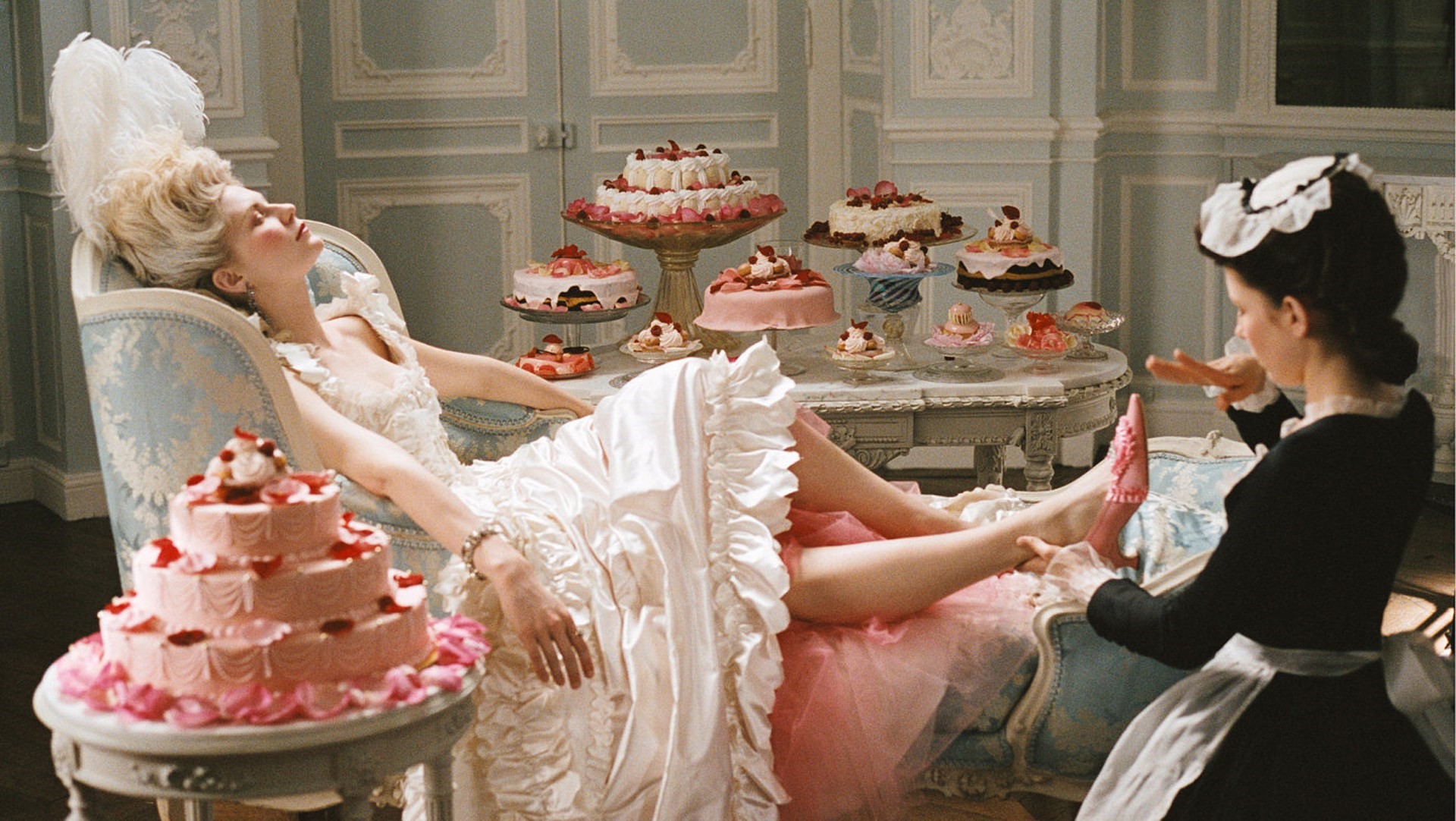 Location
Main screening room
Cycle
À l'occasion de la publication du 200e numéro de la revue de cinéma 24 images, nous accueillons leurs auteurs pour une série de projections doubles qui promettent de nourrir adéquatement le cinéphile avide ! Au menu : Wong Kar-wai, Yasujirō Ozu, Tsai Ming Liang, Sofia Coppola… Chaque projection sera présentée par l'un des auteurs de la revue.
Marie-Antoinette
Actors
Kirsten Dunst, Jason Schwartzman, Judy Davis, Steve Coogan
Synopsis
Fourteen-year-old Maria Antonia is the beautiful, charming, and naïve Archduchess of Austria, youngest of Empress Maria-Theresa's daughters. In 1770, the only one left unmarried among her sisters, she is sent by her mother to marry the Dauphin of France, the future king Louis XVI, to seal an alliance between the two rival countries. Marie-Antoinette travels to France, relinquishing all connections with her home country, including her pet pug "Mops", and meets King Louis XV of France and her future husband, Louis-Auguste. The betrothed young couple arrive at the Palace of Versailles, which was built by the Sun King, Louis XIV. They are married at once and are encouraged to produce an heir to the throne as soon as possible, but the next day it is reported to the king that "nothing happened" on the wedding night.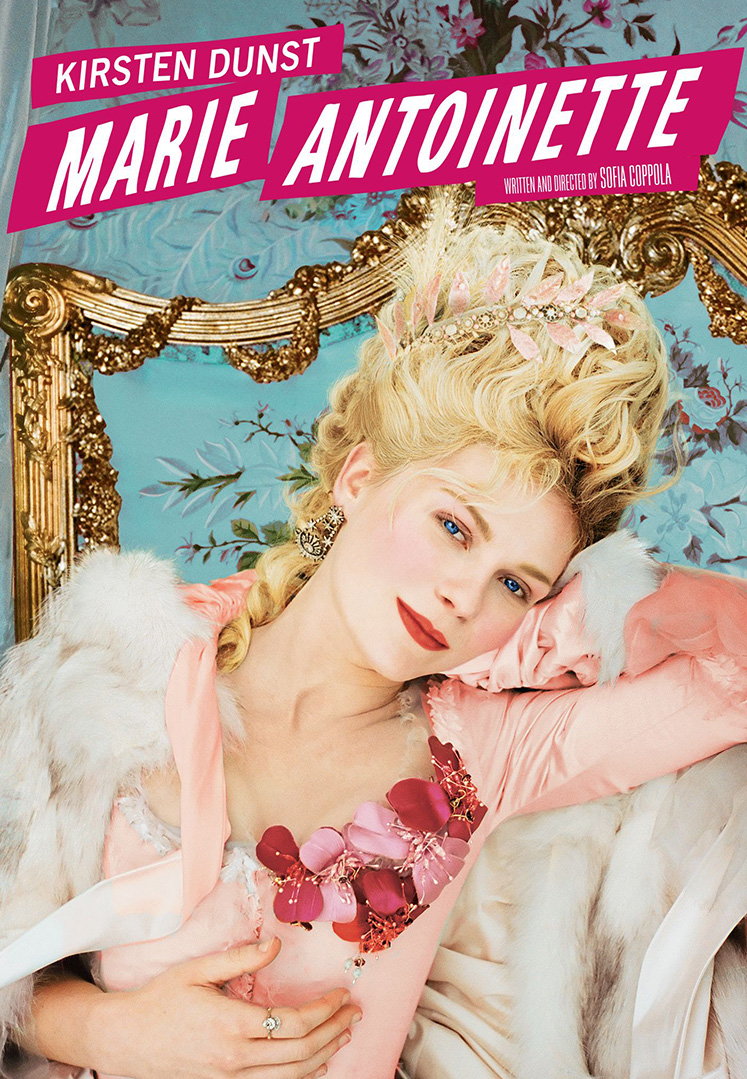 Cannes Film Festival 2006
Cinema Prize of the French National Education System
Las Vegas Film Critics Society Awards 2006
Best Art Direction

Best Costume Design
Washington DC Area Film Critics Association Awards 2006
Phoenix Film Critics Society Awards 2006
Best Production Design

Best Costume Design
Academy Awards, USA 2007
Oscar - Best Achievement in Costume Design : Milena Canonero
Sofia Coppola
Sofia Coppola, born May 14, 1971 in New York City, is an American director, actress, producer and screenwriter. Sofia Coppola became known as a director, her first three films being Lick The Star (1998), Virgin Suicides (1999) and Lost in Translation (2003). The film world is in unison: Lost in Translation wins the Oscar for Best Original Screenplay and three Golden Globes including Best Cinematography. Sofia Coppola became the third woman to be nominated for an Oscar as best director.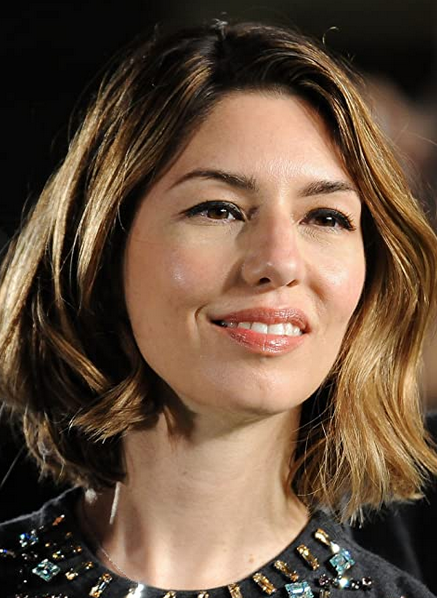 Sit down interview with Sofia Coppola on Marie-Antoinette
About Marie-Antoinette
Kirsten Dunst : Marie Antoinette

Jason Schwartzman : Louis XVI

Steve Coogan : Ambassador Mercy

Judy Davis : Comtesse de Noailles

Clara Brajtman : Austrian Girlfriend #1 (as Clara Brajman)

Rip Torn : Louis XV

Mélodie Berenfeld : Austrian Girlfriend #2

Asia Argento : Comtesse du Barry

Molly Shannon : Aunt Victoire

Sebastian Armesto : Comte Louis de Provence

Shirley Henderson : Aunt Sophie

Al Weaver : Comte Charles d'Artois

Marianne Faithfull : Empress Maria Theresa

Jean-Christophe Bouvet : Duc de Choiseul

Io Bottoms : Lady in Waiting

Aurore Clément : Duchesse de Char

Céline Sallette : Lady in Waiting

André Oumansky : Cardinal de la Roche Aymon

Guillaume Gallienne : Vergennes

Jean-Paul Scarpitta : Baron Scarpitta

Lucien Rolland : Archbishop (as René Lucien Rolland)

Mary Nighy : Princesse Lamballe

Clémentine Poidatz : Comtesse de Provence

Camille Micelli : Grand Chambellan

Paul Fortune : Duc Fortune

Natasha Fraser-Cavassoni : Comtesse de Cavazzoni

Alexia Landeau : Comtesse de la Londe

Joe Sheridan : Catty Courtier

Katrine Boorman : The English Duchess

Sarah Adler : Comtesse d'Artois

Jean-Marc Stehlé : Doctor Lassonne

Rose Byrne : Duchesse de Polignac

Paul Jasmin : Baron Jasmin

Francis Leplay : Doctor Delivery Provence

James Lance : Léonard

Mathieu Amalric : Man at Masked Ball

Jamie Dornan : Count Axel Fersen
About Sofia Coppola
1999 : Virgin Suicides (The Virgin suicides)

2003 : Lost in Translation

2006 : Marie-Antoinette

2010 : Somewhere

2013 : The Bling Ring

2017 : Les Proies (The Beguiled)

2020 : On the Rocks
October 24th - 26th, 2021
There Are No False Undertakings