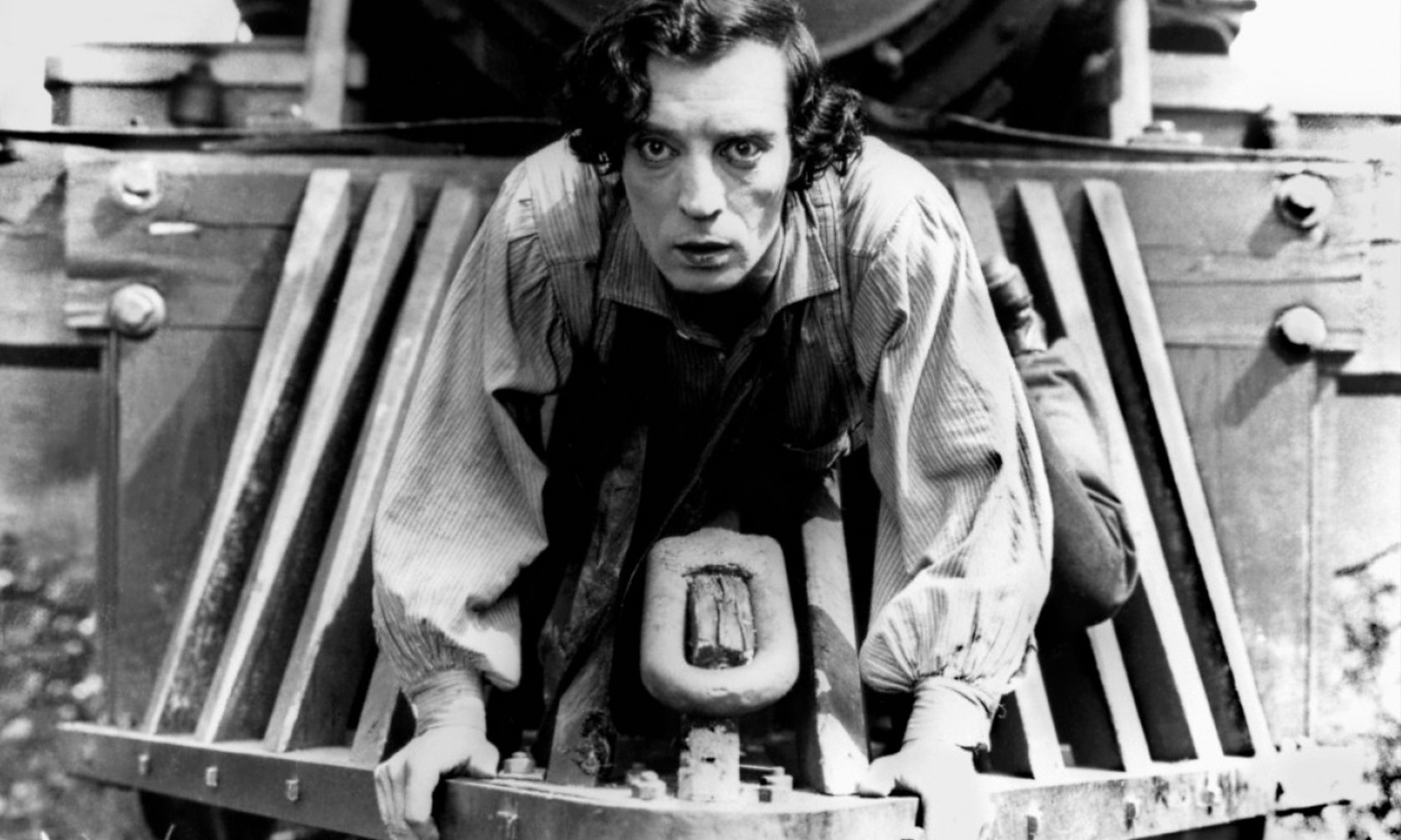 The General (Silent, English intertitles)
Location
Main screening room
Cycle
Making lists is an activity moviegoers are fond of. Every year, the same ritual: compilation of the ten best films, with comparative analyses, debates, heated discussions. But what about the ultimate list of the most outstanding films in the history of cinema? That is to say, those films that must be seen, those that have forever transformed the art of cinema, but also our way of seeing a culture, of understanding the world as well as our own lives? This program aims to tackle this challenge with nearly eighty films, produced between 1916 and 1960, while waiting for your lists!
The General
Directed by
Clyde Bruckman, Buster Keaton
Language
Silent, English Intertitles
Actors
Buster Keaton, Marion Mack, Glen Cavender
Genre
Adventure, comedy, silent
Synopsis
The railroad worker Johnnie shares his life between his fiancée Annabelle and his locomotive, the "General". The Civil War breaks out but he fails to enlist in the army. To prove that he is not a coward, he sets out alone in pursuit of Northern spies who have kidnapped Annabelle and the General.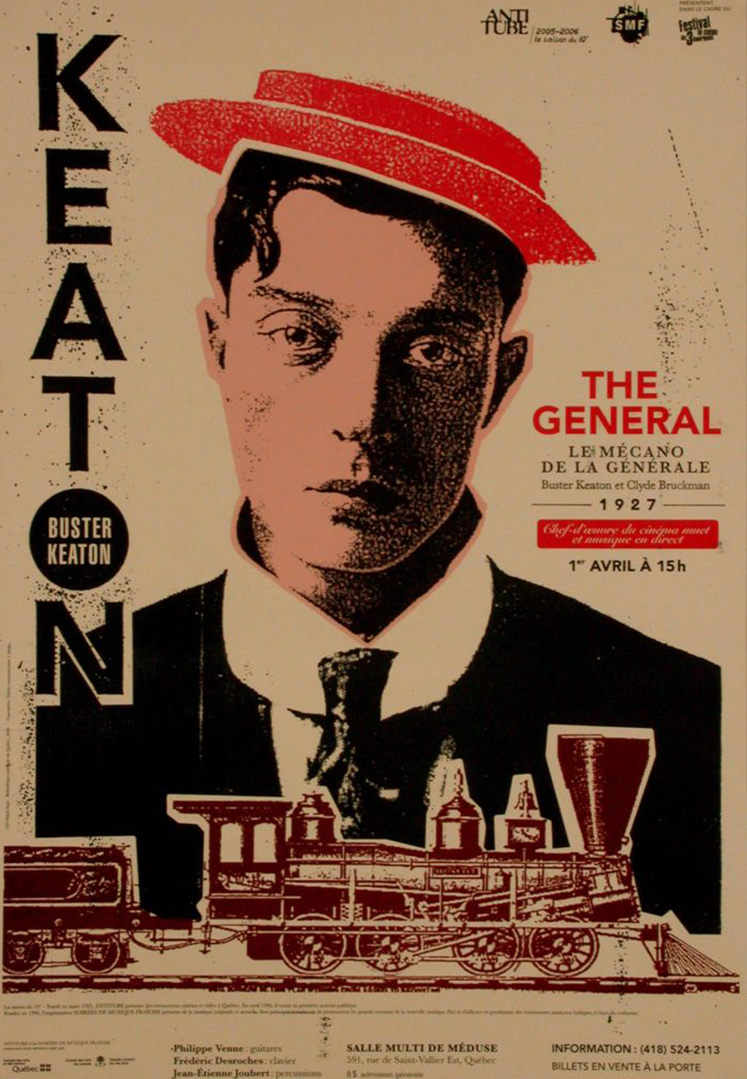 Buster Keaton
Joseph Frank Keaton known professionally as Buster Keaton, was an American actor, comedian, film director, producer, screenwriter, and stunt performer. He is best known for his silent films, in which his trademark was physical comedy with a consistently stoic, deadpan expression that earned him the nickname The Great Stone Face. In 1999 the American Film Institute ranked him as the 21st-greatest male star of classic Hollywood cinema. (Wikipedia)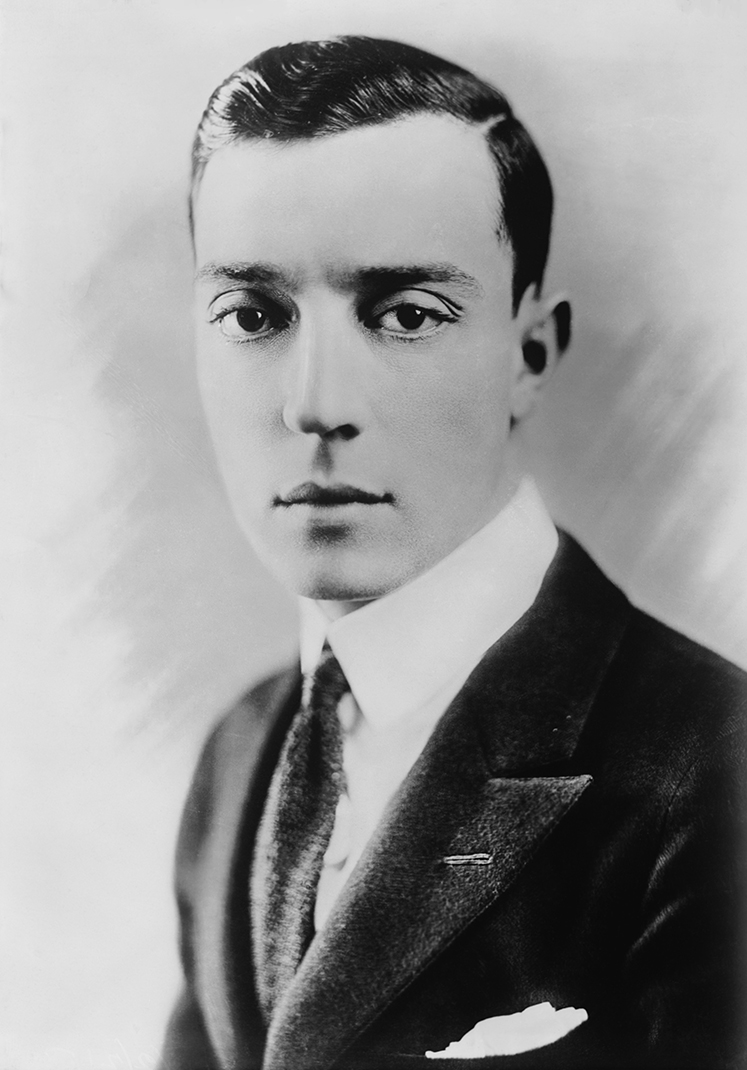 About The General
Buster Keaton as Johnnie Gray

Marion Mack as Annabelle Lee

Glen Cavender as Union Captain Anderson

Jim Farley as General Thatcher

Frederick Vroom as a Confederate general

Charles Smith as Annabelle's father

Frank Barnes as Annabelle's brother

Joe Keaton as a Union general

Mike Donlin as a Union general

Tom Nawn as a Union general
About Buster Keaton
1920 : Ce crétin de Malec (The Saphead), de Herbert Blaché

1923 : Les Trois Âges (The Three Ages) (également co-réalisateur)

1923 : Les Lois de l'hospitalité (Our Hospitality) (également co-réalisateur)

1924 : Sherlock Junior (Sherlock, Jr.) (également co-réalisateur)

1924 : La Croisière du Navigator (The Navigator) (également co-réalisateur)

1925 : Les Fiancées en folie (Seven Chances) (également co-réalisateur)

1925 : Ma vache et moi (Go West) (également co-réalisateur)

1926 : Le Dernier Round (Battling Butler) (également co-réalisateur)

1926 : Le Mécano de la « General » (The General) (également co-réalisateur)

1927 : Sportif par amour (College) (également co-réalisateur)

1927 : Carter DeHaven in Character Studies : lui-même

1928 : Cadet d'eau douce (Steamboat Bill Jr.) (également co-réalisateur)

1928 : L'Opérateur (The Cameraman) (également co-réalisateur)

1929 : Le Figurant (Spite Marriage) (également co-réalisateur)

1929 : Hollywood chante et danse (The Hollywood Revue of 1929)

1930 : Le Metteur en scène (Free and Easy)

1930 : Estrellados

1930 : Buster s'en va-t-en guerre (Doughboys)

1931 : Wir schalten um auf Hollywood de Frank Reicher

1931 : Buster se marie (Parlor, Bedroom and Bath)

1931 : Buster se marie de Edward Brophy et Claude Autant-Lara

1931 : Buster millionnaire (Sidewalks of New York)

1931 : Le Plombier amoureux (The Passionate Plumber)

1932 : Le Professeur (Speak Easily)

1933 : Le Roi de la bière (What! No Beer?)

1934 : Le Roi des Champs-Élysées (tourné en France)

1935 : Un baiser SVP (The Invader) (tourné en Grande-Bretagne)

1939 : Hollywood Cavalcade d'Irving Cummings

1940 : The Villain Still Pursued Her

1940 : Li'l Abner

1943 : Et la vie recommence (Forever and a Day)

1944 : San Diego I Love You

1945 : L'esprit fait du swing (That's the Spirit)

1945 : That Night with You

1946 : God's Country

1946 : Ève éternelle (Easy to Wed)

1946 : Pan dans la lune (El Moderno Barba Azul)

1949 : Le Faiseur (The Loveable Cheat) de Richard Oswald, d'après Le Faiseur de Balzac.

1949 : You're My Everything

1949 : Amour poste restante (In the Good Old Summertime) de Robert Z. Leonard

1950 : Boulevard du crépuscule (Sunset Boulevard)

1952 : Les Feux de la rampe (Limelight)

1953 : Pattes de velours (L'incantevole nemica)

1956 : Le Tour du monde en quatre-vingts jours (Around the World in Eighty Days) de Michael Anderson

1960 : Les Aventuriers du fleuve (The Adventures of Huckleberry Finn) de Michael Curtiz

1963 : Un monde fou, fou, fou, fou (It's a Mad Mad Mad Mad World)

1963 : The Triumph of Lester Snapwell

1964 : Pajama Party

1965 : Beach Blanket Bingo

1965 : How to Stuff a Wild Bikini

1965 : Sergeant Dead Head

1965 : Deux bidasses et le général (Due marines e un generale)

1965 : Buster Keaton Rides Again (documentaire)

1966 : Le Forum en folie (A Funny Thing Happened on the Way to the Forum)
Buster Keaton Rides Again