The Issue with Tissue – A Boreal Love Story (English with French subtitles)
Location
Fernand-Seguin screening room
Date
December 9th - 16th, 2022
Cycle
The mission of the Centre d'art et d'essai de la Cinémathèque québécoise (CAECQ) is to primary program Quebec-made documentaries and independent fiction, as well as international documentaries, animated and foreign films, while encouraging opportunities for meetings between the public and the artists. Its programming is presented in conjunction with the Cinémathèque québécoise's under the label New releases.
The December 15 presentation will be followed by a discussion
The Issue with Tissue – A boreal love story
Directed by
Michael Zelniker
Language
English with French subtitles
Synopsis
"What we do to the land, we do to ourselves." The Issue with Tissue - a boreal love story documents the little known, largely untold story of the boreal forest and the Indigenous Peoples who call it home, how it is being clear-cut for the manufacture of toilet paper and that protecting and conserving the boreal is an existential imperative. Told by the First Nations Elders and Leaders of the boreal, leading scientists and activists, The Issue with Tissue creates a kind of talking circle that inspires our storytellers to speak with intimacy and candor about the issues confronting us all, sharing their enlightened, unified vision that the way forward lies in elevating and supporting Indigenous knowledge/stewardship in combination with the ages old wisdom that can be found in the life of these forests and trees.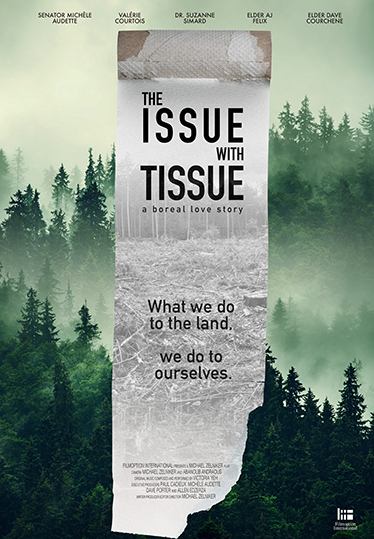 Michael Zelniker
Michael Zelniker was born and raised in Montreal where he received his professional training as an actor at Dawson College's Dome Theatre School. Having starred in more than 20 feature films and on television countless times, Zelniker is perhaps best known for his portrayal of trumpeter Red Rodney in Clint Eastwood's award winning bio-pic Bird; and for his Canadian Academy Award (Genie Award) winning performance in The Terry Fox Story, with Robert Duvall. As a filmmaker, Zelniker co-wrote, produced, and played the title character in Stuart Bliss. He also directed, co-wrote and produced the experimental feature Falling. He is a member of the Climate Reality Project Leadership Corps, (Vice President Al Gore's organization). The Issue with Tissue marks Zelniker's first foray into documentary filmmaking.