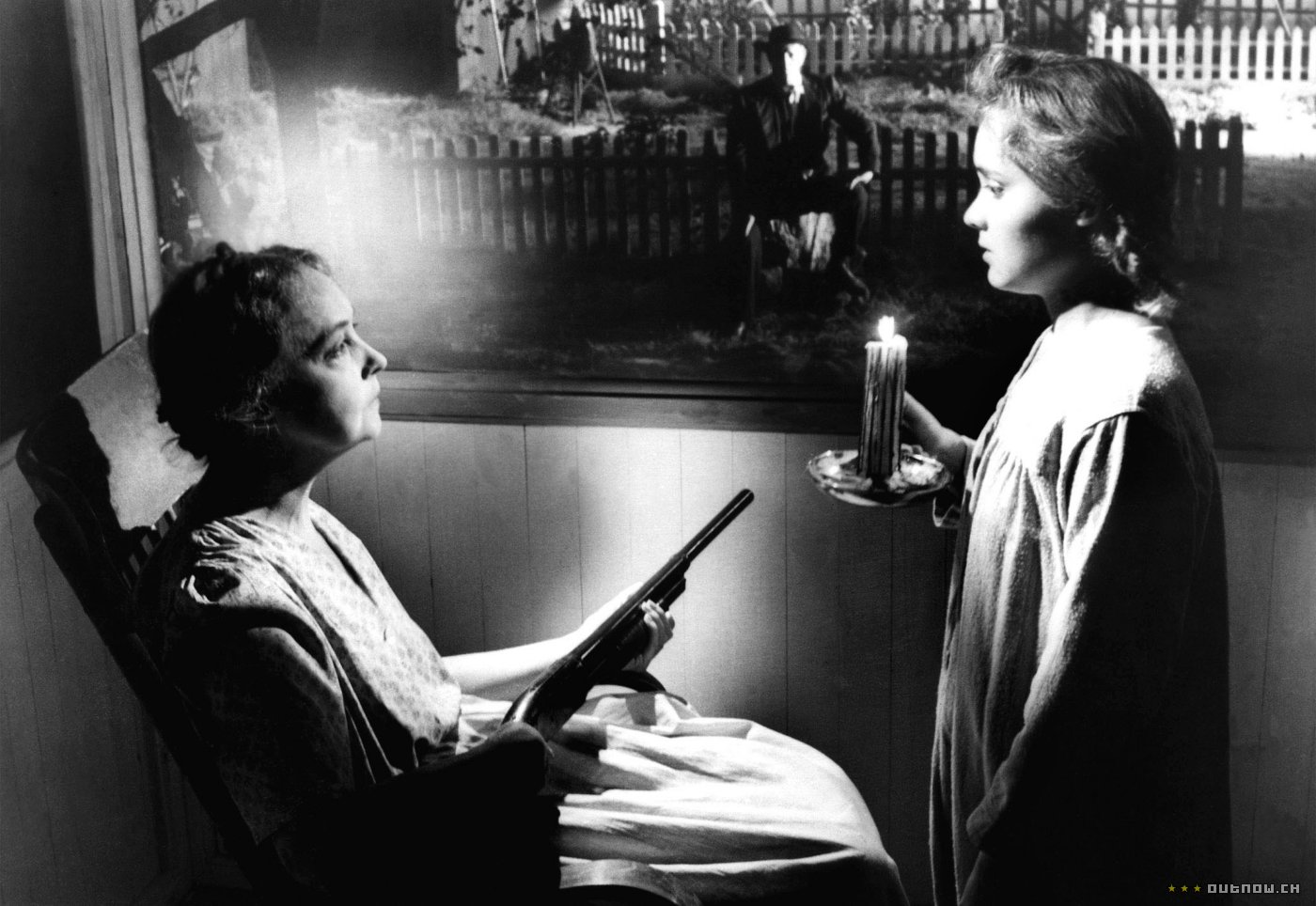 The Night of the Hunter (VOSTF)
Location
Main screening room
Cycle
This Fall, the Cinémathèque is thrilled to present the work of the American artist and filmmaker Stacey Steers. Her unique and deeply original films have been presented in multiple animation and experimental film festivals while her artworks have been showcased in prestigious galleries and museums.
The Stacey Steers cycle is divided into three parts:
From August 19 to October 17, the exhibition Night Reels unveils Stacey Steers' dreams in a magical universe occupying the two floors of the Cinémathèque. The artist designed an installation that unfolds several elements of her films into precious collages and tridimensional objects. Spectacular and surreal, one moves through Night Reels as in a waking dream.

A Stacey Steers film retrospective, composed of five short films, will reveal the director's creative journey from Watunna (1989) to Edge of Alchemy (2017). As it plunges her heroines into surreal tales, the universe of Stacey Steers is mysterious, poetic, and deeply influenced by early Hollywood cinema as much as 19th century engravings.

Finally, a carte blanche will shed light on the director's sources of inspiration with five feature films chosen by the artist herself. We will rediscover stars Lillian Gish, Mary Pickford and Janet Gaynor in outstanding silent films (Griffith, Sjostrom, Murnau), as well as two more recent productions (Night of the Hunter and L'Esprit de la ruche).
We are also pleased to announce that Stacey Steers will be joining us to present her work and meet with the public from September 9 to 12.
A dazzling film, a gripping suspense
The Night of the Hunter
Directed by
Charles Laughton
Language
Original English Version with French Subtitles
Actors
Shelley Winters, Robert Mitchum, Lilian Gish
Synopsis
The Rev. Harry Powell (Robert Mitchum) is a religious fanatic and serial killer who targets women who use their sexuality to attract men. Serving time in prison for car theft, he meets condemned murderer Ben Harper (Peter Graves), who confesses to hiding $10,000 in stolen loot. Released from jail, Powell is obsessed with finding the money, and he tracks down Harper's widow, Willa (Shelley Winters), and her two children, John (Billy Chapin) and Pearl (Sally Jane Bruce).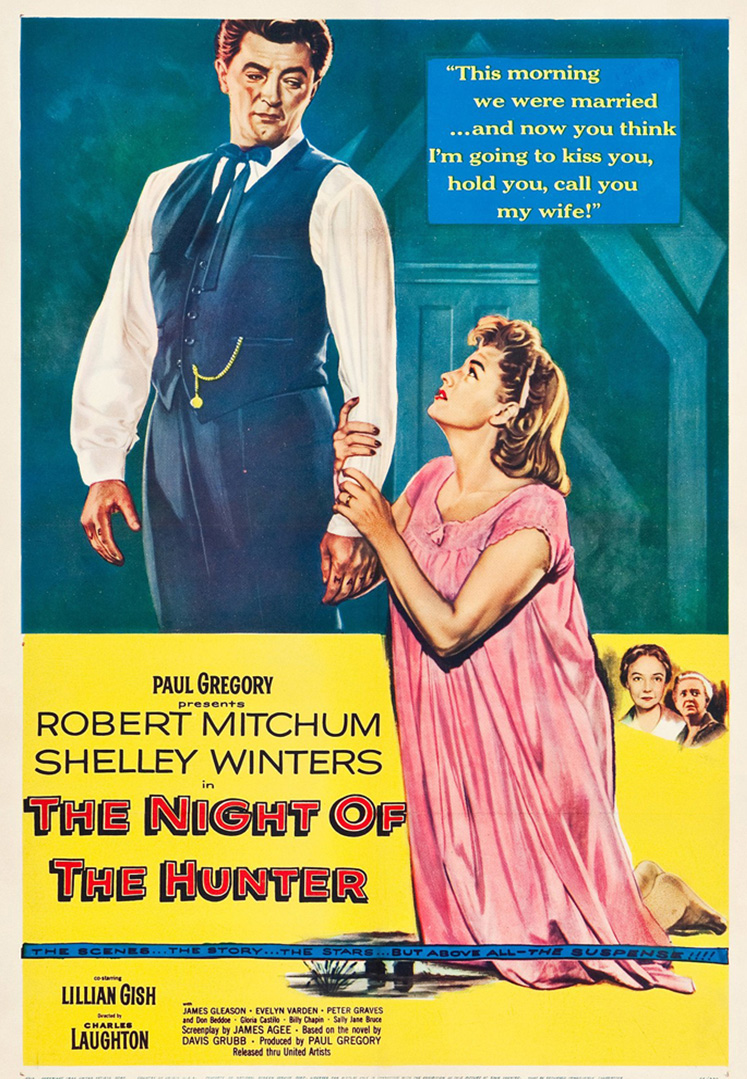 Charles Laughton
Charles Laughton was an English stage and film actor. Laughton was trained in London at the Royal Academy of Dramatic Art and first appeared professionally on the stage in 1926. His film career took him to Broadway and then Hollywood. In his later career, he took up stage directing, notably in The Caine Mutiny Court-Martial, and George Bernard Shaw's Don Juan in Hell, in which he also starred. He directed one film, the thriller The Night of the Hunter, which after an initially disappointing reception is acclaimed today as a film classic.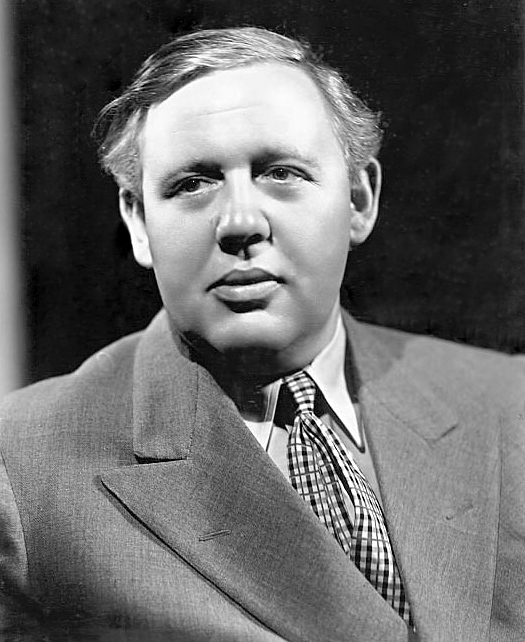 Marguerite Duras fait référence au film dans son livre L'Amant où elle compare son frère aîné au chasseur.
About The Night of the Hunter
Robert Mitchum : the reverrent Harry Powell

Shelley Winters : Willa Harper

Lillian Gish : Rachel Cooper

Billy Chapin : John Harper

Sally Jane Bruce : Pearl Harper

James Gleason : « Uncle » Birdie Steptoe

Evelyn Varden : Icey Spoon

Peter Graves : Ben Harper

Don Beddoe : Walt Spoon

Gloria Castillo : Ruby