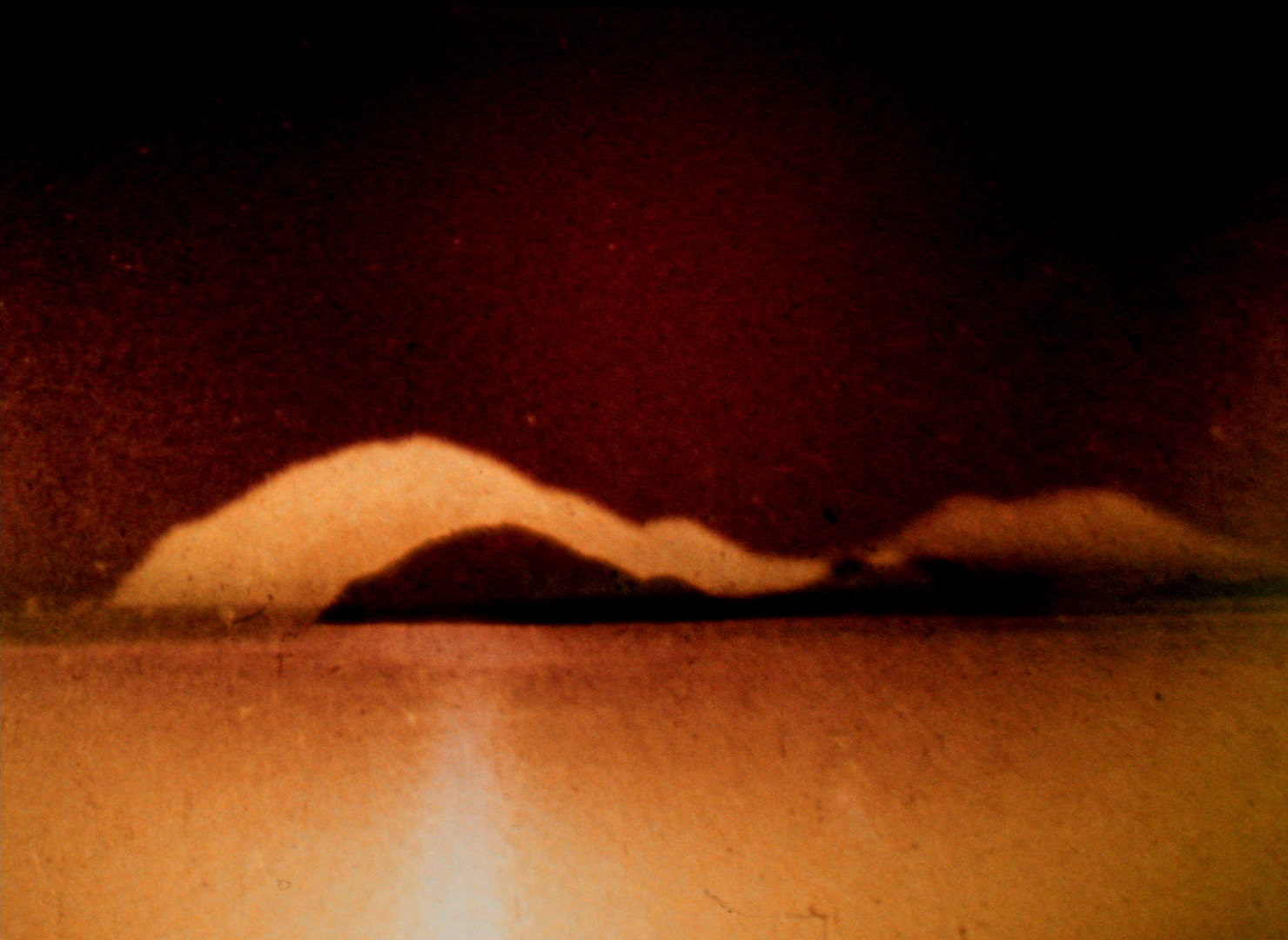 Emmanuel Lefrant: les formes secrètes de l'émulsion
Location
Main screening room
Cycle
Ce mois-ci, nous présentons deux séances de cinéma expérimental à l'occasion de la parution du livre Expanded Nature : Ecologies du cinéma expérimental sous la direction de Elio Della Noce et Lucas Murari aux Light Cone Editions. La première réunit des cinéastes qui, alors que notre époque est marquée par l'ampleur des actions humaines sur le reste du vivant (l'Anthropocène), s'engagent dans des pratiques écologiques qui tendent à un décentrement du privilège attribué à l'humain. La seconde est l'occasion de découvrir l'ensemble des films d'Emmanuel Lefrant, le directeur de Light Cone, qui collabore régulièrement la Cinémathèque québécoise.
---
Présenté en collaboration avec Leadership for the Ecozoic, Critical Media Lab (McGill Anthropology Department), Hors Champ et Visions
Underground
Directed by
Emmanuel Lefrant
Synopsis
Roland Barthes used to say « Aptly named, film (pellicula) is but skin without a gape, without an opening, without a wound». With direct cinema, this formula, which became axiomatic because of the flawless imagery found in traditional cinema, no longer verifies. The 'smooth' film of the image is metamorphosed into fragile skin. Contrary to scientific cinematography from the beginning of the century, the micro-organisms are not re-created (by being filmed) but rather reproduced directly on the film (frozen on the film strip, but made to move on screen by the driving mechanism of the projector). The point is, paradoxically, to reach the extreme of realistic representation by way of an abstract image, by actually showing the micro-organisms, with no other mediator than the lens of the projector. Every single curve, every single asperity that leaves a mark on the film is the movement of time itself, a trace of its passage. The 'secret forms' of emulsion are unveiled, and emphasize the materiality of celluloid, and the processes that reveal the image.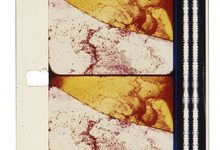 All Over
Directed by
Emmanuel Lefrant
Synopsis
Prior to any other treatment, the emulsion is covered with layers of chemical products, resulting in a black filmstrip. "The black leader can be anticipated as Malevitch's white painting: a space in which everything is possible, the space of absolute potentiality and virtuality." This is because cinema, contrary to painting, gives light to its own image, via the lamp projector. This is not about covering a blank surface with forms and colors since they already exist on the black film. Whilst ALL OVER is a film made without "instrumentation" (like a camera), it also differs from direct films in that the film remains untouched by any tool (not even the hand). As in dripping, materials and color are spontaneously laid down on the film in semi-controlled gestures, which create a shower of colored dots. The soundtrack functions according to the same principle: the sound, in all its expressions, is formed using one single formal element.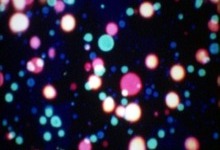 Still Frames
Directed by
Emmanuel Lefrant
Synopsis
STILL FRAMES is a laboratory film, conceived while I was finishing SARABAN. Indeed the two films were produced from the same images. The aim was not only to prove that the same source of image can generate two different films but also to highlight the incidence of light on color.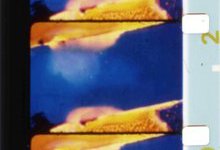 Saraban
Directed by
Emmanuel Lefrant
Synopsis
Work on speed, rhythms, flickers and color, whose «main tendency should be to serve Expression as fully as possible». The idea for this film was born during experiments on the film strip, with the Nominoë collective.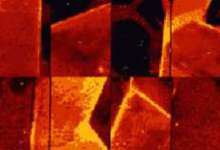 Overall
Directed by
Emmanuel Lefrant
Synopsis
OVERALL continues the project which began as ALL OVER. The creative process has become inversed since the primary material is now oil paint. The original film was painted with J. Pollock's dripping technique on a transparent film strip and then all colors were inversed in lab with a contact printer. The soundtrack was made using a signal processing environment called «Pure Data», calculating in real time the color density of the image.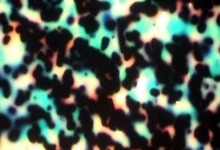 Blitz
Directed by
Emmanuel Lefrant
Synopsis
This is a deserted black space that one tries to fill in. To the point of becoming totally submerged in color. One explores the chromatic circle, by turning around it meticulously. And by vertical unreeling, a process specific to cinema. BLITZ turns a page opened two years ago in Canada. I started to work on line patterns with the collective PHYLM, for a performance, and then for an installation. Once back in France, I re-explored this figure with the nominoë collective, and the performance LI[GHT]NES.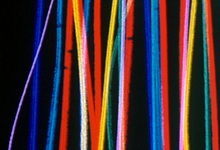 Parties visible et invisible d'un ensemble sous tension
Directed by
Emmanuel Lefrant
Language
French with English subtitles
Synopsis
Africa, 2003: the mechanisms of memory. I shot the image of a landscape and buried simultaneously a film strip in the same place where the sequence was shot: the emulsion, the victim of erosion is thus subjected to biochemical degradation. The result of these natural processes of decay are then conserved in the state of their dissolution. Those two images, and their negative versions, are then entangled together thanks to double exposure and bi-packing techniques. These landscapes in fusion, it's the logic of a world that reveals itself. A bipolar world, where invisible takes shape with the visible, where the first dissolves itself into the second and vice versa.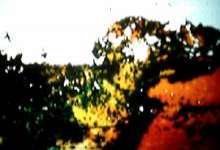 Le pays dévasté
Directed by
Emmanuel Lefrant
Synopsis
What do you see?
A place not suited for human beings
Le Pays Dévasté relates to the Anthropocene, the current geological age, viewed as the period during which human activity has been the dominant influence on climate and the environment.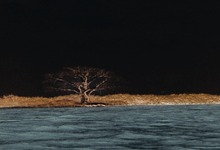 I Don't Think I Can See an Island
Directed by
Emmanuel Lefrant and Christopher Becks
Synopsis
A Film of Symbolically Authentic Non-Euclidean Adventures.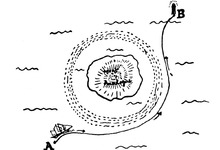 Per una Selva Oscura
Directed by
Emmanuel Lefrant
Synopsis
The revelation of an image, which progresses to the heart of the materia, seized in an incoercible movement: that of a dystopia in progress. A primitive entity on the verge of cataclysm, an infinite flight forward, until the complete dissolution of all forms and figures. In which dark forest have we lost our way?