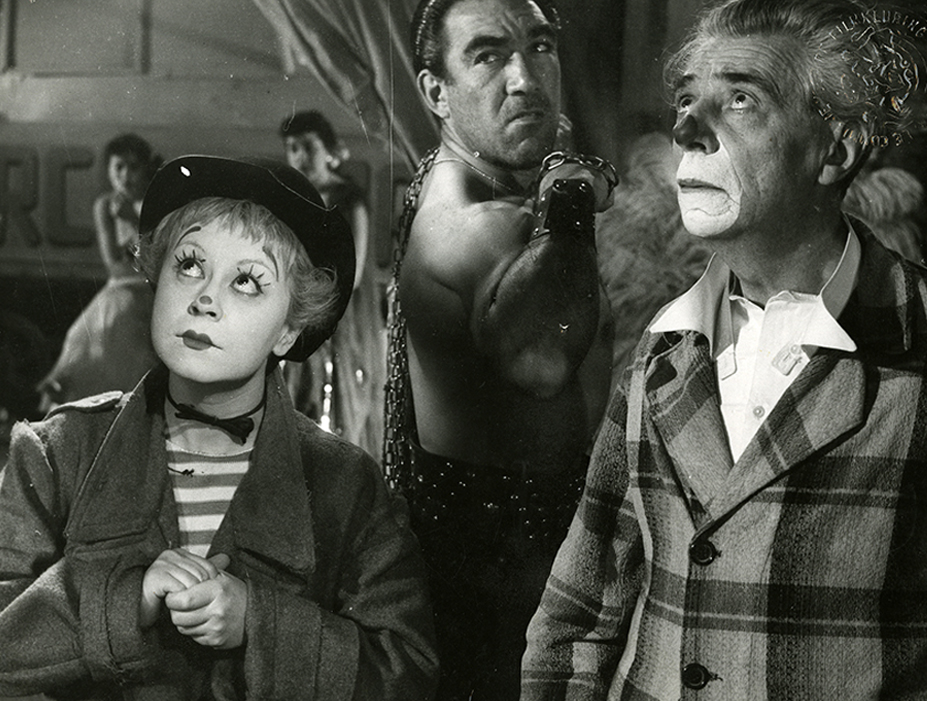 Location
Main screening room
Cycle
Making lists is an activity moviegoers are fond of. Every year, the same ritual: compilation of the ten best films, with comparative analyses, debates, heated discussions. But what about the ultimate list of the most outstanding films in the history of cinema? That is to say, those films that must be seen, those that have forever transformed the art of cinema, but also our way of seeing a culture, of understanding the world as well as our own lives? This program aims to tackle this challenge with nearly eighty films, produced between 1916 and 1960, while waiting for your lists!
La strada
Directed by
Federico Fellini
Actors
Anthony Quinn, Giulietta Masina
Synopsis
Poor Gelsomina's mother sells her to Zampanò, a brutal circus strongman. They hit the road together, scraping by on the proceeds of Zampanò's street act.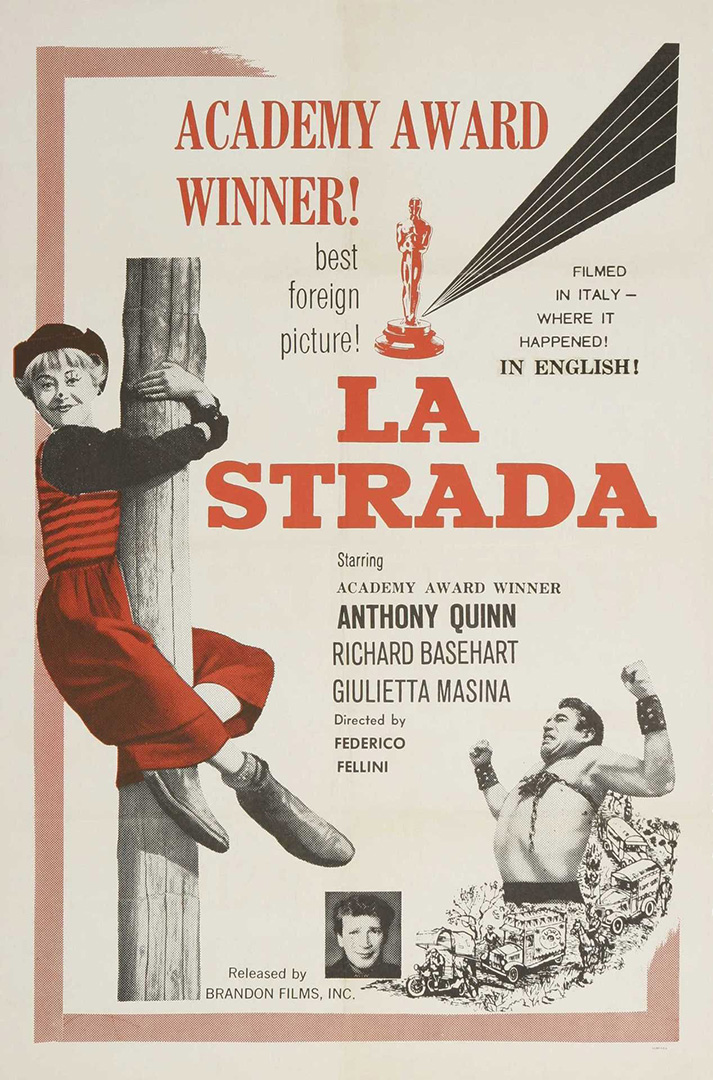 Trailer french subtitles. The movie will be presented with english subtitles.
Venice Film Festival 1954
Oscars 1957
Winner
Nominee
Best Writing

Best Screenplay-Original
Federico Fellini
Federico Fellini was one of the greatest Italian writers and directors of the 20th century, and one of the most illustrious filmmakers in the history of cinema. He won the Palme d'or at Cannes in 1960 for La dolce vita, and took home the Oscar for Best Foreign-Language Film four times (La strada, Nights of Cabiria, 8 ½ and Amarcord), a record he shares with his compatriot Vittorio De Sica. Initially associated with neo-realism, Fellini's work evolved over the course of the 1960s toward a unique approach related to European modernism, a movement associated with Ingmar Bergman, Michelangelo Antonioni, Alain Resnais, Jean-Luc Godard and Andrei Tarkovsky. His films grew increasingly to embrace a proliferation of themes, deliberate artifice and the complete erasure of boundaries between dream, imagination, hallucination and reality. On March 29, 1993, the Academy of Motion Picture Arts and Sciences awarded him a lifetime achievement Oscar, "in recognition of his place as one of the screen's master storytellers."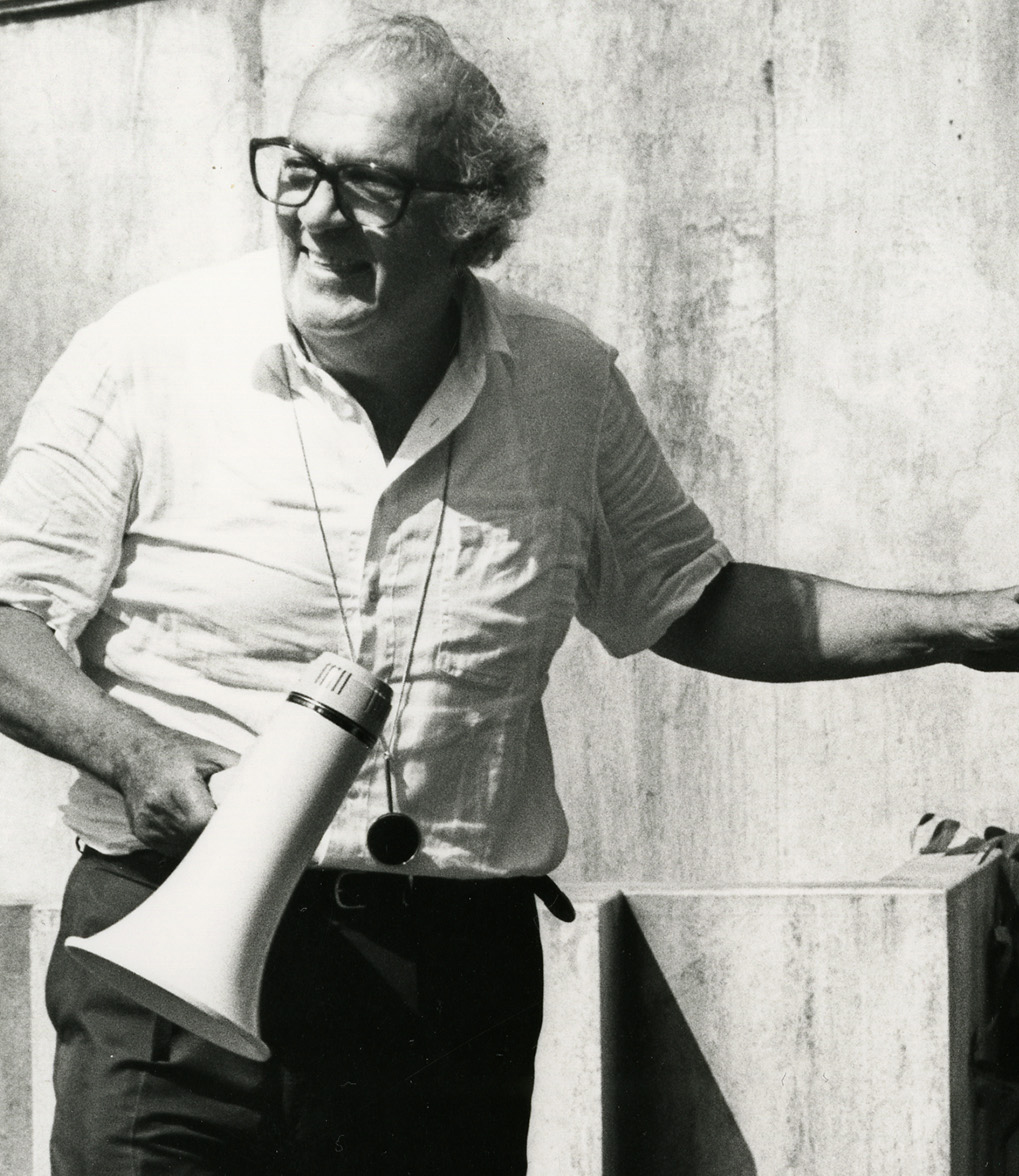 «For... I don't know. If I knew I'd be the Almighty, who knows all. When you are born and when you die... Who knows? I don't know for what this pebble is useful but it must be useful. For if its useless, everything is useless. So are the stars!»
Sur notre blogue
Federico Fellini aurait eu 100 ans en 2020. Il a fait partie de ces cinéastes qui ont triomphé de leur vivant, dont la reconnaissance de leur apport au cinéma a été affirmée sans ambages, ce qui en retour a sans doute influencé les films qu'ils ont pu encore faire. Non pas qu'il ait gagné des prix à tout coup...
Giulietta Masina as Gelsomina

Anthony Quinn as Zampanò

Richard Basehart as Il Matto, the fool

Aldo Silvani as Il Signor Giraffa, the circus owner

Marcella Rovere as La Vedova, the widow

Livia Venturini as La Suorina, the nun
About Federico Fellini
1950: Variety Lights 1952: The White Sheik
1953: I vitelloni
1953: Love in the City (Segment: Un'agenzia matrimoniale) 1954 : La strada
1955: Il bidone 1957: Nights of Cabiria 1960: La Dolce Vita 1962: Boccaccio '70 (Segment: Le tentazioni del Dottor Antonio) 1963: 8 1⁄2 1965: Juliet of the Spirits 1969: Fellini: A Director's Notebook
1969: Fellini Satyricon 1970: I Clowns
1972: Roma
1973: Amarcord
1976: Fellini's Casanova
1978: Orchestra Rehearsal
1980: City of Women 1983: And the Ship Sails On 1986: Ginger and Fred
1987: Intervista
1990: The Voice of the Moon