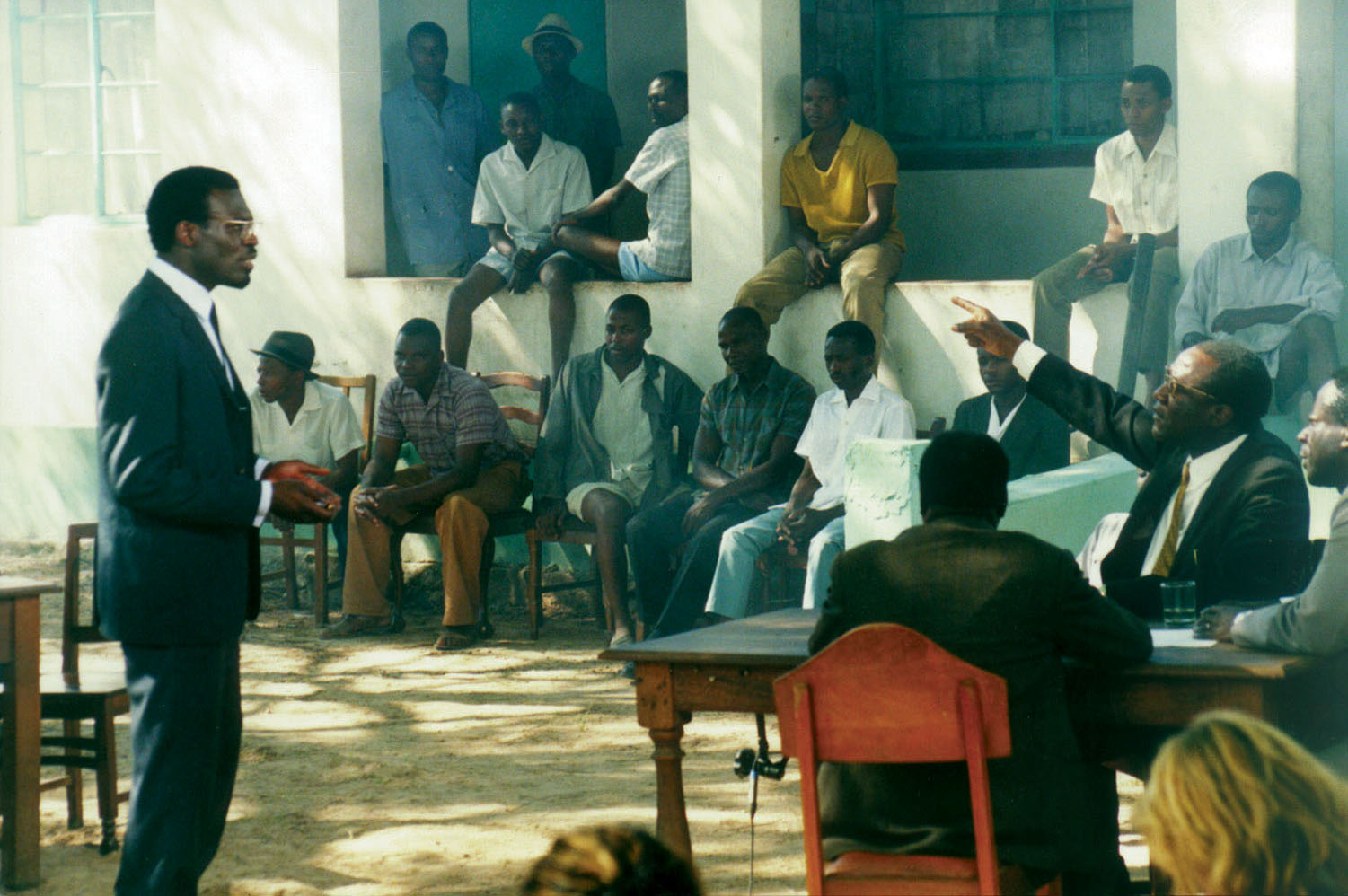 Location
Main screening room
Cycle
Black at the Camera is more than a hundred years of Black cinema. From silent cinema dealing with segregation to films testifying decolonization; from animation to documentaries, including historical reconstructions. The new generation is not left out, expressing itself with aplomb in all forms of contemporary cinema. This ensemble also reflects the work of Canadian and Quebec filmmakers, will be presented to the public at the Cinémathèque québécoise throughout the month of June.
This program, produced in collaboration with the Fabienne Colas Foundation and the Montreal International Black Film Festival, is also supported by the Cinémathèque Afrique of The Institut français.
Tickets will be on sale on May 20.
Lumumba
De nos collections
Actors
Eriq Ebouaney, Alex Descas, Théophile Sowié
Origins
France, Belgium, Germany, Haiti
Genre
Biography, Drama, History
Synopsis
The true story of controversial leader of independent Congo, Patrice Lumumba.
Prix à la Création de la Fondation Gan 1998
Raoul Peck
Raoul Peck (born 9 September 1953 in Port-au-Prince, Haiti) is a Haitian filmmaker, of both documentary and feature films. He is known for using historical, political, and personal characters to tackle and recount societal issues and historical events. Peck was Haiti's Minister of Culture from 1996 to September 1997. His film, I Am Not Your Negro (2016), about the life of James Baldwin and race relations in the United States, was nominated for an Oscar in January 2017 and won a César Award in France. (Wikipedia)
Image: Hpnhaiti
Filmer, de Haïti à Lumumba
Pour moi, le cinéma, ce n'est pas simplement être assis derrière un bureau et imaginer : c'est corporel, c'est émotionnel. Donc, on se place dans une position de combat, de création. J'ai pris deux décisions importantes, dès le début, pour Lumumba, la mort du prophète . C'était d'abord de maîtriser ce film, donc de le produire moi-même, pour n'avoir à discuter aucune décision avec qui que ce soit, ni demander aucune permission..
À propos de Patrice Lumumba
Lumumba, drame sans fin et deuil inachevé de la colonisation
L'image de Patrice Lumumba, fortement associée à la proclamation de l'indépendance du Congo-Zaïre, symbolise la « mémoire congolaise », et devient même sa principale référence. Des tentatives menées par les pouvoirs en place pour les dissocier continuent d'échouer, comme pour exprimer l'embarras causé par son « élimination définitive ». La résistance (image) persistante de la victime met mal à l'aise ses bourreaux, la débâcle permanente du Congo contribue à perpétuer le deuil.
Eriq Ebouaney : Patrice Lumumba

Alex Descas : Joseph Mobutu

Théophile Sowié : Maurice Mpolo

Maka Kotto : Joseph Kasa-Vubu

Dieudonné Kabongo : Godefroid Munongo

Pascal N'Zonzi : Moïse Tshombe

André Debaar : Walter Ganshof van der Meersch

Cheik Doukouré : Joseph Okito

Oumar Diop Makena : Thomas Kanza

Mariam Kaba : Pauline Lumumba

Rudi Delhem : le général Émile Janssens

Bouli Lanners : prison gard

Mata Gabin : Hélène Bijou
Plus sur Raoul Peck
Short films
1983 : Leugt

1984 : Merry Christmas Deutschland

1997 : Chère Catherine
Feature films
1988 : Haitian Corner

1990 : Lumumba, mort d'un prophète

1993 : L'Homme sur les quais1994 : Desounen: Dialogue with Death

2000 : Lumumba

2001 : Profit & Nothing But! Or Impolite Thoughts on the Class Struggle

2016 : I Am Not Your Negro

2017 : Le Jeune Karl Marx

1994 : Haiti - Le silence des chiens