Location
Main screening room
Cycle
Making lists is an activity moviegoers are fond of. Every year, the same ritual: compilation of the ten best films, with comparative analyses, debates, heated discussions. But what about the ultimate list of the most outstanding films in the history of cinema? That is to say, those films that must be seen, those that have forever transformed the art of cinema, but also our way of seeing a culture, of understanding the world as well as our own lives? This program aims to tackle this challenge with nearly eighty films, produced between 1916 and 1960, while waiting for your lists!
Pickpocket
Directed by
Robert Bresson
Actors
Martin LaSalle, Marika Green, Jean Pelegri
Synopsis
A young man is led by weakness to commit pickpocketing. Taking refuge in his secret, he meets a young girl whom he learns to love after a strange journey.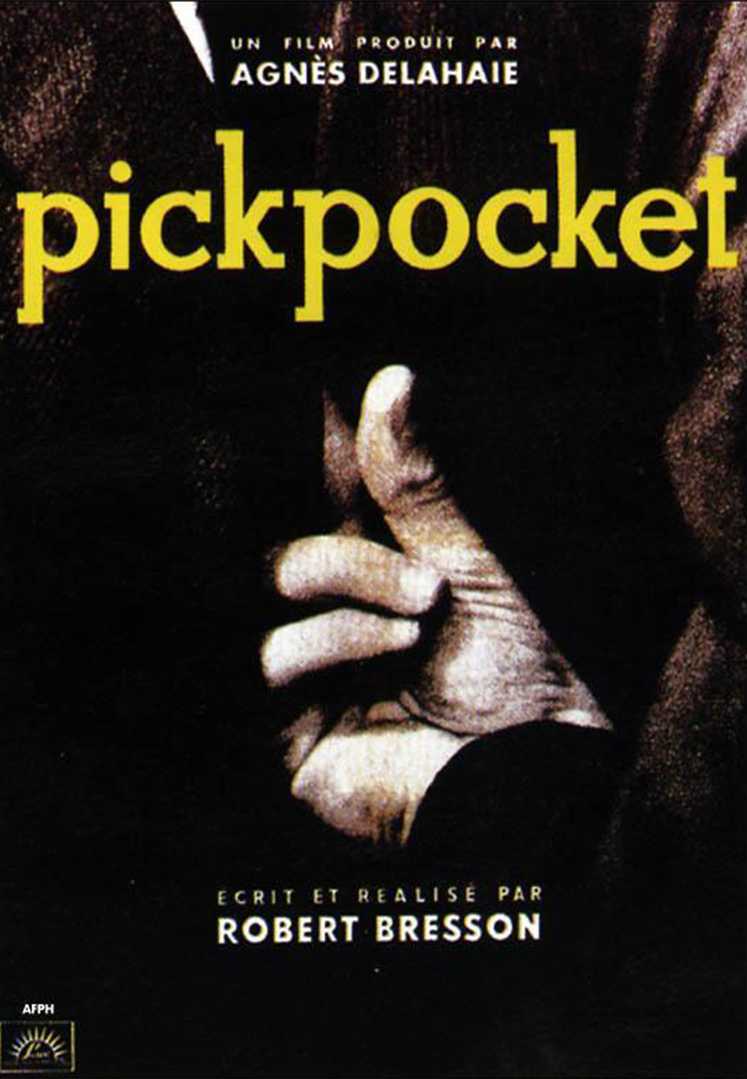 Robert Bresson
Robert Bresson was a French film director. Known for his ascetic approach, Bresson contributed notably to the art of cinema; his non-professional actors, ellipses, and sparse use of scoring have led his works to be regarded as preeminent examples of minimalist film. Much of his work is known for being tragic in story and nature. Bresson is among the most highly regarded filmmakers of all time. His works A Man Escaped (1956), Pickpocket (1959) and Au Hasard Balthazar (1966) were ranked among the top 100, and other films like Mouchette (1967) and L'Argent (1983) also received many votes. Jean-Luc Godard once wrote, "He is the French cinema, as Dostoevsky is the Russian novel and Mozart is German music."
Bresson's cinema is first of all a cinema of refusals. Refusal of conventions: conventions of traditional adaptation, of photographed theater, of the ordinary architecture of the film show, of the diction of the professional actor and of the reproduction of reality.
Le cinéma selon Bresson : Pickpocket
About Pickpocket
Martin LaSalle as Michel

Marika Green as Jeanne

Jean Pélégri as Chief Inspector

Dolly Scal as The Mother

Pierre Leymarie as Jacques

Kassagi as 1st Accomplice

Pierre Étaix as 2nd Accomplice

César Gattegno as an Inspector
About Robert Bresson
1934 : Affaires publiques

1943 : Les Anges du péché

1945 : Les Dames du bois de Boulogne

1951 : Journal d'un curé de campagne

1956 : Un condamné à mort s'est échappé (ou Le vent souffle où il veut)

1959 : Pickpocket

1962 : Procès de Jeanne d'Arc

1966 : Au hasard Balthazar

1967 : Mouchette

1969 : Une femme douce

1971 : Quatre Nuits d'un rêveur

1974 : Lancelot du Lac

1977 : Le Diable probablement

1983 : L'Argent
The Beginner's Guide to Robert Bresson