Location
Main screening room
Cycle
Our summer cycle will be festive or not. Sound and image, song and dance, instrument and breathing, strings and gestures: so many possible combinations to express what cinema and music can achieve and express together. Musicals, concert films, catchy music. Jazz, classical, contemporary, disco, punk... Revolt and enchantment, distress and emphasis, joy and rhythm, melancholy and bass, laughter and stridency: diverse expressions characterizing cinema and music's historical alliance, will definitely make us fly, dream, dance!
From the 30's to the present day and across all possible genres, this cycle aims to open our minds at a time when we most need it. The first week of July will be an eventful one, as the cycle will open with several evenings in cabaret mode, where we will present for the first time concert films produced in Quebec during the confinement, with the participation of major artists of the current music scene: Klô Pelgag, Marie Davidson and Godspeed You! Black Emperor.
Popeye
Actors
Robin Williams, Shelley Duvall, Paul L. Smith
Genre
Comedy, Adventure, Family
Synopsis
Popeye the sailor arrives in an inconvenient coastal town called Sweet Heaven. There he meets Wimpy, the hamburger lover, but also the pretty Olive, the woman he was waiting for, and the evil Brutus, a kind of pirate who strikes fear into the town, and finally discovers his old daddy gone. With the help of his spinach, Popeye will be able to confront Brutus and try to give Sweet Heaven back its lost tranquility.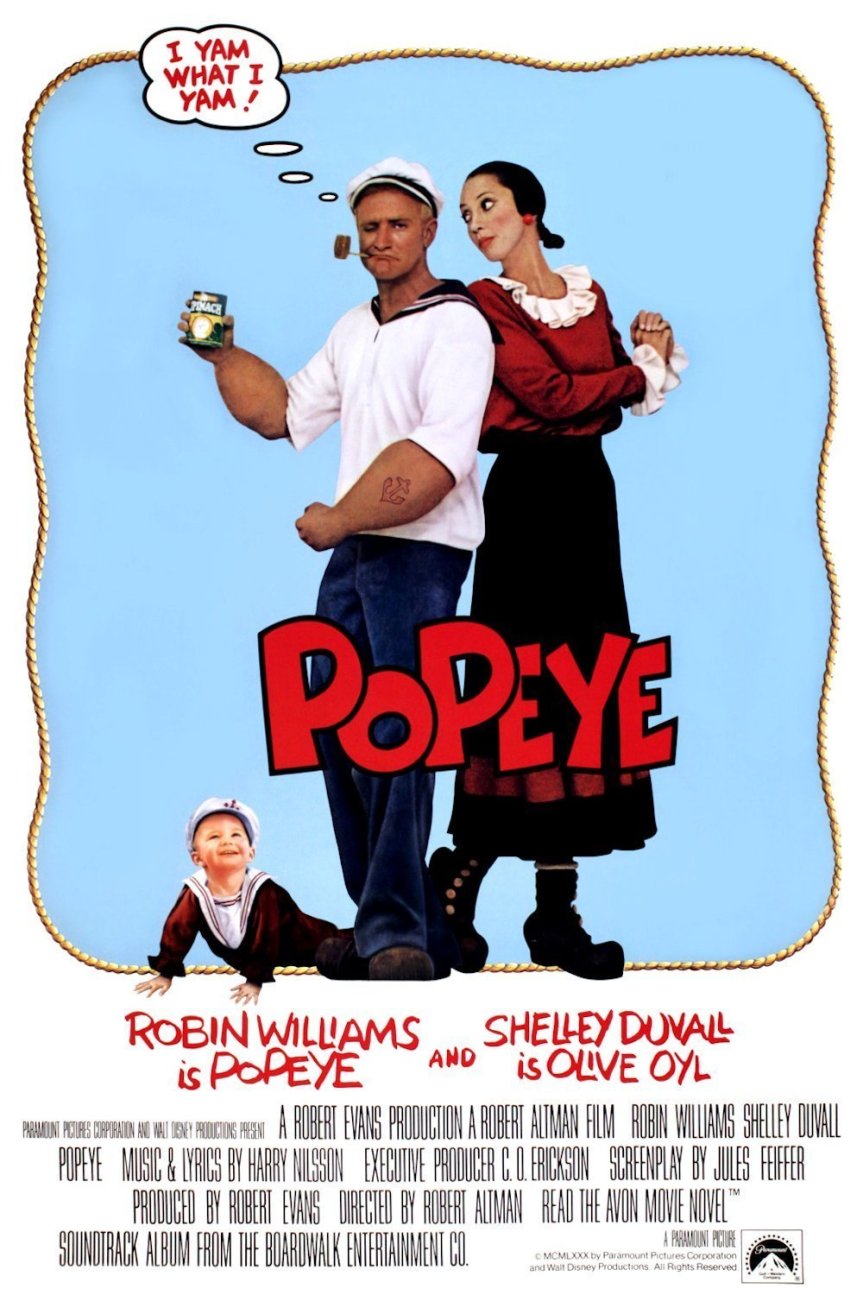 Robert Altman
Robert Bernard Altman was an American film director, screenwriter, and producer. Altman is known as a five-time nominee of the Academy Award for Best Director and an enduring figure from the New Hollywood era, comparable to such directors as Martin Scorsese, Sidney Lumet and David Lynch. Wikipedia
About Popeye
Robin Williams as Popeye

Shelley Duvall as Olive Oyl

Paul L. Smith as Bluto

Paul Dooley as J. Wellington Wimpy

Richard Libertini as George W. Geezil

Ray Walston as Poopdeck Pappy

Donald Moffat as The Taxman

MacIntyre Dixon as Cole Oyl

Roberta Maxwell as Nana Oyl

Donovan Scott as Castor Oyl

Allan F. Nicholls as Rough House

Wesley Ivan Hurt as Swee'Pea

Bill Irwin as Ham Gravy

Sharon Kinney as Cherry

Peter Bray as Oxblood Oxheart

Linda Hunt as Mrs. Oxheart

Geoff Hoyle as Scoop

Wayne Robson as Chizzelflint

Klaus Voormann as Von Schnitzel

Van Dyke Parks as Hoagy the Piano Player

Dennis Franz as Spike

Carlos Brown as Slug
À propos de Robert Altman
Robert Altman' Filmography
A Prairie Home Companion (2006)

The Company (2003)

Gosford Park (2001)

Dr. T and the Women (2000)

Cookie's Fortune (1999)

The Gingerbread Man (1998)

Kansas City (1996)

Ready to Wear (1994)

Short Cuts (1993)

The Player (1992)

Vincent & Theo (1990)

The Caine Mutiny Court-Martial (1988)

Aria (1988)

O.C. And Stiggs (1987)

Beyond Therapy (1987)

Fool For Love (1985)

Secret Honor (1984)

Streamers (1983)

Come Back to the 5 & Dime, Jimmy Dean, Jimmy Dean (1982)

Popeye (1980)

Health (1980)

A Perfect Couple (1979)

Quintet (1979)

A Wedding (1978)

3 Women (1977)

Nashville (1975)

Thieves Like Us (1974)

California Split (1974)

The Long Goodbye (1973)

images (1972)

McCabe & Mrs. Miller (1971)

MAS*H (1970)

Brewster McCloud (1970)

That Cold Day in the Park (1969)

Countdown (1968)

The James Dean Story (1957)

The Delinquents (1957)