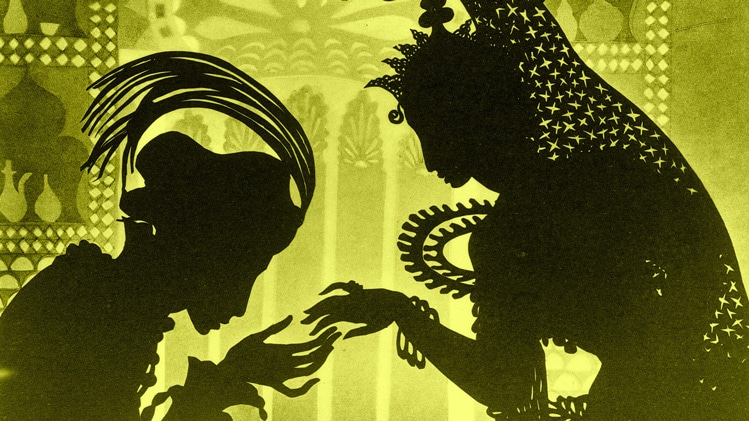 Die Abenteuer des Prinzen Achmed (Silent, INTF)
Location
Main screening room
Cycle
Making lists is an activity moviegoers are fond of. Every year, the same ritual: compilation of the ten best films, with comparative analyses, debates, heated discussions. But what about the ultimate list of the most outstanding films in the history of cinema? That is to say, those films that must be seen, those that have forever transformed the art of cinema, but also our way of seeing a culture, of understanding the world as well as our own lives? This program aims to tackle this challenge with nearly eighty films, produced between 1916 and 1960, while waiting for your lists!
The Adventures of Prince Achmed
Directed by
Lotte Reiniger
Genre
Animation, adventure, family
Synopsis
Taken from The Arabian Nights, the film tells the story of a wicked sorcerer who tricks Prince Ahmed into mounting a magical flying horse and sends the rider off on a flight to his death. But the prince foils the magician's plan and soars headlong into a series of wondrous adventures.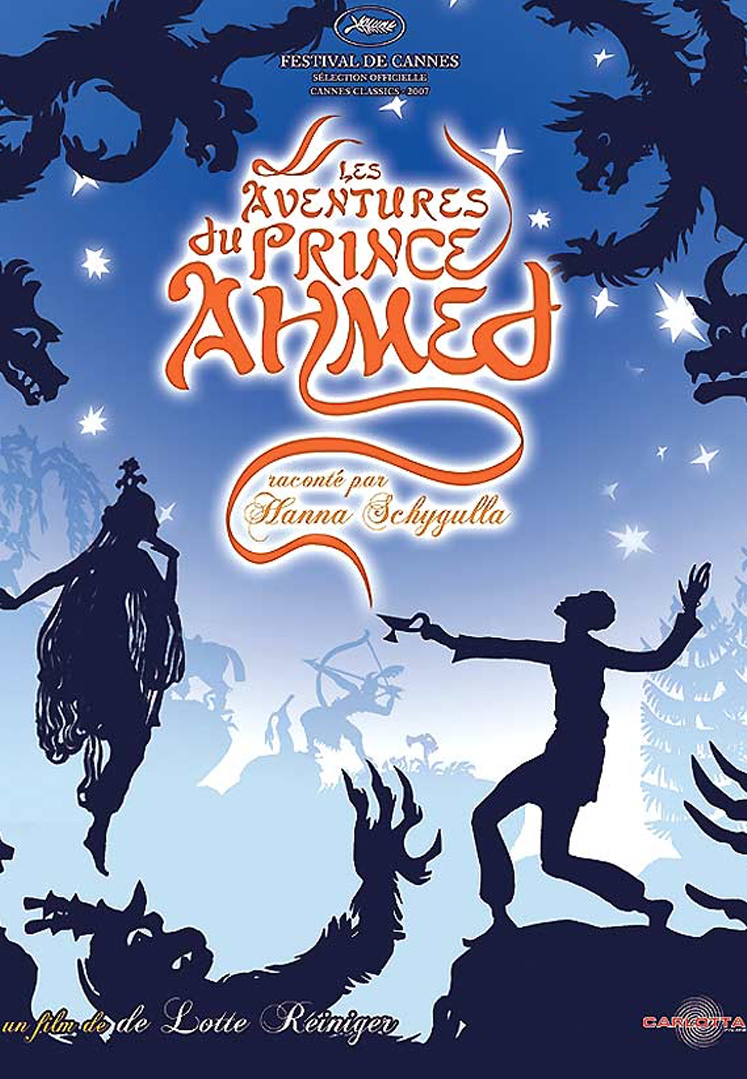 *Trailer with german intertitles only. The film will be presented with French intertitles. *
Lotte Reiniger
Charlotte "Lotte" Reiniger (2 June 1899 – 19 June 1981) was a German film director and the foremost pioneer of silhouette animation. Her best known films are The Adventures of Prince Achmed, from 1926, the first feature-length animated film, and Papageno (1935). Reiniger is also noted for having devised, from 1923 to 1926, the first form of a multiplane camera; she made the feature length animation The Adventures of Prince Achmed on it, and continued to make more than 40 films throughout her career.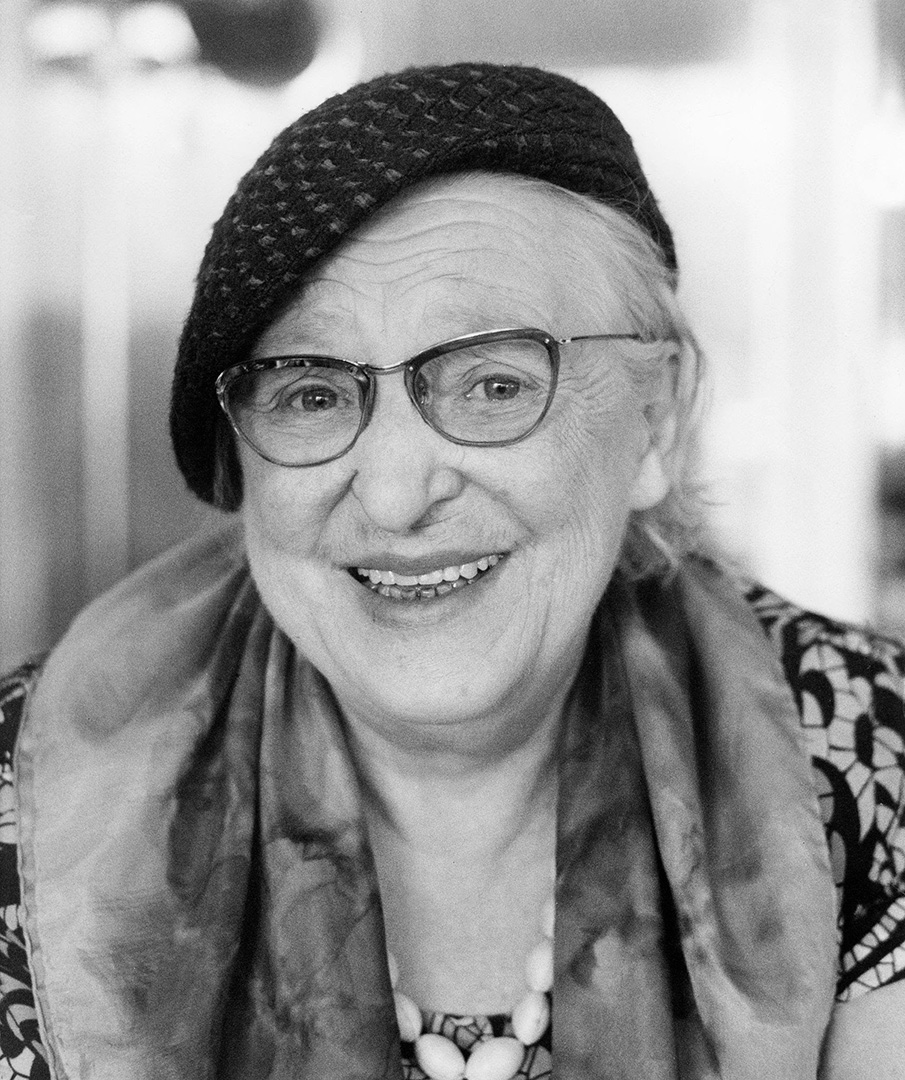 A character named Prince Achmed also makes a short appearance in Walt Disney's Aladdin, probably in allusion to the film.
About Lotte Reiniger
1919 – The Ornament of the Lovestruck Heart

1920 – Amor and the Steady Loving Couple

1921 – The Star of Bethlehem

1922 – Sleeping Beauty

1922 – The Flying Suitcase

1922 – The Secret of the Marquise

1922 – Cinderella

1926 – The Adventures of Prince Achmed (feature)

1927 – The Chinese Nightingale

1928 – Dr. Dolittle and His Animals (3 parts: "The Journey to Africa", "The Monkey Bridge", "The Monkey Illness")

1930 – Chasing Fortune

1930 – Ten Minutes of Mozart

1931 – Harlekin

1932 – Sissi

1933 – Carmen

1934 – The Stolen Heart

1935 – The Seemingly Dead Chinese

1935 – The Little Chimney Sweep

1935 – Galathea: The Living Marblestatue

1935 – Die Jagd nach dem Glück (Hunt for Luck)

1935 – Kalif Storch

1935 – Papageno

1936 – Silhouettes (animation scenes)

1936 – Puss in Boots

1937 – The Tocher. Film Ballet

1938 – The HPO – Heavenly Post Office

1942 – Girl of the Golden West (feature)

1944 – The Goose That Lays the Golden Eggs

1951 – Mary's Birthday

1953 – The Magic Horse

1954 – Aladdin and the Magic Lamp

1954 – Caliph Storch

1954 – Cinderella

1954 – Puss in Boots

1954 – Snow White and Rose Red

1954 – The Frog Prince

1954 – The Gallant Little Tailor

1954 – The Grasshopper and the Ant

1954 – The Little Chimney Sweep

1954 – The Sleeping Beauty

1954 – The Three Wishes

1954 – Thumbelina

1955 – Hansel and Gretel

1955 – Jack and the Beanstalk

1961 – The Frog Prince

1974 - The Lost Son

1975 – Aucassin and Nicolette

1979 – The Rose and the Ring

1980 – Die vier Jahreszeiten (The Four Seasons)
1926 : Les Aventures du prince Ahmed

1930 : Die Jagd nach dem Glück de Rochus Gliese

1942 : La Dame de l'Ouest (Una Signora dell'ovest)

1954 : Thumbelina

1954 : The Three Wishes

1954 : The Grasshopper and the Ant

1954 : The Gallant Little Tailor