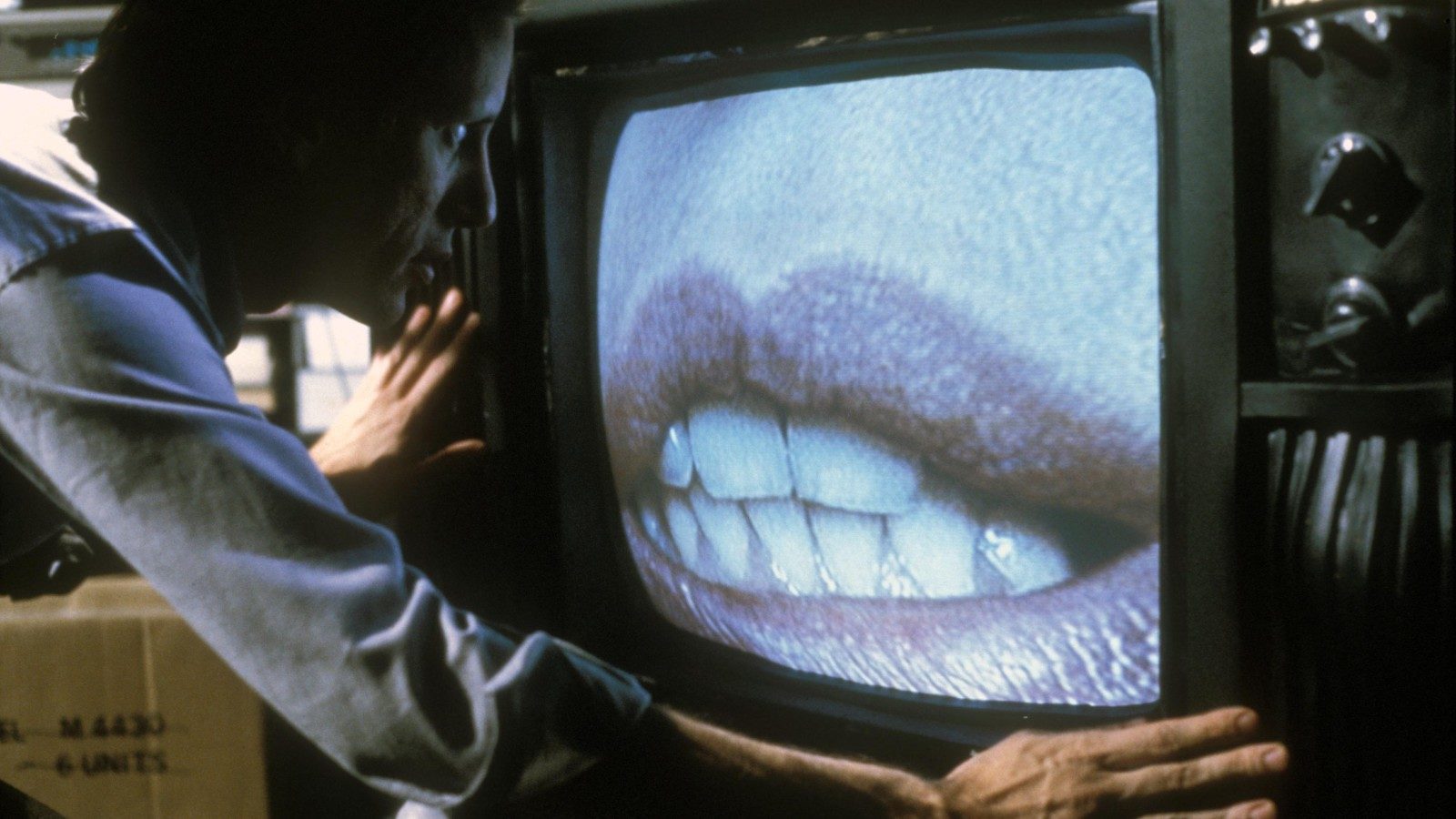 Location
Main screening room
Cycle
Cronenberg: Through a Distorting Mirror
David Cronenberg has created a multidimensional universe in which he insistently questions the limits of every facet of the human condition – physical, moral and existential. This program extends from his early days in Montreal, where he made exploitation flicks produced by Cinépix (Rabid, Shivers), to Maps to the Stars, a scathing take on the California jet-set lifestyle. A creepy parallel universe emerges through films like The Fly, which catapulted him to mainstream success, and eXistenZ, in which it seems perfectly normal to plug an organic game console into one's spine. This is inside-out cinema, in which unique beings constantly show us funhouse-mirror reflections of our world. This program includes all of Cronenberg's features, most of them in 35 mm.
Videodrome
Directed by
David Cronenberg
Actors
Deborah Harry, James Woods, Sonja Smits
Genre
Horror, science-fiction, thriller
Synopsis
Fascinated by the television show Videodrome, a programmer at a TV station that specializes in adult entertainment experiences a physical and sensory transformation.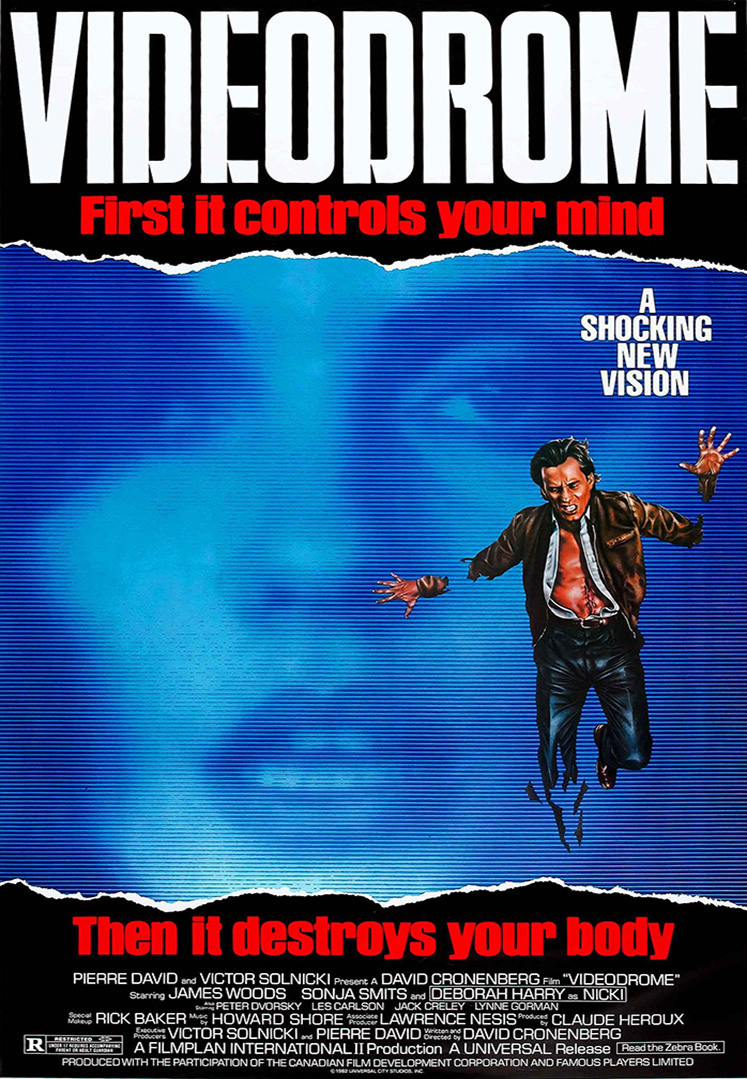 Brussels International Festival of Fantasy Film - 1984
Best Science-Fiction Film
Canadian Society of Cinematographers Awards - 1984
Best Cinematography in Theatrical Feature
Genie Awards -1984
Best Achievement in Direction
David Cronenberg
David Paul Cronenberg is a Canadian film director, screenwriter, and actor. He is one of the principal originators of what is commonly known as the body horror genre, with his films exploring visceral bodily transformation, infection, technology, and the intertwining of the psychological with the physical. In the first third of his career he explored these themes mostly through horror and science fiction films such as Scanners (1981) and Videodrome (1983), although his work has since expanded beyond these genres. Cronenberg's films have polarized critics and audiences alike; he has earned critical acclaim and has sparked controversy for his depictions of gore and violence. The Village Voice called him "the most audacious and challenging narrative director in the English-speaking world". His films have won numerous awards, including, for Crash, the Special Jury Prize at the 1996 Cannes Film Festival, a unique award that is distinct from the Jury Prize as it is not given annually, but only at the request of the official jury, who in this case gave the award "for originality, for daring, and for audacity".
(Wikipedia)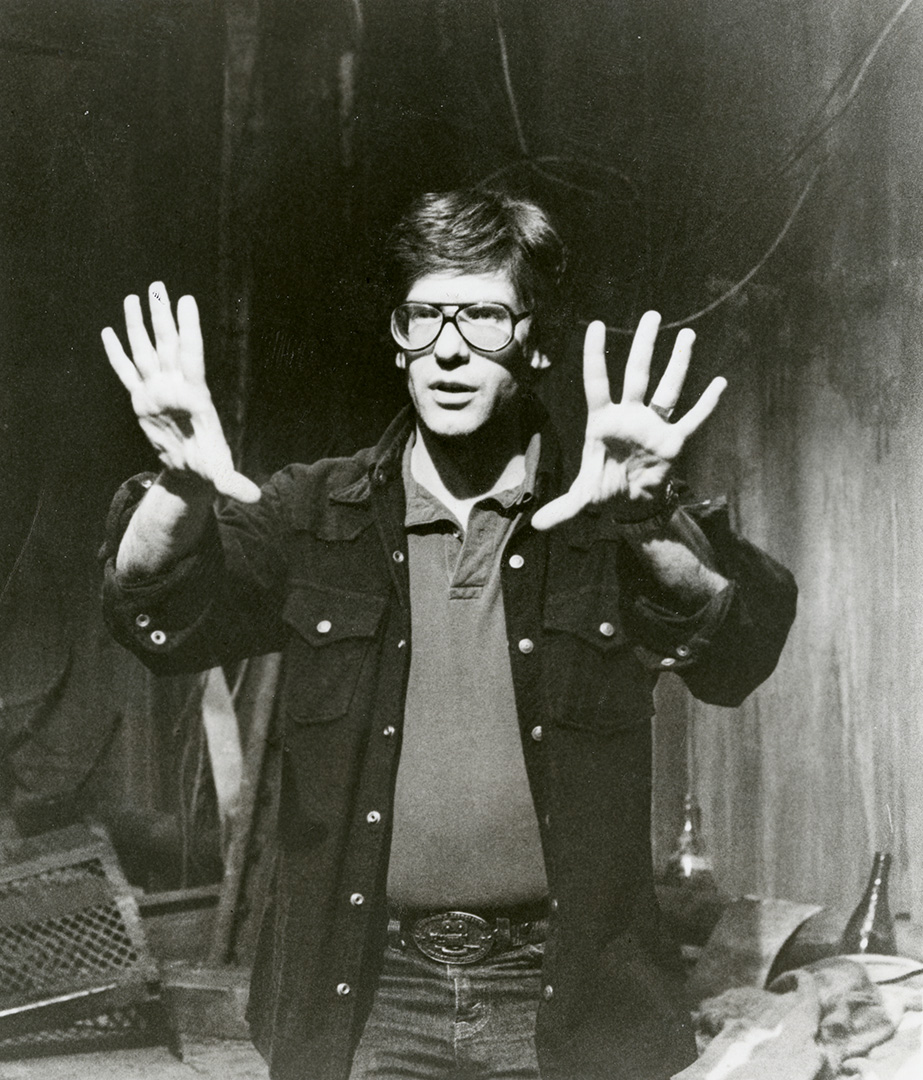 Three different endings were filmed. The ending used in the final film, wherein Max shoots himself on the derelict ship, was James Woods' idea.
James Woods : Max Renn

Sonja Smits : Bianca O'Blivion

Debbie Harry : Nicki Brand (as Deborah Harry)

Peter Dvorsky : Harlan

Leslie Carlson : Barry Convex

Jack Creley : Brian O'Blivion

Lynne Gorman : Masha

Julie Khaner : Bridey

Reiner Schwarz : Moses

David Bolt : Raphael

Lally Cadeau : Rena King

Henry Gomez : Brolley

Harvey Chao : Japanese Salesman

David Tsubouchi : Japanese Salesman

Kay Hawtrey : Matron
About David Cronenberg
1969 : Stereo

1970 : Crimes of the Future

1975 : Shivers

1977 : Rabid

1979 : Fast Company

1979 : The Brood

1981 : Scanners

1983 : Videodrome

1983 : The Dead Zone

1986 : The Fly

1988 : Dead Ringers

1991 : Naked Lunch

1993 : M. Butterfly

1996 : Crash

1999 : eXistenZ

2002 : Spider

2005 : A History of Violence

2007 : Eastern Promises

2011 : A Dangerous Method

2012 : Cosmopolis

2014 : Maps to the Stars
1975 : Shivers by David Cronenberg : infected crowd member (uncredited)

1982 : Videodrome by David Cronenberg : Max Renn helmet scenes (uncredited)

1985 : Into the Night by John Landis : Group Supervisor

1986 : The Fly by David Cronenberg : Gynecologist

1988 : Dead Ringers by David Cronenberg : Obstetrician (uncredited)

1990 : Nightbreed by Clive Barker : Dr Philip K. Decker

1994 : Boozecan by Nicholas Campbell : Stan Coleburn

1994 : Trial by Jury by Heywood Gould : Director

1995 : To Die For de Gus Van Sant : man at lake

1995 : Blood and Donuts by Holly Dale : Crime Boss

1996 : Moonshine Highway by Andy Armstrong : Clem Clayton

1996 : Crash by David Cronenberg : Auto Wreck Salesman (voice, uncredited)

1996 : The Stupids by John Landis

1996 : Extreme Measure by Michael Apted : Hospital Lawyer

1997 : Henry & Verlin by Gary Ledbetter : Doc Fisher

1998 : Last Night by Don McKellar : Duncan

1998 : The Grace of God by Gérald L'Ecuyer : Psychiatrist

1999 : Resurrection by Russell Mulcahy : Father Rousell

2001 : The Judge (TV Mini Series) by Mick Garris : Detective Stobel

2001 : Jason X by James Isaac : Dr Wimmer

2003 : Alias (TV Series) - Season 3, épisodes 9 and 10 : Dr Brezzel

2007 : To Each His Own Cinema (segment At the Suicide of the Last Jew in the World in the Last Cinema in the World) : The Suicidal Man

2010 : Happy Town (TV Series) - Season 1, episode 3 : Dr Leichman

2010 : Barney's Version by Richard J. Lewis : O'Malley Director #2

2017 : Alias Grace (TV Mini Series): Reverend Verringer

2020 : Star Trek: Discovery (TV Series) - Season 3, episode 5: Kovich

2020 : Clifton Hill by Albert Shin : Walter

2021 : Falling
David Cronenberg, son of a writer and a pianist, was introduced to music and literature very early on. From the age of eleven, he played the piano and classical guitar. His interest in nature and animals led him to scientific studies, which he quickly abandoned to turn to letters. Reader of Burroughs, Henry Miller and Nabokov, admirer of medieval literature, he wrote short stories and won literary prizes at the university. First tempted to become a novelist, he discovered cinema outside Hollywood with Winter kept US arm, directed by a student. He then trained in cinematographic technique as a perfect autodidact. In 1966, he directed his first short film, Transfer. In 1969 and 1970, he shot two anticipation films: Stereo and Crimes of the future. He then produced short documentaries for television and directed four short films for the Canadian Broadcasting Corporation.