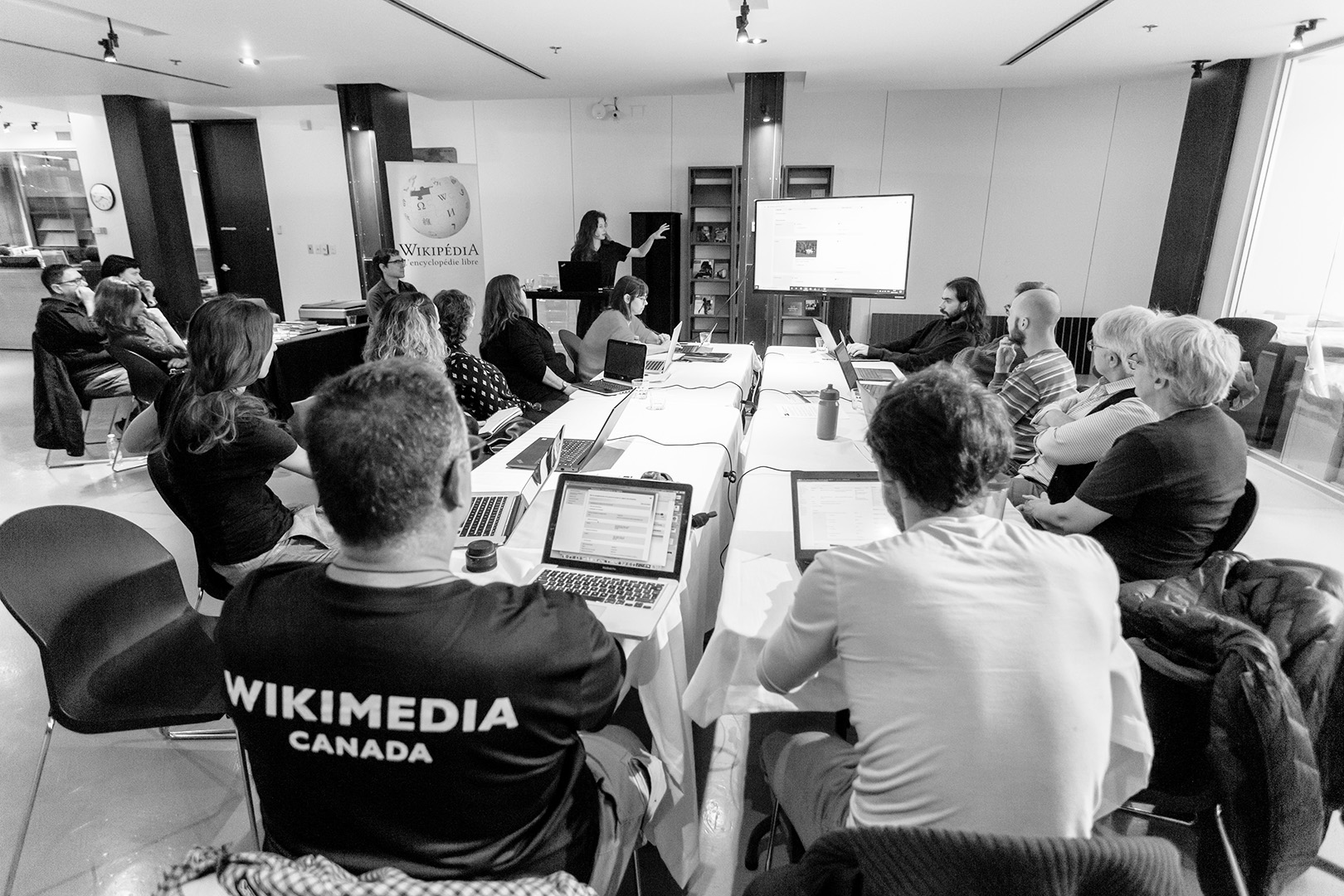 In September 2017, the Cinémathèque québécoise launched an initiative dedicated to the creation and exhibition of shared assets related to Quebec and Canadian cinema. The purpose is to ensure that the data and content conserved and produced by the institution for more than 50 years would be available and usable to all.
With a view to collaboration, the Cinémathèque seeks to promote the sharing of knowledge and the discoverability of works and artists, with the aim of inspiring new creative activities.
Since August 2018, we have benefitted from a Canada Council for the Arts grant that allows us to extend and expand this project until 2021, giving a valuable boost to the visibility of our cinematic heritage.
After collaborating with more than 100 artists and citizens in the last two years to improve the presence of Quebec cinema on Wikimedia Foundation platforms, particularly the Wikipedia free encyclopedia, the Cinémathèque québécoise announced, as part of the innovative Savoirs Communs du Cinéma initiative, new goals for strengthening our culture's representation online.
Vous voulez tout savoir sur le fonctionnement des plateformes de la Fondation Wikimédia (Wikipédia, Wikidata, Wikimédia Commons), découvrir les rudiments du Web sémantique ou encore développer des connaissances sur les modalités juridiques à prendre en compte pour diffuser des données? Nous vous invitons à communiquer avec la brigade volante de la Cinémathèque ! Votre organisme pourrait ainsi bénéficier d'une journée de formation et d'un suivi spécifique à vos besoins.
Professional meetings co-organized with the Université de Montréal, aimed at sharing knowledge and experience in arts and the re-use of cultural content, will be held every two months until June.
The Cinémathèque's Wiki w
o

rkshops
Efforts to raise the profile of Quebec cinema on Wikimedia platforms will continue actively, since the Cinémathèque uses the platforms to document both its screenings of Quebec films as they happen and the careers of filmmakers who attend the Cinémathèque's Sommets du cinéma d'animation.
Le saviez-vous ?
L'une des réalisations les plus importantes du deuxième volet de notre initiative Savoirs Communs du Cinéma sera la conception d'une plateforme de documentation collaborative qui a pour objectif de favoriser la découvrabilité d'une sélection d'archives liées aux communautés marginalisées du Québec et du Canada. Cette dernière nous permettra de développer de nouveaux regards sur nos pratiques archivistiques afin d'éviter d'exclure et conditionner autrement ce qui sera visible en ligne.
Pendant le mois de septembre, nous avons eu l'immense plaisir d'accueillir trois résident.e.s afin de produire une sélection de documents conservés au sein de nos collections. Grâce à leur regard aiguisé sur les questions féministes, raciales et LGBTQ, Christopher Wolff, Natacha Clitandre et kimura byol ont travaillé en collaboration avec notre équipe pour dénicher des trésors encore inédits de notre cinématographie. La suite au prochain épisode !
Nous tenons à remercier nos précieux partenaires pour leur aide et contributions à ce projet.
Master the Wikipedia platform from the comfort of your home with our fabulous Wiki tutorials:
Tuto #1 | B.a.-ba pour devenir maître Wiki
Tuto #2 | Créer un compte dans les règles de l'art
Tuto #3 | To be or not to be... admissible. This is the question
Tuto #4 | Anatomie d'une première contribution
Apprivoisez le web sémantique c'est possible grâce à ces 5 tutoriels :
Tuto web sémantique #1 | C'est quoi le web sémantique
Tuto web sémantique #2 | C'est quoi le web des données ouvertes et liées
Tuto web sémantique #3 | C'est quoi Wikidata?
Tuto web sémantique #4 | Données ouvertes et liées de la Cinémathèque québécoise
Tuto web sémantique #5 | Implications dans l'essor WDOL
La Cinémathèque est fière de s'être associée au Ministère des Relations Internationales et de la Francophonie dans le cadre de son programme, Coopération Québec/Haïti. Porté en collaboration avec l'équipe de l'initiative Savoirs Communs du Cinéma, ce partenariat instauré en 2018 visait notamment à améliorer la présence de la culture haïtienne et québécoise au sein des projets Wikimédia. Cette belle initiative nous a donné l'opportunité de participer à deux reprises à l'École d'été du numérique en Haïti (2018 et 2019) dans laquelle nous avons dispensé des formations au sujet de l'engagement des institutions culturelles sur les plateformes Wikimédia. Bien que la pandémie ait freiné nos échanges avec Haïti, nous avons souhaité honorer notre engagement à distance en terminant ce partenariat en beauté avec la création de deux pages Wikipédia sur des cinéastes d'origine haïtienne installé.e.s à Montréal. Nous vous invitons aujourd'hui à admirer le résultat !
Visitez la page GLAM de la Cinémathèque.
Nous remercions le Conseil des arts du Canada pour son soutien ainsi que le Conseil des arts de Montréal, l'Université de Montréal et Wikimédia Canada. Un grand merci à Josée Plamondon !
This project was made possible by the support of