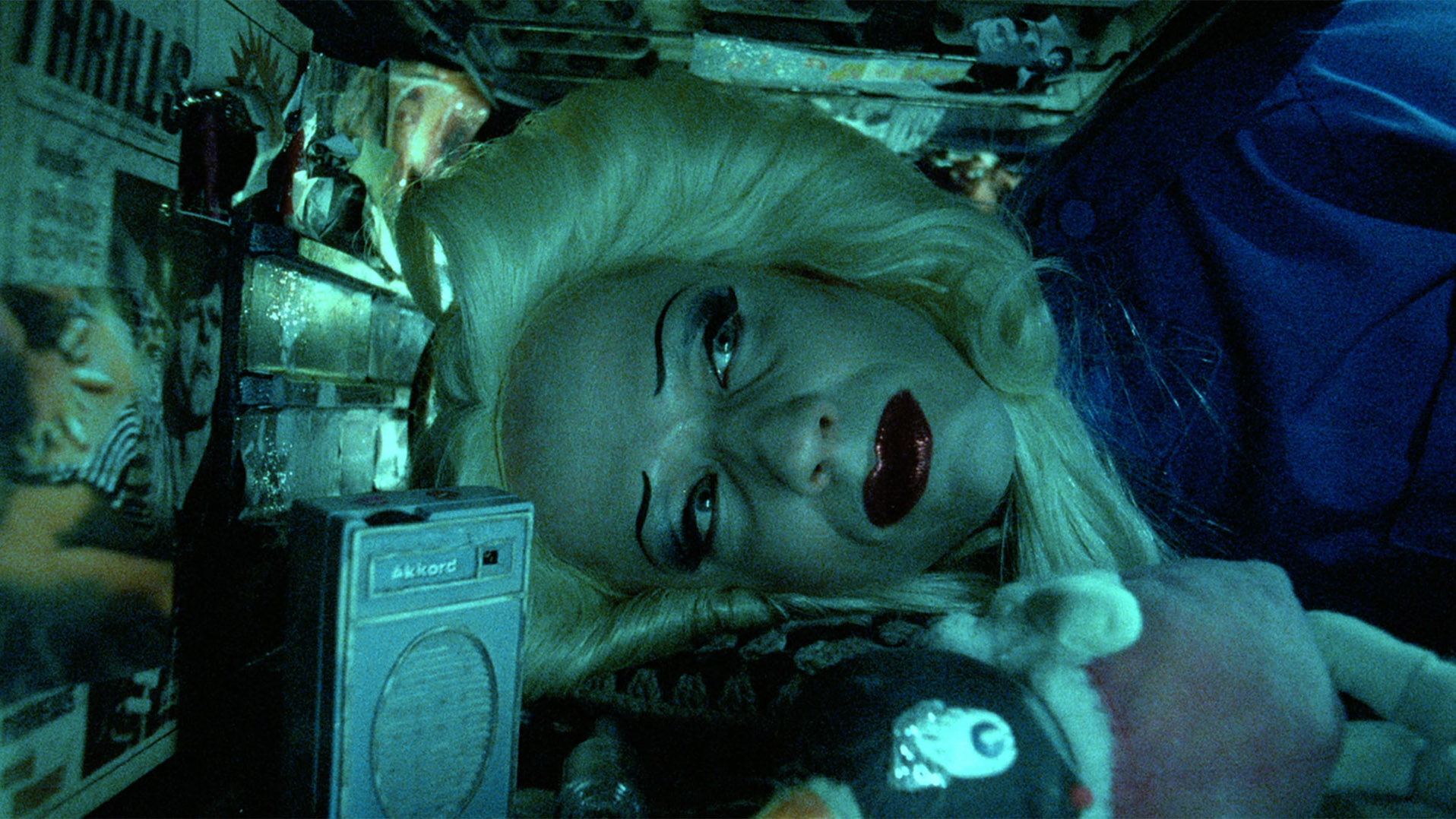 Hedwig and the Angry Inch (VOA)
Location
Main screening room
Cycle
Our summer cycle will be festive or not. Sound and image, song and dance, instrument and breathing, strings and gestures: so many possible combinations to express what cinema and music can achieve and express together. Musicals, concert films, catchy music. Jazz, classical, contemporary, disco, punk... Revolt and enchantment, distress and emphasis, joy and rhythm, melancholy and bass, laughter and stridency: diverse expressions characterizing cinema and music's historical alliance, will definitely make us fly, dream, dance!
From the 30's to the present day and across all possible genres, this cycle aims to open our minds at a time when we most need it. The first week of July will be an eventful one, as the cycle will open with several evenings in cabaret mode, where we will present for the first time concert films produced in Quebec during the confinement, with the participation of major artists of the current music scene: Klô Pelgag, Marie Davidson and Godspeed You! Black Emperor.
Hedwig and the Angry Inch
Directed by
John Cameron Mitchell
Actors
John Cameron Mitchell, Miriam Shor, Rob Campbell
Genre
Comedy, musical, drama
Synopsis
Hedwig, born a boy named Hansel in East Berlin, fell in love with an American G.I. and underwent a sex-change operation in order to marry him and flee to the West. Unfortunately, nothing worked out quite as it was supposed to - years later, Hedwig is leading her rock band on a tour of the U.S., telling her life story through a series of concerts at Bilgewater Inn seafood restaurants. Her tour dates coincide with those of arena-rock star Tommy Gnosis, a wide-eyed boy who once loved Hedwig... but then left with all her songs.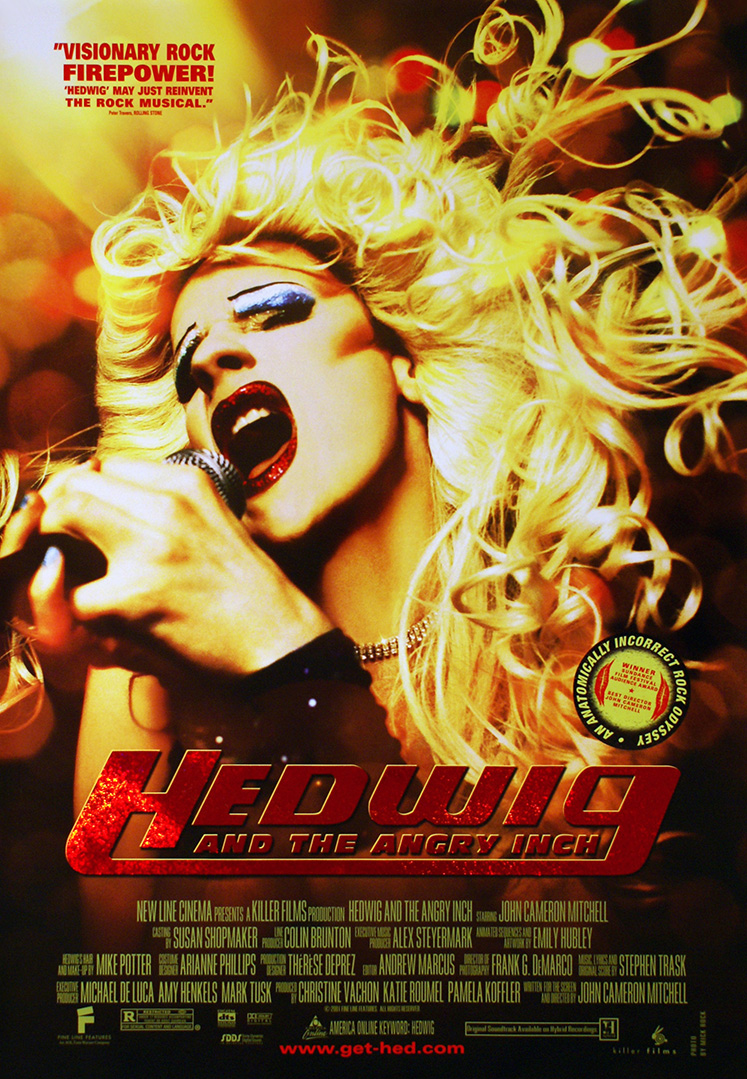 Austin Gay & Lesbian International Film Festival - 2001
aGLIFF Award - Best Feature
Berlin International Film Festival - 2001
Teddy Award - Best Feature Film
Deauville Film Festival - 2001
CinéLive Award
Critics Award
Los Angeles Film Critics Association Awards - 2001
New Generation Award
John Cameron Mitchell
Montréal Comedy Festival 'Just for Laughs' - 2001
Jury Award Special Jury Prize
National Board of Review, USA - 2001
NBR Award - Outstanding Directorial Debut
Sundance Film Festival - 2001
Audience Award - Dramatic Directing Award - Dramatic
San Francisco International Lesbian & Gay Film Festival - 2001
GLAAD Media Awards 2002
Outstanding Film - Limited Release
L.A. Outfest - 2002
Screen Idol Award Best Performance by an Actor in a Leading Role - John Cameron Mitchell Best Performance by an Actress in a Supporting Role - Miriam Shor
Florida Film Critics Circle Awards - 2002
Best Songs pour Stephen Trask
Newcomer of the Year pour John Cameron Mitchell
Glitter Awards - 2002
Best Feature voted by the U.S. Gay Press Best Feature voted by the U.S. Gay Film Festivals Best Feature voted by U.S/International Gay Film Festivals and U.S. Gay Press
Phoenix Film Critics Society Awards - 2002
Best Use of Previously Published or Recorded Music Best Actor in a Leading Role - John Cameron Mitchell Best Actress in a Supporting Role - Miriam Shor
John Cameron Mitchell
John Cameron Mitchell, born April 21, 1963 in El Paso, is an American writer, actor and director. After the success of Hedwig, for which he won a Teddy Award at the Berlinale, Mitchell became interested in financing, writing and directing a high-quality film that would incorporate explicit and realistic sex scenes, Shortbus. Openly gay, Mitchel has become somewhat of an icon for gay culture and gay rights. (Wikipedia)

Photo : Wikipedia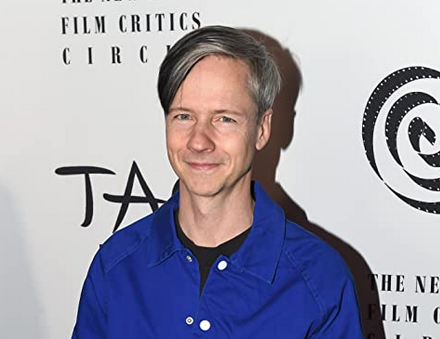 John Cameron Mitchell : Hansel Schmidt / Hedwig

Michael Pitt : Tommy Speck / Tommy Gnosis

Miriam Shor : Yitzhak

Andrea Martin : Phyllis Stein

Alberta Watson : Hedwig Schmidt

Maurice Dean Wint : sergent Luther Robinson

Stephen Trask : Skszp

Rob Campbell : Krzysztof
Extrait d'Hedwig and the Angry Inch
About John Cameron Mitchell
Filmography of John Cameron Mitchell
2001 : Hedwig and the Angry Inch 2006 : Shortbus 2010 : Rabbit Hole 2010 : Lady Grey London, court-métrage publicitaire 1 2012 : L.A dy Dior, court-métrage publicitaire 2017: How to Talk to Girls at Parties