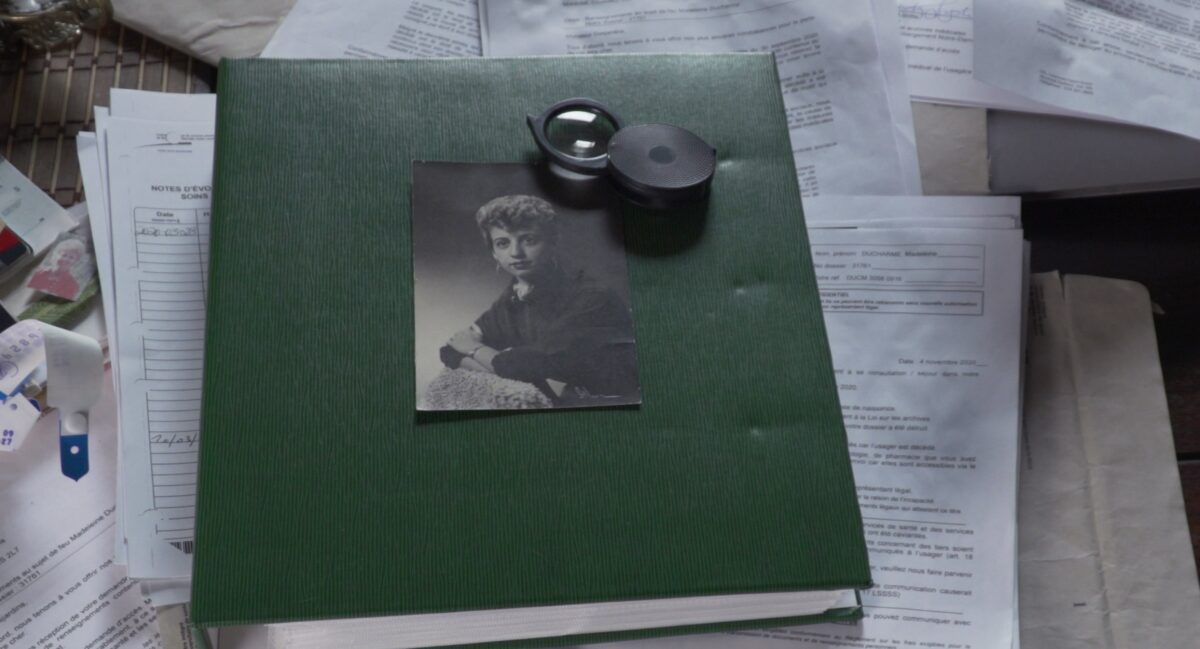 Thursday
, March 23rd, 2023
at 18:00
Thursday
, March 23rd, 2023
at 18:00
Saturday
, March 25th, 2023
at 13:15
Tuesday
, March 28th, 2023
at 13:30
March 23rd - 28th, 2023
I lost my mom
Location
Fernand-Seguin screening room
Date
March 23rd - 28th, 2023
Cycle
The mission of the Centre d'art et d'essai de la Cinémathèque québécoise (CAECQ) is to primary program Quebec-made documentaries and independent fiction, as well as international documentaries, animated and foreign films, while encouraging opportunities for meetings between the public and the artists. Its programming is presented in conjunction with the Cinémathèque québécoise's under the label New releases.
La projection du 19 mars sera suivie d'une table ronde.
I lost my mom
Directed by
Denys Desjardins
Actors
Madelaine Ducharme-Desjardins
Synopsis
In the style of a film diary, this documentary immerses us in the personal experience of the filmmaker and his sister as they try to ensure their mother can end her days with dignity in the CHSLD system. Amid this complex challenge, Denys Desjardins films his mother with incredible tenderness. He communicates her vulnerability and warm personality from a place of love and respect. This feature-length film is a continuation of the documentary work on the housing of seniors that the filmmaker began in his previous film Le Château (The Castle), in the web series L'industrie de la vieille$$e and in the web fiction experience 2031.Quebec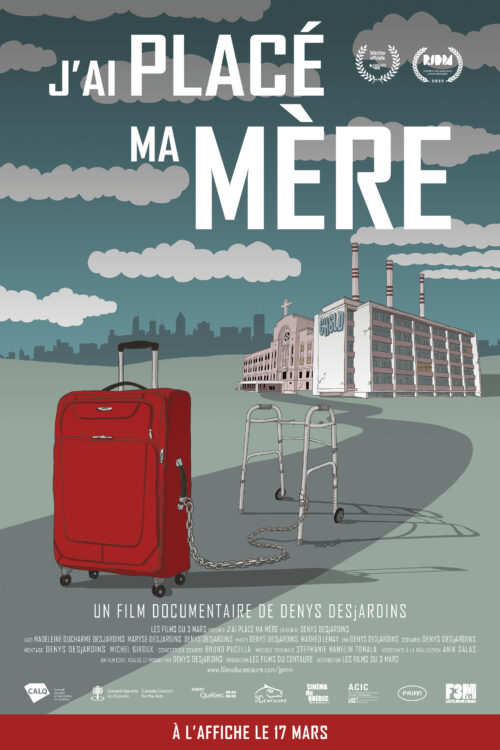 Denys Desjardins
** Denys Desjardins** is a "multifaceted filmmaker with an endlessly curious spirit whose boundless love of cinema permeates his entire output. While studying film, Desjardins worked as an orderly in a mental health care institution and discovered the world through the eyes of those marginalized and forgotten by society. Thereafter, his camera became a tool for building relationships and telling the world's stories — one film at a time. Truly passionate about the art of cinema, Desjardins has put his hand to every aspect of film production, from camera operator to director, in addition to writing, research, and editing. In 1990, he launched his own production company, Les Films du Centaure. Since then, he has directed and produced some 20 films as well as numerous websites, working both in the private sector and with the National Film Board of Canada. With the latter, he also collaborated on the DVD box sets of the films of Gilles Groulx, Michel Brault, and Pierre Perrault. A socially engaged filmmaker, Desjardins has for the past three decades been part of the ongoing battle to defend and uphold artistic institutions. He has served on numerous boards of directors, including the Soirée des Jutra (now Gala Québec Cinéma) and the Rendez-vous du cinéma québecois (now Rendez-vous Québec Cinéma), and is a founding member of Québec Cinéma. Producer and creator of the website cinemaduquebec.com, he is also the founder of DOCfest – Pour la suite du DOC, an annual festival held on Isle-aux-Coudres that's dedicated to the future of documentary filmmaking.
Photo: Frédéric Bouchard
About Denys Desjardins
1996: LA DAME AUX POUPÉES

1997: CONTRE LE TEMPS ET L'EFFACEMENT, BORIS LEHMAN… ( Court métrage)

1999: ALMANACH ( Court métrage)

2001: MON OEIL POUR UNE CAMÉRA (Long métrage)

2003: MOI « ROBERT » BOB ( Court métrage)

2005: PIERRE ET LE SOU ( Court métrage)

2006: PENN AR BED ( Court métrage)

2006: HISTOIRE D'ÊTRE HUMAIN (Long métrage)

2007: AU PAYS DES COLONS (Long métrage)

2008: RETOUR EN AMÉRIQUE ( Court métrage)

2013: KAPADOKYA ( Court métrage)

2019: L'ENFANCE DE L'ART ( Court métrage)

2020: LE CHÂTEAU (Long métrage)

2021: L'INDUSTRIE DE LA VIELLE$$E (Long métrage)

2022: J'AI PLACÉ MA MÈRE (Long métrage)