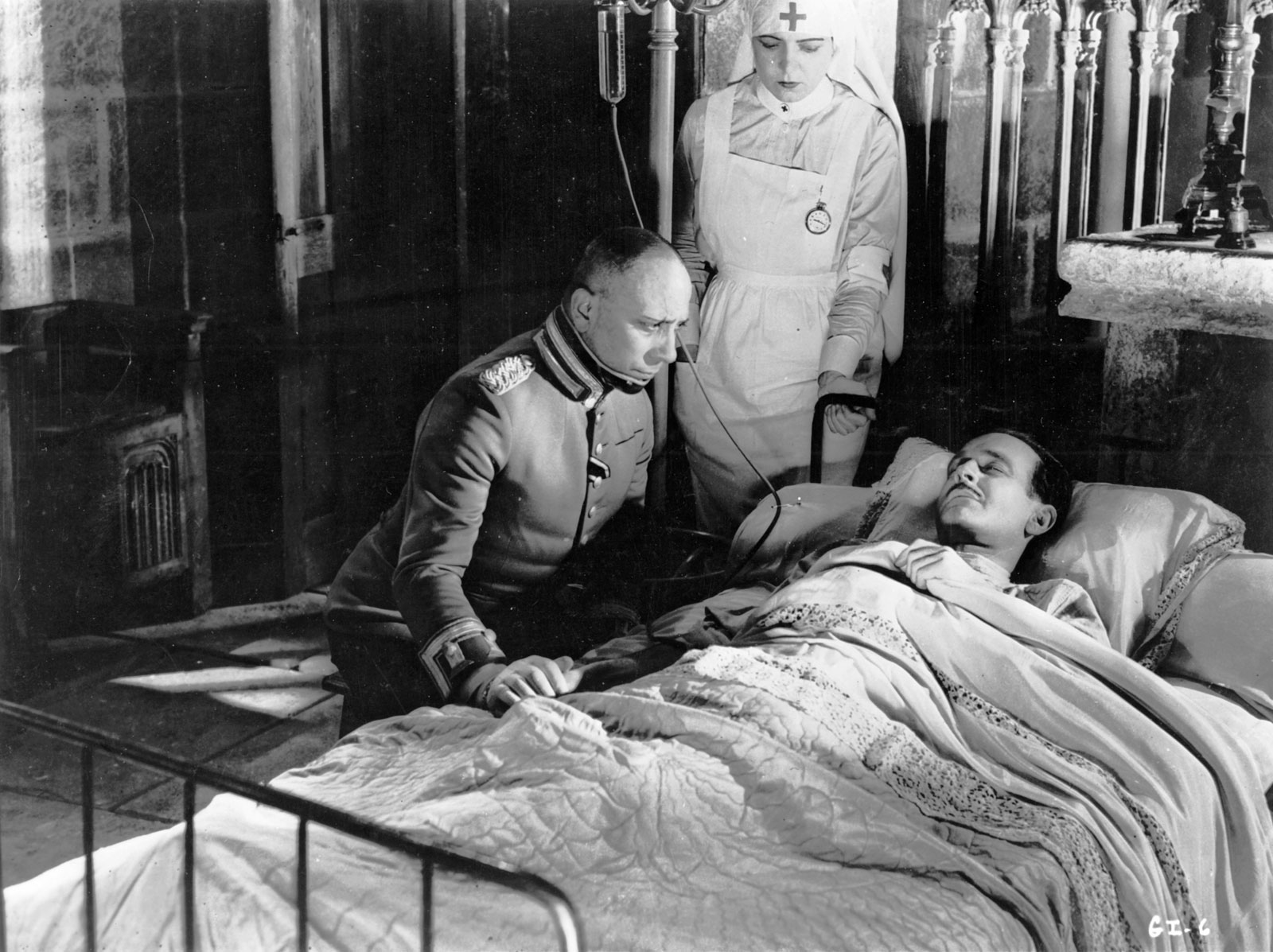 Location
Main screening room
Cycle
Erich von Stroheim : seul en son royaume
Among the pioneers in the history of cinema, Erich von Stroheim is undoubtedly one of those who strived the most to invent his own myth. This hero of another time, who seemed to carry the end of the Austro-Hungarian Empire on his shoulders, was a remarkable inventor of forms, creating from his very first silent films gems of narration, carried by a breathtaking art of editing. Although he often acted in the films he directed, it was Greed, his great work in which he did not act, that made him the first cursed filmmaker. No version of this film corresponds exactly to the film he had made, which was quickly butchered. With the advent of talking pictures, he became a simple actor (of genius) crossing with his legendary silhouette countless films.
La grande illusion
Actors
Jean Gabin, Dita Parlo, Pierre Fresnay
Synopsis
First World War. Two French soldiers are taken prisoner by Commander von Rauffenstein, a refined and respectful German. Taken to a prison camp, they help their roommates dig a secret tunnel. But on the eve of their escape, the prisoners were transferred. They were finally taken to a high-security fortress run by von Rauffenstein. He treated the prisoners with courtesy, even befriending Boeldieu. But the French officers were planning a new escape.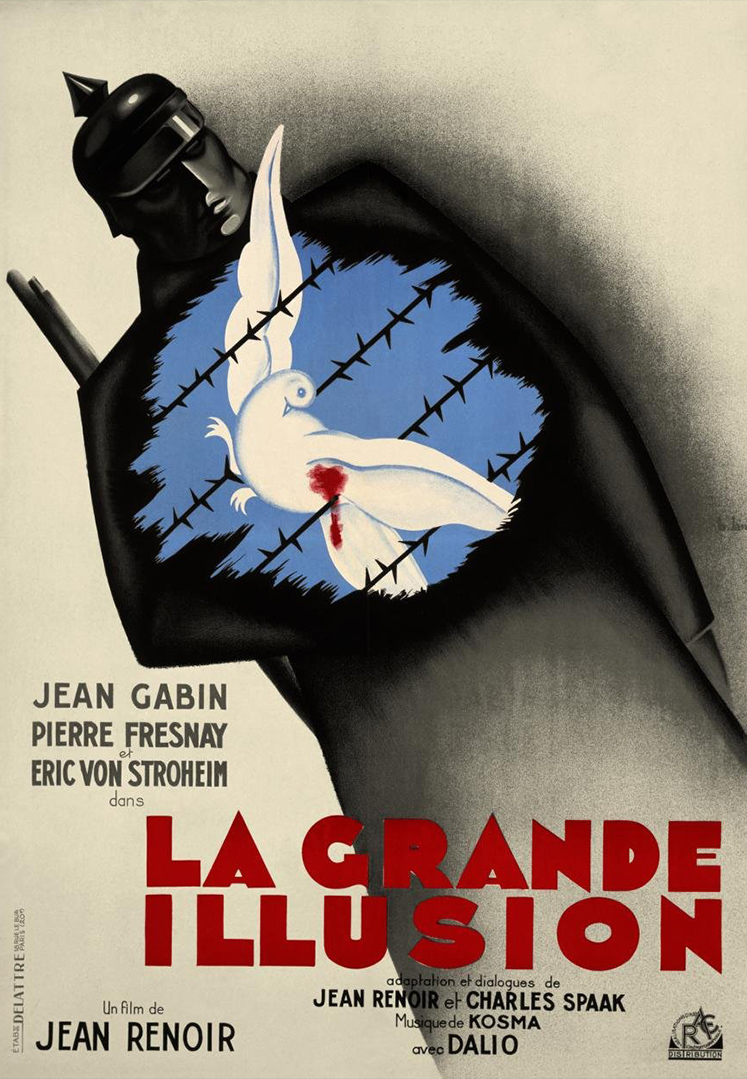 New York Film Critics Circle Awards 1939
Meilleur film en langue étrangère
Venice Film Festival 1937
Best Overall Artistic Contribution
National Board of Review, USA 1938
Best Foreign Film

Best Acting

Top Foreign Films
Jean Renoir
Jean Renoir, est né à Paris le 15 septembre 1894 et est mort le 12 février 1979 à Beverly Hills. Deuxième fils du célèbre peintre Auguste Renoir, ses films ont profondément marqué les mutations du cinéma français entre 1930 et 1950, avant d'ouvrir la voie à la Nouvelle Vague. Après avoir combattu dans l'armée lors de la Première Guerre mondiale, il dirige sa femme et son frère aîné dans son premier film en 1924, La Fille de l'eau. Le succès n'est pas au rendez-vous mais le jeune Jean, passionné de cinéma, ne baisse pas les bras. Sa carrière décolle vraiment avec La Chienne, en 1931. La Grande illusion, avec Jean Gabin ou La Règle du jeu, sont considérés aujourd'hui comme des chefs-d'oeuvres majeurs du cinéma mondial. Au début des années 40, alors que la guerre est déclarée, il part s'installer à Hollywood. Il y réalise de nombreux films comme Vivre libre, L'Homme du Sud, Le Journal d'une femme de chambre, mais le succès n'est pas au rendez-vous. Il décide donc de revenir en France au début des années 50. Il tourne alors plusieurs chefs-d'oeuvre comme Le Carrosse d'or ou French Cancan. En 1962, il tourne son dernier film de cinéma,* Le Caporal épinglé.* En 1975, il reçoit un Oscar d'honneur pour l'ensemble de sa carrière, avant de mourir quatre ans plus tard à Beverly Hills, en Californie.
« The story of The Great Illusion is rigorously true and has been told to me by several of my war comrades… I am obviously talking about the one of 1914. In 1914, there had not yet been Hitler. There hadn't been the Nazis, who almost succeeded in making people forget that the Germans are also human beings. In 1914, the minds of men had not yet been distorted by totalitarian religions and racism. In some ways this world war was still a war of gentlemen, of well-bred people, I almost dare say a war. »
About La grande illusion
Jean Gabin: Lieutenant Marshal

Pierre Fresnay: Captain of Boëldieu

Erich von Stroheim: the captain then commander von Rauffenstein

Marcel Dalio: Lieutenant Rosenthal

Julien Carette: Cartier, the actor

Gaston Modot: the cadastre engineer

Dita Parlo: Elsa

Georges Péclet: the locksmith

Werner Florian: Sergeant Kantz, known as Arthur

Jean Dasté: the teacher

Sylvain Itkine: Lieutenant Demolder, known as Pindare

Jacques Becker: the English officer who breaks his watch

Habib Benglia: the Senegalese

Pierre Blondy: a soldier

Albert Brouett: a prisoner

Roger Forster: Maison-Neuve

Georges Fronval: the German soldier who targets Captain Boëldieu

Karl Heil: an officer of the fortress

Carl Koch: a country policeman (von Rauffenstein's order)

Little Peters: Lotte, Elsa's little girl

Claude Sainval: Captain Ringis

Michel Salina

Claude Vernier: the Prussian officer
About Erich von Stroheim
1919 : Blind Husbands

1920 : The Devil's Passkey

1921 : Foolish Wives

1923 : Merry-Go-Round

1924 : Greed

1925 : The Merry Widow

1926 : The Wedding March

1926 : The Honneymoon

1928 : Queen Kelly

1929 : The Great Gabbo

1933 : Hello, Sister!
1915 : Captain Macklin de Jack Conway

1915 : Ghosts de George Nichols - également assistant metteur en scène et créateur des costumes

1915 : The Country Boy de Frederick A. Thomson (simple apparition)

1915 : Le Vieil Heidelberg (ou Le Prince étudiant) (Old Heidelberg) de John Emerson - également assistant metteur en scène et conseiller technique

1915 : Secrétaire mondain de John Emerson - également assistant metteur en scène

1916 : Intolérance de D. W. Griffith : un pharisien - également assistant metteur en scène

1916 : Macbeth de John Emerson - également assistant metteur en scène

1916 : Son portrait dans les journaux de John Emerson - également assistant metteur en scène

1916 : La secrétaire particulière (The Social Secretary) de John Emerson - également assistant metteur en scène

1916 : Moins que poussière de John Emerson - également assistant metteur en scène

1916 : The Flying Torpedo de John O'Brien et Christy Cabanne : un complice

1917 : Panthea de Allan Dwan - également assistant metteur en scène

1917 : Sa revanche (In Again, Out Again) de John Emerson - également assistant metteur en scène

1917 : Douglas dans la lune de John Emerson

1917 : Sylvia des services secrets de George Fitzmaurice - également assistant metteur en scène et conseiller technique

1917 : Pour la France de Wesley Ruggles

1917 : Draft 258 de Christy Cabanne

1917 : Who Goes There? de William P.S Earle

1917 : Il court, il court le furet de John Emerson : le bandit borgne - également assistant metteur en scène et conseiller technique

1918 : Le Sceptique d'Alan Crosland

1918 : Cœurs du monde (Hearts of the World) de D. W. Griffith - également assistant metteur en scène et conseiller technique

1918 : Bas les masques ! (L'Ennemi dans les murs) (The Hun Within) de Christy Cabanne

1918 : Pour l'humanité (The Heart of Humanity) d'Allen Holubar : Eric von Eberhard - également conseiller technique et militaire

1919 : La Loi des montagnes ou Maris aveugles (Blind Husbands) : le lieutenant Eric von Steuben - également réalisateur et scénariste

1921 : Folies de femmes (Foolish Wives) : Wladislaw Sergius Karamzin - également réalisateur et scénariste

1924 : Les Rapaces (Greed) : le vendeur de ballons - également réalisateur et scénariste

1926 : La Symphonie nuptiale (The Wedding March) : Nickolas « Nikki » von Wildeliebe-Rauffenburg - également réalisateur et scénariste

1928 : La Tempête de Sam Taylor - également scénariste

1929 : Gabbo le ventriloque de James Cruze

1930 : Agent Z 1 (Three Faces East) de Roy Del Ruth

1931 : Le Sphinx a parlé de Victor Schertzinger

1932 : L'Escadrille perdue de George Archainbaud et Paul Sloane : Arthur von Furst

1932 : Comme tu me veux (As You Desire Me) de George Fitzmaurice

1934 : Crimson Romance de David Howard - également conseiller militaire

1934 : Poste frontière (Fugitive Road) de Franck Strayer - également conseiller militaire

1935 : Le Crime du docteur Crespi de John H. Auer : André Crespi

1935 : Anna Karénine de Clarence Brown - également conseiller militaire

1936 : San Francisco de W. S. Van Dyke - également dialoguiste

1936 : Les Poupées du diable de Tod Browning - également scénariste

1936 : Les Candélabres de l'Empereur de George Fitzmaurice - également scénariste (non crédité)

1936 : Marthe Richard, au service de la France de Raymond Bernard

1937 : Between Two Women de George B. Seitz - également scénariste

1937 : La Grande Illusion de Jean Renoir : le capitaine von Rauffenstein

1937 : Mademoiselle Docteur (Under Secrets Orders) d'Edmond T. Gréville

1937 : L'Alibi de Pierre Chenal

1938 : Les Pirates du rail de Christian-Jaque

1938 : La Vie des artistes, documentaire de Bernard Roland

1938 : L'Affaire Lafarge de Pierre Chenal

1938 : Les Disparus de Saint-Agil de Christian-Jaque

1938 : Ultimatum de Robert Wiene

1938 : Gibraltar de Fedor Ozep : Marson

1939 : Menaces de Edmond T. Gréville

1939 : Rappel immédiat de Léon Mathot

1939 : Pièges de Robert Siodmak

1939 : Le monde tremblera ou La Révolte des vivants de Richard Pottier

1939 : Derrière la façade de Georges Lacombe et Yves Mirande

1939 : Tempête sur Paris de Dominique Bernard-Deschamps

1939 : Macao, l'enfer du jeu de Jean Delannoy

1939 : Paris-New York de Claude Heymann et Yves Mirande

1940 : Tanya l'aventurière (I Was an Adventuress) de Gregory Ratoff

1941 : Ainsi finit notre nuit de John Cromwell

1943 : Les Cinq Secrets du désert de Billy Wilder : Feldmarschall Erwin Rommel

1943 : L'Étoile du Nord (The North Star) de Lewis Milestone : le docteur von Harden

1944 : La Femme et le Monstre (The Lady and The Monster) de George Sherman :le professeur Franz Mueller

1944 : Tempête sur Lisbonne (en) de George Sherman

1944 : La Cible vivante ou Le Grand Flamarion d'Anthony Mann : Le Grand Flamarion

1945 : Scotland Yard Investigator de George Blair

1945 : Le Masque de Dijon de Lew Landers : Dijon

1945 : La Foire aux chimères, de Pierre Chenal

1946 : On ne meurt pas comme ça de Jean Boyer

1948 : La Danse de mort de Marcel Cravenne d'après August Strindberg : le capitaine (également scénariste)

1948 : Le Signal rouge de Ernst Neubach

1949 : Portrait d'un assassin de Bernard-Roland

1950 : Boulevard du crépuscule (Sunset Boulevard) de Billy Wilder : Maximillian « Max » von Mayerling

1952 : L'Envers du paradis de Edmond T. Gréville

1953 : Alerte au Sud de Jean Devaivre

1953 : La Mandragore d'Arthur Maria Rabenalt

1953 : Minuit quai de Bercy de Christian Stengel

1955 : Napoléon de Sacha Guitry : Ludwig van Beethoven

1955 : Série noire de Pierre Foucaud

1955 : La Madone des sleepings de Henri Diamant-Berger