Le mani sulla città (VOSTF)
Location
Main screening room
Cycle
Centennial anniversary of Francesco Rosi
Although his name is less famous than those of some of his contemporaries such as Fellini or Pasolini, the Neapolitan Francesco Rosi is nonetheless a major figure of Italian cinema of the second half of the 20th century. A figurehead of a rigorous political cinema, he has made power an essential theme of his work, recurrently addressing the weight of the mafia in Italian society. But far from shining only in their analysis, Rosi's films are expressions of his remarkable talent as a director and storyteller, to which his taste for literary adaptations also responds. Celebrating the centenary of his birth offers us a wonderful opportunity to revisit many of the milestones of a filmography that spans more than forty years.
Main basse sur la ville
Directed by
Francesco Rosi
Actors
Rod Steiger, Salvo Randone, Guido Alberti
Synopsis
In Naples, an unscrupulous land developer, with the help of a politician, manages to launch a botched real estate project on agricultural land. The collapse of a building on the eve of the municipal elections triggers a scandal and the setting up of a commission of inquiry.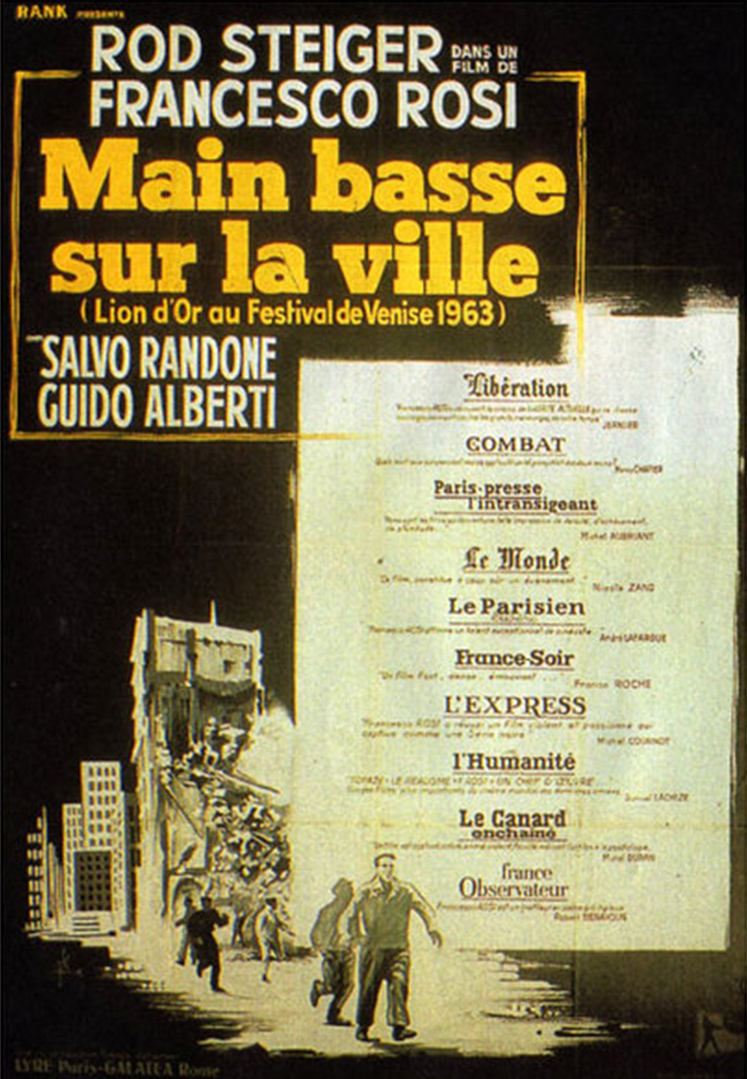 Francesco Rosi
After attending law school during the Second World War, the Neapolitan Francesco Rosi carried out various activities in the 1940s: illustration of children's books, radio serials, plays with Ettore Giannini... He began his film career as an assistant director to Luchino Visconti for La terre tremble (1948). After several contributions as a screenwriter, he made his first films at the end of the 1950s. But it was with Salvatore Giuliano (1961) that the filmmaker refined his style and made himself known beyond borders. He adopts a method close to the investigation, starting from historical figures and extensive research to deliver his political analysis. Rosi has often worked with writers, in particular Tonino Guerra (Uomini contro, Il caso Mattei, Lucky Luciano, Cadaveri eccelenti). In addition to his native Mezzogiorno, he made Spain (which occupied Naples for centuries) a source of inspiration: Il momento della verità, Carmen or Cronaca di una morte annunciata.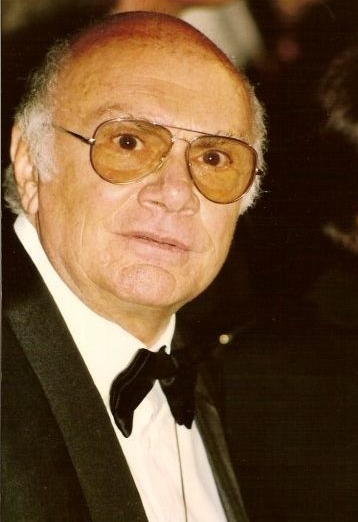 About Main basse sur la ville
Rod Steiger as entrepreneur Edoardo Nottola

Salvo Randone as De Angeli

Guido Alberti as Maglione

Angelo D'Alessandro as Balsamo

Carlo Fermariello as De Vita

Marcello Cannavale as Nottola's friend

Alberto Canocchia as Nottola's friend

Gaetano Grimaldi Filioli as Nottola's friend

Dante Di Pinto as the president at the commission of enquiry

Dany Paris as Maglione's lover

Alberto Amato as a counsellor

Franco Rigamonti as a counsellor

Terenzio Cordova as the inspector

Vincenzo Metafora as the mayor
About Francesco Rosi
1952 – Red Shirts (Camicie rosse)

1956 – Kean (Kean – Genio e sregolatezza), co-directed with Vittorio Gassman.

1958 – The Challenge (La sfida)

1959 – The Magliari (I magliari)

1962 – Salvatore Giuliano

1963 – Hands over the City (Le mani sulla città)

1965 – The Moment of Truth (Il momento della verità)

1967 – More than a Miracle (C'era una volta...)

1970 – Many Wars Ago (Uomini contro)

1972 – The Mattei Affair (Il caso Mattei)

1973 – Lucky Luciano

1976 – Illustrious Corpses (Cadaveri eccellenti)

1979 – Christ Stopped at Eboli (Cristo si è fermato a Eboli)

1981 – Three Brothers (Tre fratelli)

1984 – Carmen

1987 – Chronicle of a Death Foretold (Cronaca di una morte annunciata)

1989 – 12 registi per 12 città, a collaboration work with 11 other directors.

1989 – The Palermo Connection (Dimenticare Palermo)

1992 – Neapolitan Diary (Diario napoletano)

1997 – The Truce (La tregua)
Bellissima (1951)

The City Stands Trial (1952)

Racconti romani (1955)

The Bigamist (1956)