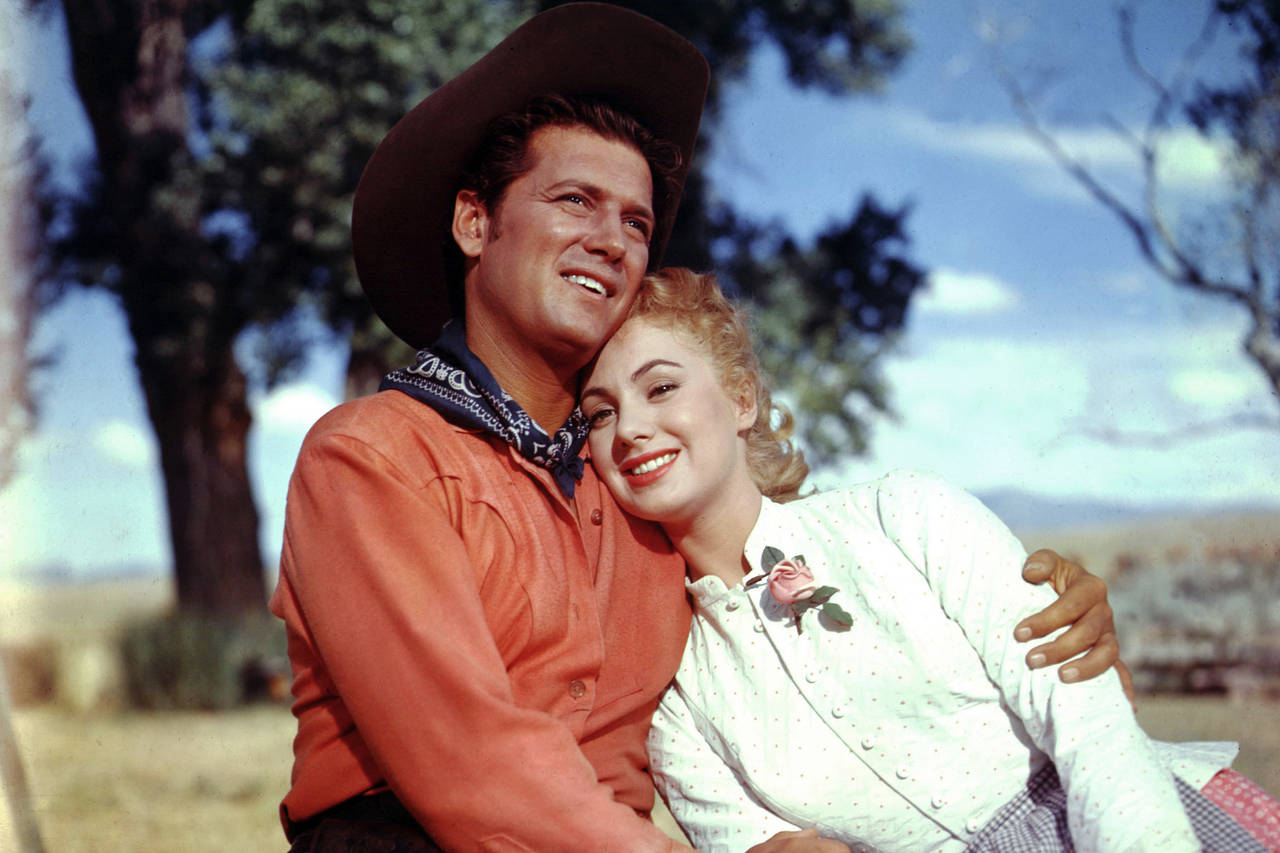 Location
Main screening room
Cycle
Our summer cycle will be festive or not. Sound and image, song and dance, instrument and breathing, strings and gestures: so many possible combinations to express what cinema and music can achieve and express together. Musicals, concert films, catchy music. Jazz, classical, contemporary, disco, punk... Revolt and enchantment, distress and emphasis, joy and rhythm, melancholy and bass, laughter and stridency: diverse expressions characterizing cinema and music's historical alliance, will definitely make us fly, dream, dance!
From the 30's to the present day and across all possible genres, this cycle aims to open our minds at a time when we most need it. The first week of July will be an eventful one, as the cycle will open with several evenings in cabaret mode, where we will present for the first time concert films produced in Quebec during the confinement, with the participation of major artists of the current music scene: Klô Pelgag, Marie Davidson and Godspeed You! Black Emperor.
This movie was shot in 70 mm !
Oklahoma !
Directed by
Fred Zinnemann
Language
English with french subtitles
Actors
Gordon MacRae, Gloria Grahame, Gene Nelson
Synopsis
Set in Oklahoma Territory, it tells the story of farm girl Laurey Williams (Jones) and her courtship by two rival suitors, cowboy Curly McLain (MacRae) and the sinister and frightening farmhand Jud Fry (Steiger). (Wikipedia)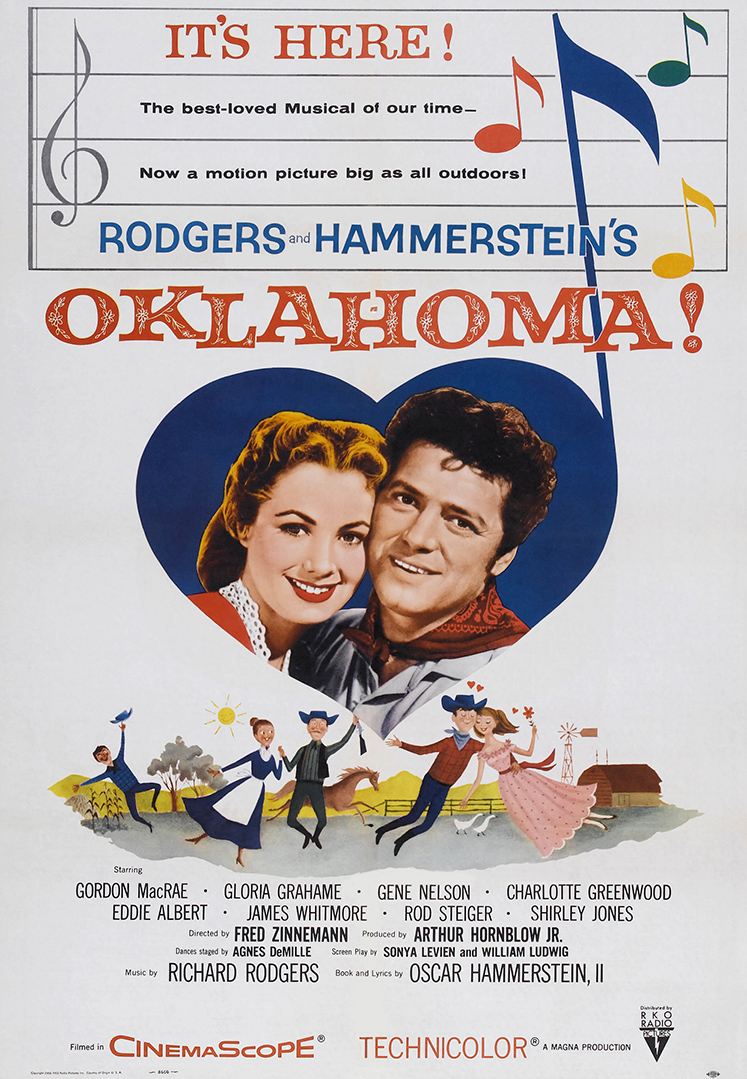 Oscars 1956
Best Sound, Recording : Fred Hynes (Todd-AO Sound Dept.)

Best Music, Scoring of a Musical Picture : Robert Russell Bennett, Jay Blackton, Adolph Deutsch
Laurel Awards 1956
Golden Laurel - Top Male Musical Performance : Gordon MacRae
Fred Zinnemann
Fred Zinnemann is an American director and producer of Austrian origin. After studying law and violin, he went to Paris to study camera work. He became an assistant cameraman, then assistant director. He fled Nazi Germany and left for Hollywood in 1929. His cinema deals with intimate and political revolt, heroic values and the refusal of compromise. It is a reflection on human dignity. He was one of the first directors to insist on the use of authentic locations and to mix stars and civilians to give more realism to his films. Within the film industry, he was considered a maverick who took risks and created unique films, many of his stories being dramas about principled, lonely individuals challenged by tragic events. He won four Academy Awards for directing and producing films in a variety of genres, including thrillers, westerns, film noir, and play adaptations. He has directed 25 feature films in his 50-year career. (Wikipedia)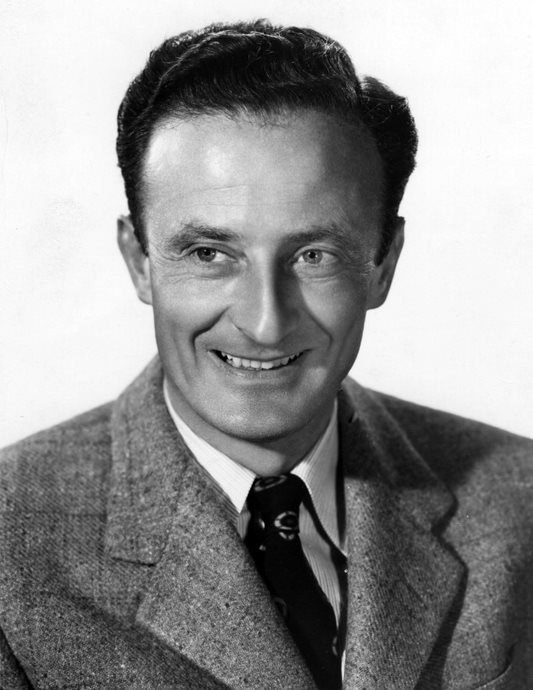 Celebrate the 64th Anniversary of the Oklahoma! Movie With a Look Behind the Scenes
Oklahoma! premiered at the Rivoli Theatre in New York City on October 11, 1955, under the same type of "roadshow" release model that would become a standard for large-scale movie musicals in the years to come. It earned two Academy Awards—one for its score and one for its sound recording—and received favorable reviews from critics...
Behind the Scenes of OKLAHOMA!
Gordon MacRae : Curly McLain

Gloria Grahame : Ado Annie Carnes

Gene Nelson : Will Parker

Charlotte Greenwood : Aunt Eller

Shirley Jones : Laurey Williams

Eddie Albert : Ali Hakim

James Whitmore : Andrew Carnes

Rod Steiger : Jud Fry

Barbara Lawrence : Gertie Cummings

Jay C. Flippen : Skidmore

Roy Barcroft : Marshal
About Fred Zinnemann
Filmography de Fred Zinnemann
1982 Five Days One Summer

1977 Julia

1973 The Day of the Jackal

1966 A Man for All Seasons

1964 Behold a Pale Horse

1960 The Sundowners

1959 The Nun's Story

1958 The Old Man and the Sea (uncredited)

1958 Decision (TV Series) (1 episode)

1957 A Hatful of Rain

1956 Screen Directors Playhouse (TV Series) (1 episode)

1955 Oklahoma!

1953 From Here to Eternity

1952 The Member of the Wedding

1952 High Noon

1951 Benjy (Short)

1951 Teresa

1950 The Men

1948 Act of Violence

1948 The Search

1947 My Brother Talks to Horses

1946 Little Mister Jim

1945 The Clock (uncredited)

1944 The Seventh Cross

1942 Eyes in the Night

1942 Kid Glove Killer

1942 The Lady or the Tiger? (Short)

1942 The Greenie (Short)

1941 Your Last Act (Short)

1941 Forbidden Passage (Short)

1940 The Great Meddler (Short)

1940 A Way in the Wilderness (Short)

1940 Stuffie (Short)

1940 The Old South (Documentary short)

1939 Forgotten Victory (Short)

1939 The Ash Can Fleet (Short)

1939 One Against the World (Short)

1939 Help Wanted (Short)

1939 While America Sleeps (Short)

1939 Weather Wizards (Short)

1938 They Live Again (Documentary short)

1938 Tracking the Sleeping Death (Short)

1938 The Story of Doctor Carver (Short)

1938 That Mothers Might Live (Short)

1937 Friend Indeed (Short)

1936 Redes

1930 People on Sunday (uncredited)