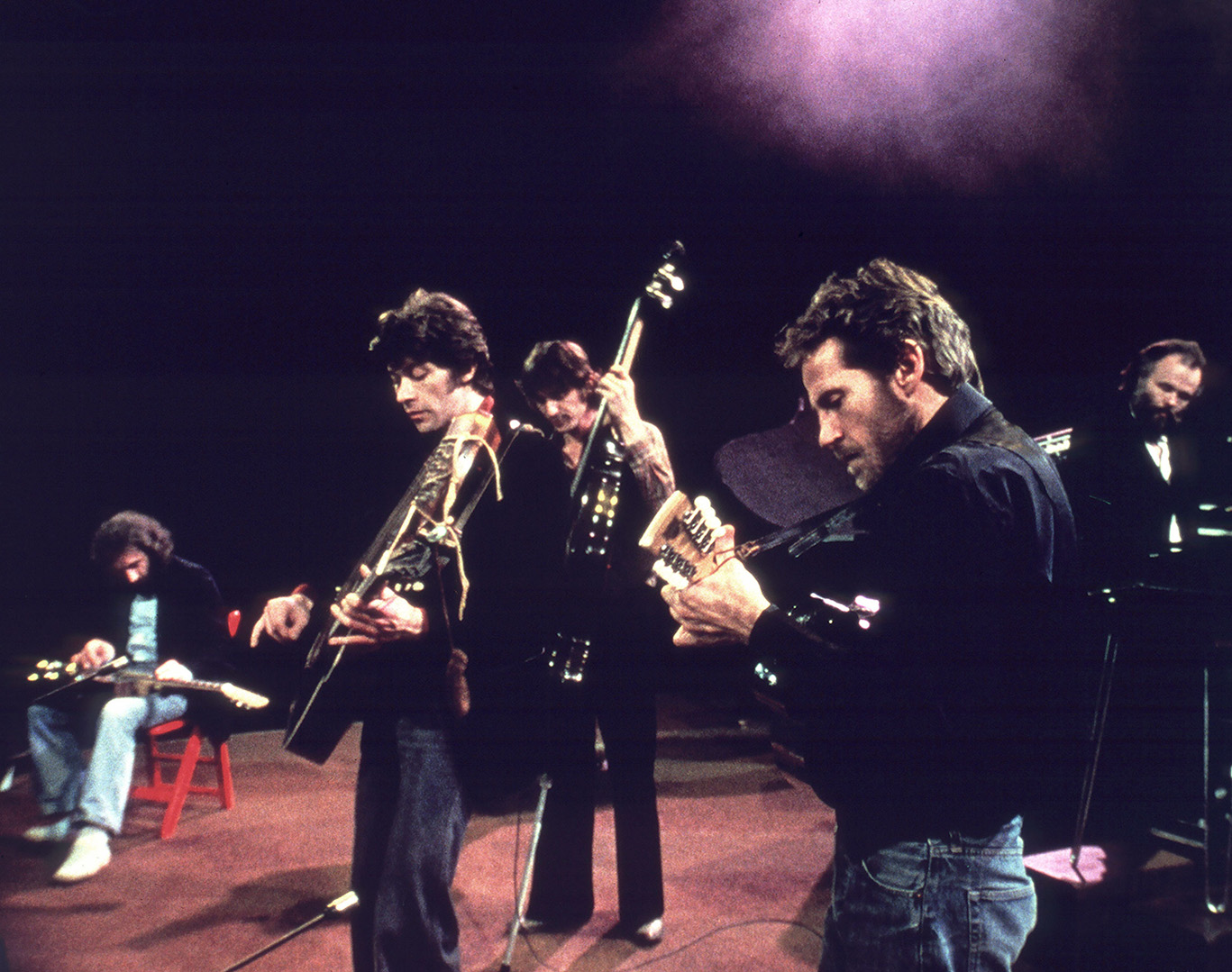 Location
Main screening room
Cycle
Our summer cycle will be festive or not. Sound and image, song and dance, instrument and breathing, strings and gestures: so many possible combinations to express what cinema and music can achieve and express together. Musicals, concert films, catchy music. Jazz, classical, contemporary, disco, punk... Revolt and enchantment, distress and emphasis, joy and rhythm, melancholy and bass, laughter and stridency: diverse expressions characterizing cinema and music's historical alliance, will definitely make us fly, dream, dance!
From the 30's to the present day and across all possible genres, this cycle aims to open our minds at a time when we most need it. The first week of July will be an eventful one, as the cycle will open with several evenings in cabaret mode, where we will present for the first time concert films produced in Quebec during the confinement, with the participation of major artists of the current music scene: Klô Pelgag, Marie Davidson and Godspeed You! Black Emperor.
One of the most beautiful concert movie of all time.
The Last Waltz
Directed by
Martin Scorsese
Language
English with French subtitles
Actors
Robbie Robertson, Bob Dylan, Joni Mitchell, Ringo Starr, Neil Young
Synopsis
The ultimate concert from The Band, the backing group of Bob Dylan and other greats.
Kansas City Film Critics Circle Awards - 1978
KCFCC Award - Best Documentary
DVD Exclusive Awards - 2003
DVD Premiere Award - Best Audio Commentary, Library Release
National Film Preservation Board, USA - 2019
Martin Scorsese
Martin Scorsese is an American film director, producer, screenwriter, and actor. One of the major figures of the New Hollywood era, he is widely regarded as one of the greatest and most influential directors in film history. Scorsese's body of work explores themes such as Italian-American identity, Catholic concepts of guilt and redemption, faith, machismo, nihilism, crime and sectarianism. Many of his films are known for their depiction of violence and the liberal use of profanity. Scorsese has also dedicated his life to film preservation and film restoration by founding the nonprofit organization The Film Foundation in 1990, as well as the World Cinema Foundation in 2007 and the African Film Heritage Project in 2017. [(Wikipedia)(http://fr.wikipedia.org/wiki/Martin_Scorsese)
Image : The New York Times
Why the Band's 'The Last Waltz' Is the Greatest Concert Movie of All Time
The idea was to simply record the evening for posterity, though the then-35-year-old filmmaker had a few ideas of his own to add in to the mix. What he ended up with was the definitive document of these American-music scholars, an epitaph to a specific era of rock history, and the single greatest concert movie of all time ...
The Making of The Last Waltz, The Band's Concert-film Masterpiece
When the Band decided to stop touring, they asked a young director named Martin Scorsese to put their farewell concert on film. In an excerpt from his new memoir, Testimony, guitarist-songwriter Robbie Robertson recalls the night of Thanksgiving 1976, where electric performances by legends such as Bob Dylan and Joni Mitchell created rock history ...
Robbie Robertson of The Band and director Martin Scorsese discuss the making of the concert film The Last Waltz. (1978)
The Band : Themselves

Rick Danko : Self - Bass / Violin / Vocal

Levon Helm : Self - Drums / Mandolin / Vocal

Garth Hudson : Self - Organ / Accordion / Saxophone / Synthesizers

Richard Manuel : Self - Piano / Keyboards / Drums / Vocal

Robbie Robertson : Self - Guitar / Vocal

Eric Clapton : Self - Performer

Neil Diamond : Self - Performer

Bob Dylan : Self - Performer

Joni Mitchell : Self - Performer

Neil Young : Self - Performer

Emmylou Harris : Self - Performer

Ringo Starr : Self - Performer

Paul Butterfield : Self - Performer

Dr. John : Self - Performer

Van Morrison : Self - Performer

Ronnie Hawkins : Self - Performer

The Staple Singers : Themselves - Performer (as The Staples)

Muddy Waters : Self - Performer

Ronnie Wood : Self - Performer (as Ron Wood)

Michael McClure : Self - Performer (as Michael Mc Clure)

Lawrence Ferlinghetti : Self - Performer

Martin Scorsese : Self - Interviewer

Jim Gordon : Self - Horn Section
About Martin Scorsese
Short films

1963 : What's a nice girl like you doing in a place like this?, 9 min

1964 : It's Not Just You, Murray!, 15 min

1967 : The Big Shave, 5 min

1974 : Italianamerican, 48 min

1978 : American Boy: A Profile of Steven Prince (en), 53 min

1986 : Mirror, mirror, épisode de la série Amazing Stories, 24 min

1989 : New York Stories - segment Life Lesson

1990 : Made in Milan, 27 min

2007 : The Key to Reserva, 10 min

Feature films

1967 : Who's That Knocking at My Door (également connu sous le titre I Call First ainsi que d'autres titres)

1972 : Bertha Boxcar (Boxcar Bertha)

1973 : Mean Streets

1974 : Alice n'est plus ici (Alice Doesn't Live Here Anymore)

1976 : Taxi Driver

1977 : New York, New York

1980 : Raging Bull

1983 : La Valse des pantins (The King of Comedy)

1985 : After Hours

1986 : La Couleur de l'argent (The Color of Money)

1988 : La Dernière Tentation du Christ (The Last Temptation of Christ)

1990 : Les Affranchis (Goodfellas)

1991 : Les Nerfs à vif (Cape Fear)

1993 : Le Temps de l'innocence (The Age of Innocence)

1995 : Casino

1997 : Kundun

1999 : À tombeau ouvert (Bringing Out the Dead)

2002 : Gangs of New York

2004 : Aviator (The Aviator)

2006 : Les Infiltrés (The Departed)

2010 : Shutter Island

2011 : Hugo Cabret (Hugo)

2013 : Le Loup de Wall Street (The Wolf of Wall Street)

2016 : Silence

2019 : The Irishman

prochainement : Killers of the Flower Moon

Videoclips

1987 : Bad, de Michael Jackson (18 min)

1988 : Somewere Down the Crazy River, de Robbie Robertson