Program

The H.T. Project

Emru Townsend

January 12th, 2023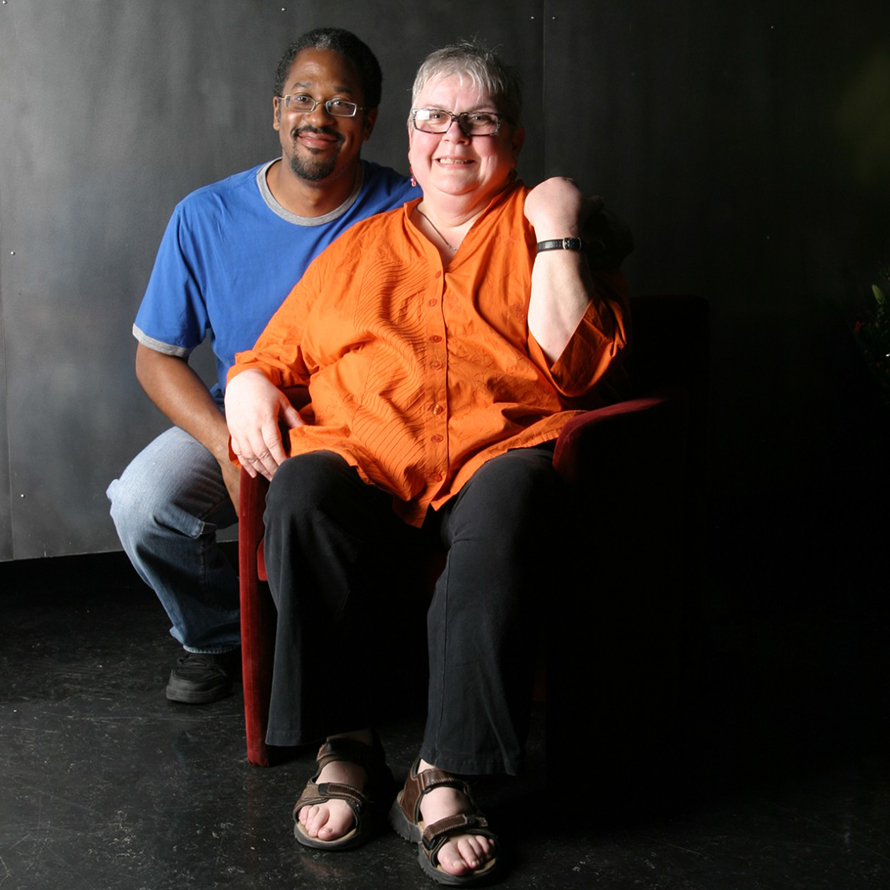 On May 10, 2007, to celebrate Hélène Tanguay at the occasion of her retirement, some of her friends and colleagues, under the name "H.T. Project", prepared a secret surprise tribute to her. During that event, entitled "10 films for Hélène Tanguay", 10 animators each "offered" her a short film, screened in our main room, and explained their choices. Emru Townsend, an excellent animation expert and observer, who was running the fpsmagazine.com blog at the time, was there. He published a moving and inspiring article the next day, recounting the highlights of this evening of laughter and emotion. Emru passed away in 2008 from leukemia. We thank Emru's sister, Tamu Townsend, for permission to reproduce this text.
Last night, Montreal's animation community descended on the Cinematheque Quebecoise to honour the National Film Board's Hélène Tanguay. Thirty-seven years after starting at the Board—her first and only place of employment—she'll be retiring from her position as marketing manager for the NFB's English Animation Studio, and about a hundred of her friends and colleagues showed up to wish her well.
"Marketing manager" sounds like a dull title, perilously close to the "suits" that are reviled by many animation artists and fans. Hélène, however, is no self-important suit. More than once, the words "passionate" and "devoted" were used to describe her love of animation, and she counts many of its most prodigious practitioners as friends. It's not her fault that other marketing managers don't live up to her gold standard.
My view of Hélène is that she's one of those people for whom the phrase joie de vivre was invented. She's always smiling or laughing whenever I see her, as are the people around her. In 2004, the train we were riding to the Ottawa International Animation Festival broke down in the middle of nowhere. It was a warm and humid day, and without air conditioning it didn't take long for us to start roasting. We waited for hours before another train showed up to push us to a station and we could be transferred to buses—and Hélène was cracking jokes throughout, despite her obvious discomfort. At the two Ottawa festivals since then she's found new ways to mine the event for laughs.
I mention this to set the context for last night's vibe. Cinematheque animation curator Marco de Blois was wearing what I'll call Hélène-style earrings, as were Chris Hinton, NFB executive producer David Verrall, and animator Jacques Drouin. Introductions and tributes were accompanied by chuckles and outright howls of laughter. But there was a lot of affection, and I suspect Hélène made good use of the box of tissues Marco supplied her with at the outset.
This was all part of the first part of the evening, which Marco referred to as "The H.T. Project," hatched by a secret cabal of animators and NFB personnel. Nine tributes were paid by ten animators, who each gave an introduction (in person, by written note, or by video) and explained the personal connection behind the particular film they'd selected to be screened for Hélène and everyone in attendance. Here's a list of the presenters and the lineup:
Michèle Cournoyer - The Big Snit

Cordell Barker - An Old Box

Wendy Tilby and Amanda Forbis - The Hedgehog in the Mist
(in the original Russian, with a live voiceover by Martine Chartrand)

Jacques Drouin - The Little Forest

Chris Hinton - Rabbit

Mary Newland – Dinner for Two

Martin Rose – My Financial Career

Paul Driessen - Broken Down Film

Stephen McCallum - Sledgehammer
After the films, we went to the lobby to pose for pictures with Helene, then to the cafe to talk about the evening, stun Hélène with her third standing ovation, and generally mingle. A few hours later on the train ride home I reflected on the fact that the audience represented, for me at least, twenty years of relationships: friends, classmates, professors, and a few inspirations as well. I've been to more than a few gatherings like these, but it's rare that they have as much energy as this—and never before has the linchpin been someone who isn't an animator. It reminded me of something Kino Kid [editor's note: Tamu Townsend, Emru's sister] said two years ago: Animation is people. Hélène's love for the form and those that are equally passionate about it was felt and shared by everyone there. Though she's worked behind the scenes for all this time, her influence has been profound.
May 11 2007.
Photo courtesy of Tamu Townsend | ©Sophie Quevillon