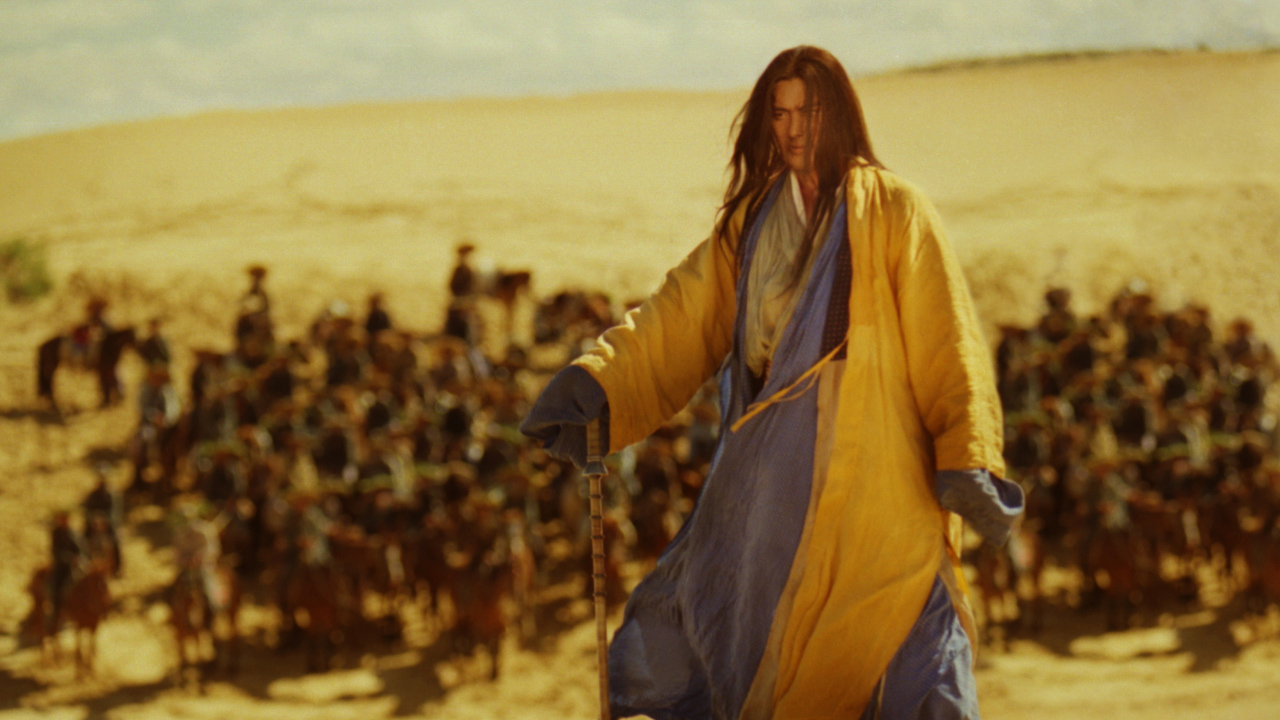 Ashes of Time Redux (VOSTA)
Location
Main screening room
Cycle
À l'occasion de la publication du 200e numéro de la revue de cinéma 24 images, nous accueillons leurs auteurs pour une série de projections doubles qui promettent de nourrir adéquatement le cinéphile avide ! Au menu : Wong Kar-wai, Yasujirō Ozu, Tsai Ming Liang, Sofia Coppola… Chaque projection sera présentée par l'un des auteurs de la revue.
Ashes of Time Redux
Language
Cantonese with english subtitles
Actors
Leslie Cheung, Tony Leung, Brigitte Lin
Synopsis
Swordsman Ou-yang Feng was once a ruthless bounty hunter for whoever would pay. Now leaving the killing to others, he owns a desert inn where he spends the day pining after his brother's wife. Among his current employees is his friend Huang Yao-shi, whose annual visits are one of his rare pleasures.
Golden Horse Film Festival 1994
Best Cinematography

Best Film Editing
Venice Film Festival 1994
Golden Osella - Best Cinematography
Hong Kong Film Awards 1995
Best Cinematography

Best Art Direction

Best Costume & Make Up Design
Hong Kong Film Critics Society Awards 1995
Best Film

Best Director

Best Screenplay
Wong Kar-wai
Wong Kar-wai (born 17 July 1958) is a Hong Kong film director. His films are characterised by nonlinear narratives, atmospheric music, and vivid cinematography involving bold, saturated colours. A pivotal figure of Hong Kong cinema, Wong has had a considerable influence on filmmaking with his trademark personal, unconventional approach. His films frequently appear on best-of lists domestically and internationally. He began a career as a screenwriter for soap operas before transitioning to directing with his debut, the crime drama As Tears Go By (1988).
Une nouvelle version du film, intitulée Ashes of Time Redux, remontée par le réalisateur, fut présentée au Festival de Cannes 2008.
REVIEW | The Perfect Storm: Wong Kar-wai's "Ashes of Time Redux"
Eradicating bad memories of the moldy "My Blueberry Nights" in one fell swoop, Wong Kar-wai's gussied-up reissue of his 1994 "martial-arts action epic" (in quotes because it never actually feels like any of those things) is a reminder of why we fell in love with the Hong Kong auteur in the first place...
Brigitte Lin : Mu-rong Yin / Mu-rong Yang

Leslie Cheung : Ou-yang Feng

Maggie Cheung : The Woman

Tony Chiu-Wai Leung : Blind Swordsman (as Tony Chiu Wai Leung)

Jacky Cheung : Hung Chi

Tony Ka Fai Leung : Huang Yao-shi

Li Bai : Hung Chi's Wife

Carina Lau : Peach Blossom

Charlie Yeung : Young Girl
Le film est tiré du roman La Légende du héros chasseur d'aigles, de Jin Yong.
October 24th - 26th, 2021
There Are No False Undertakings