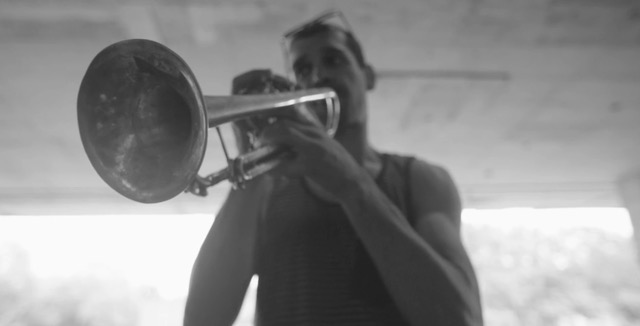 Location
Fernand-Seguin screening room
Cycle
The mission of the Centre d'art et d'essai de la Cinémathèque québécoise (CAECQ) is to primary program Quebec-made documentaries and independent fiction, as well as international documentaries, animated and foreign films, while encouraging opportunities for meetings between the public and the artists. Its programming is presented in conjunction with the Cinémathèque québécoise's under the label New releases.
Dear Jackie
Synopsis
Dear Jackie paints a picture of the Black community in Montreal's Little Burgundy ("Harlem of the North") by way of a cinematic letter to Jackie Robinson, the first Black man to break the colour barrier in professional baseball.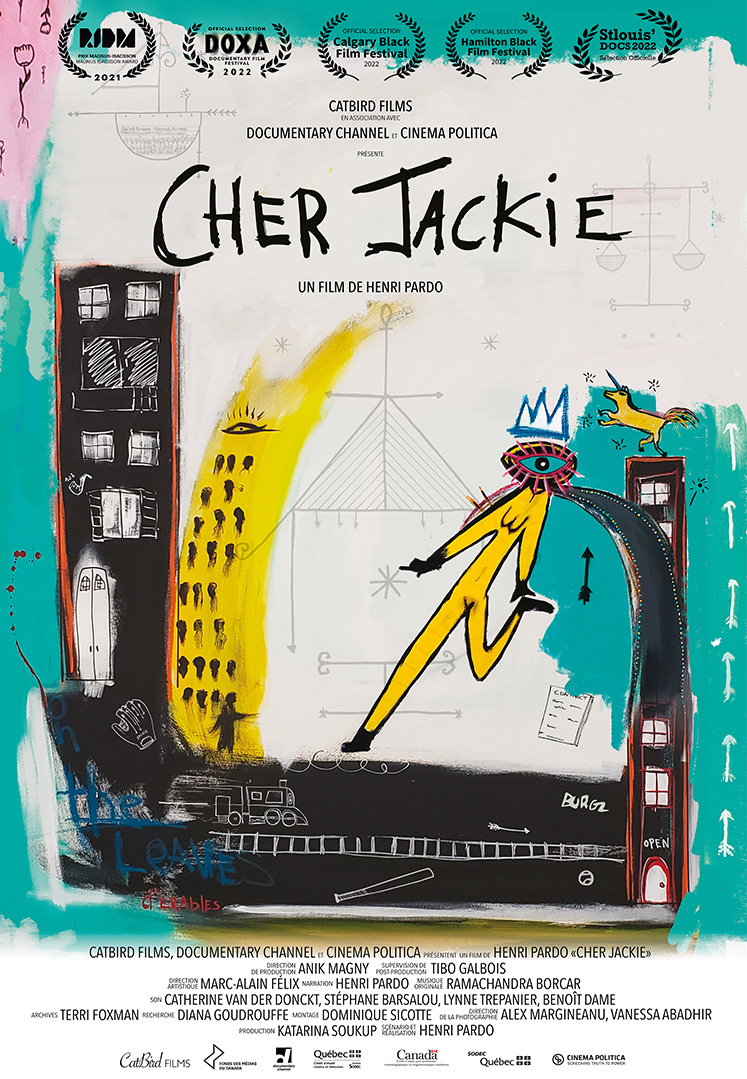 Henri Pardo
Après une formation d'acteur au Conservatoire d'art dramatique de Montréal et 11 ans de métier, Henri Pardo est devenu réalisateur pour combler son envie de raconter des histoires. Il a reçu son diplôme de l'INIS en 2005. D'origine haïtienne, il veut unir la culture de ses parents à celle du Québec d'aujourd'hui. En 2006, Henri développe une série télévisuelle intitulée Dans la peau et fonde Productions 13, avec Martin Berardelli.
About Dear Jackie
Though slavery was abolished in Canada in 1834, decades before the American Civil War's end in 1865, conditions for Black people in Canada were nevertheless poor: Blacks were denied an education and employment opportunities. Black women were limited to domestic work. They built the churches and community centers, feeding and educating the community. Black men worked as railway porters. The work of a porter was the work of a Black man always in service of a White patron. Yet, despite the negative aspects of this profession, rail travel was cutting edge and luxurious for its time. Black men who secured employment as porters had a steady income, were respected within their community, and were able to reach out to a vast network of Black communities across North America. Given its close proximity to the headquarters for two major railways, as well as near the harbour and the Lachine Canal (an important shipping lane), Little Burgundy attracted not only most of Montréal's own Black community, but people from Black communities in Nova Scotia, Ontario, the United States and the Caribbean Islands. The porters were thus at the political vanguard, helping to produce a powerful diasporic consciousness in both Canada and the U.S.A. In part, due to them, this "City Below the Hill" experienced its own Renaissance, as did Harlem, New York, further south; it became known as the "Harlem of the North." When both Prohibition and jazz swept across North America in the early 20th-century, Montreal became "Sin City" and the area grew into a hotbed of local jazz talent such as Oscar Peterson and the Sealey Brothers. Jazz brought greats like Dizzy Gillespie, Ella Fitzgerald, Louis Armstrong and Miles Davis to Montreal, where they felt at home and welcomed. A thriving Black community developed in the South-West region of Montreal. The neighborhood had its own church, community centres, and clubs. Marcus Garvey established a local Universal Negro Improvement Association in Little Burgundy. Malcom X's parents met in Little Burgundy. Black Consciousness allowed a community to grow in Little Burgundy. However, "Little Burgundy" was not always called "Little Burgundy." The name only took hold in the 1960s. At the beginning of the 20th century, the area was referred to by outsiders in terms like "N...r Town" or "The Black City Below the Hill." By the 60s, Little Burgundy was a low income, working-class neighbourhood. The city had neglected it: many of the houses were poorly maintained and lacked even the most basic of functions like running water. In 1965, Mayor Jean Drapeau decided that the state of the neighborhood was not suitable to make a splash on the world stage for the upcoming Expo '67 and Olympics. Thus, a 10-year "urban renewal" plan was launched. Many buildings in Little Burgundy were condemned, demolished and rebuilt; streets were widened and a six-lane Expressway was constructed. Many residents were driven away, ending up in suburban municipalities wherever housing was affordable. Despite Drapeau's intentions, Little Burgundy stagnated and in the early 1980s, the City of Montreal briefly renamed the area, Quartier Georges-Vanier, in an attempt to remove any stigma. However, during consultations in the 1990s, residents requested that the Little Burgundy/La Petite Bourgogne name be reinstated. In recent years, the neighborhood has begun to gentrify with an influx of trendy restaurants, bars and concert venues.
"The Noble Experiment," was the idea of Branch Rickey, president and general manager of the Brooklyn Dodgers and its farm team, the Montreal Royals. Rickey had seen the innovative playing style of the Negro League, which was fast, creative and entertaining. He wanted to improve his team and he was prepared to make a bold move. He hired Jackie Robinson. Jack Roosevelt Robinson (January 31, 1919 – October 24, 1972) was at that time playing in the Negro League. Jackie was a well-educated graduate of UCLA who excelled in sport, playing basketball, football, and baseball. After serving in the army, he joined the Negro League, to which Black players had been relegated since the 1880s. When Jackie started at first base on April 15, 1947 for the Brooklyn Dodgers, he broke the colour barrier in Major League Baseball (MLB). Jackie changed the game of baseball. When Rickey hired and promoted him, he was given a simple but very demanding agreement: for three years, you will play your hardest. You will never reply to threats, insults or provocations. Shut up and play, said the White owner to the Negro!
And he did.
Jackie Robinson was called the "Race Man" because he represented an entire people; an extraordinary responsibility on his shoulders. Through his play and resolve, he was eventually accepted by his White teammates and coaches, initially resistant to this "Noble Experiment." Jackie endured the slurs and death threats, becoming an internationally acclaimed player by the end of his career, collecting championships and awards. In 1972, in recognition of his achievements on and off the field, Robinson was posthumously awarded the Congressional Gold Medal and Presidential Medal of Freedom. Jackie Robinson paved the way for many Black players and inspired two countries to evolve their race relations by breaking baseball segregation.
Jackie Robinson was a hero. The city of Montréal — black and white, alike — took great pride in Jackie's stardom and in the outward indication that Montréal must be a post-racial enclave. Jackie Robinson spent only a short time in Montréal. In 1946, the neighborhood of Little Burgundy was home to the largest Black community in the city. While Jackie broke the colour barrier, inspiring the local and international community, the residents of Little Burgundy battled systemic oppression. Decades later, the community continues to struggle. It is not uncommon that success stories of a few high-profile individuals are taken to represent the experience of a broader group. In Quebec, the spotlight on the Black Experience of a select few — i.e. Normand Brathwaithe, Dany Laferrière or Michaëlle Jean — can render the struggles of the larger Black Community invisible. In the last few years, North American society has begun to go through a reckoning about systemic racism. People are beginning to realize, for example, that despite the fact the United States elected a Black president, anti-Black racism remains rampant in society. Dear Jackie is a film that presents intimate stories, particular daily struggles, and defining moments of members of a tight-knit Black community in Montréal, pulling underrepresented narratives out of the shadows. As a Black man, every day of my life, I walk with the burden of a forgotten history on my shoulders. I believe that most Afro-descendants live with this weight, as if we are living our past, present and future all at once. And yet, there are also disconnects with the past: a disconnect between Black fathers and sons, a disconnect in the transmission of knowledge and emotional wellbeing across generations, a disconnect with specific histories. Few people are familiar with the history of Little Burgundy, the rich cultural institutions that were established by the community, for the community, and the ways in which this community shaped the foundations of the city of Montréal as we know it today. It is in this light that I've created a documentary in black and white, juxtaposing archival footage and images of the past with visuals from the present. The characters' experiences conveyed in this film are evidence of the existence of racism in Montréal from Jackie's time through today, where many people live under the illusion that we are in a post-racist culture. Yet while the community struggles, it stands strong and is heading towards a prosperous future. The act of creating this film is a validating act. It is only in providing a space to voice thoughts, emotions, and solutions, that the city and country can grow. And it is only then that we can boast the province's motto: Je me souviens (I remember).
About Henri Pardo
Les couleurs de l'automne (2006) - Director

Couvre-feu (2005) - Director

Point final (L'axe) (2005) - Director

Tout ou rien (2005) - Director

Éclipse de jour (2005) - Director

La voyageuse (2002) - Comedian