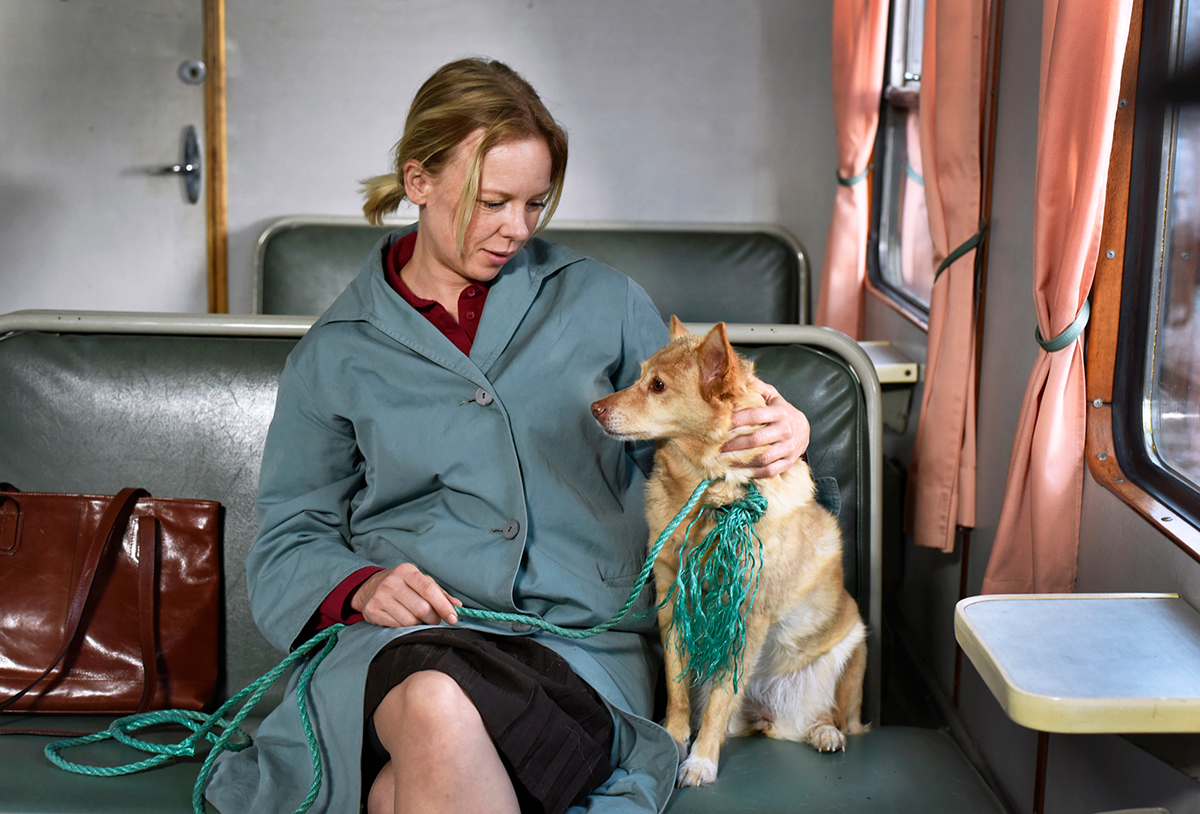 Wednesday
, December 6th, 2023
at 14:00
Wednesday
, December 6th, 2023
at 14:00
Thursday
, December 7th, 2023
at 18:30
Friday
, December 8th, 2023
at 14:30
Saturday
, December 9th, 2023
at 16:15
Sunday
, December 10th, 2023
at 14:15
Monday
, December 11th, 2023
at 19:00
Tuesday
, December 12th, 2023
at 21:00
Wednesday
, December 13th, 2023
at 16:30
Location
Fernand-Seguin screening room
Date
December 1st - 13th, 2023
Cycle
The mission of the Centre d'art et essai de la Cinémathèque québécoise (CAECQ) is to primary program Quebec-made documentaries and independent fiction, as well as international documentaries, animated and foreign films, while encouraging opportunities for meetings between the public and the artists. Its programming is presented in conjunction with the Cinémathèque québécoise's under the label New releases.
Winner of the Jury Prize at the Cannes Film Festival 2023
Fallen Leaves
Directed by
Aki Kaurismäki
Language
Finnish with french subtitles
Actors
Alma Pöysti, Jussi Vatanen
Synopsis
Fallen Leaves tells the story of two lonely people (Alma Pöysti and Jussi Vatanen) who meet each other by chance in the Helsinki night and try to find the first, only, and ultimate love of their lives. Their path towards this honourable goal is clouded by the man's alcoholism, lost phone numbers, not knowing each other's names or addresses, and life's general tendency to place obstacles in the way of those seeking their happiness.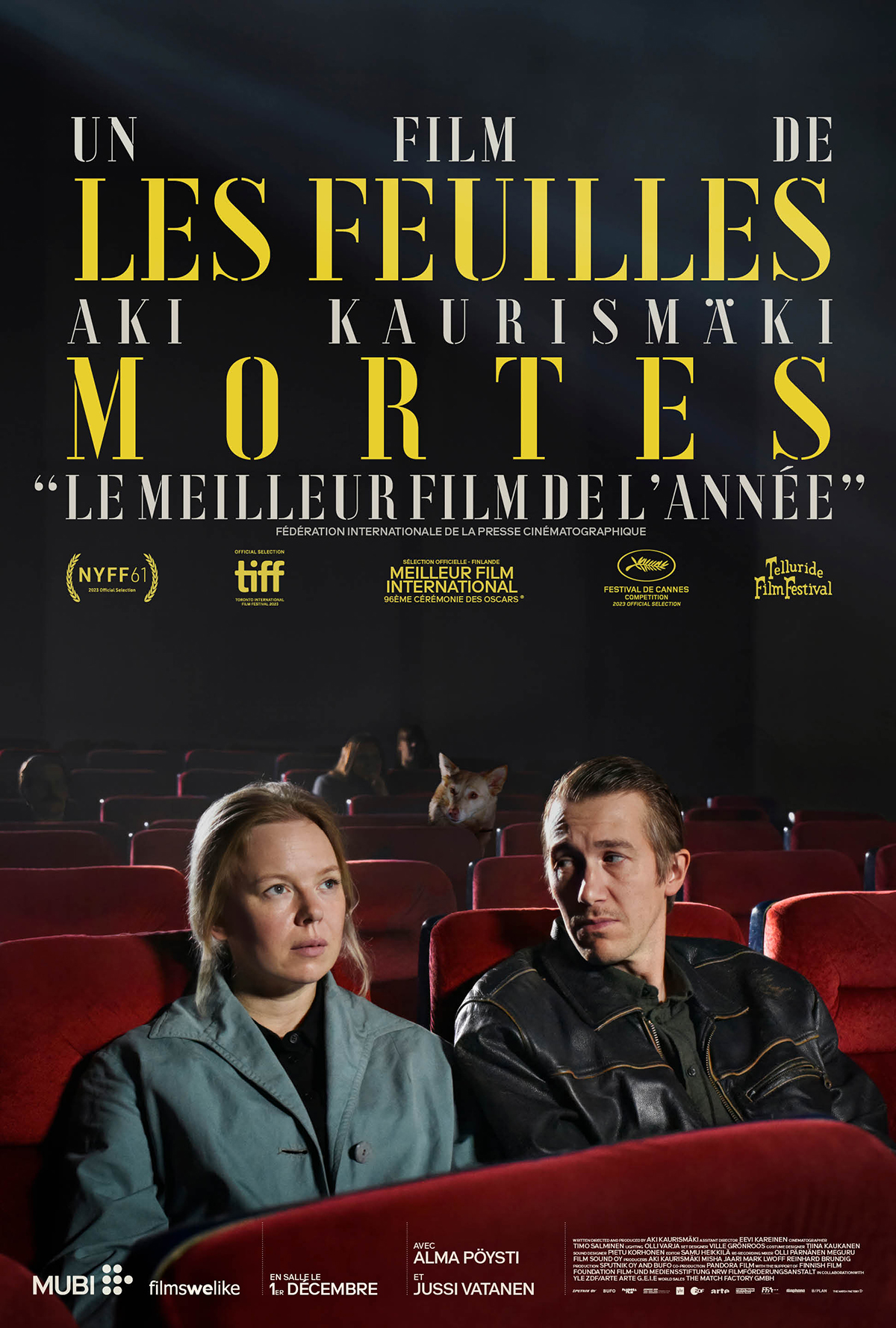 Aki Kaurismäki
Aki Kaurismäki is a Finnish film director. His early film career was marked by close collaboration with his brother Mika. His first feature film was the acclaimed adaptation of a Dostoyevsky novel: Crime and Punishment (1983). Kaurismäki says he admires the work of Teuvo Tulio, his "master" in the world of cinema. A lover of the Nouvelle Vague, he named his production company Villealpha, after Jean-Luc Godard's Alphaville. His films began to attract attention at film festivals, before gaining international recognition with La Fille aux allumettes (1990), the third part of his Proletariat Trilogy, starring his two favorite actors Matti Pellonpää and Kati Outinen. His next films included J'ai engagé un tueur with Jean-Pierre Léaud, whom he had always admired and an adaptation of the opera La Bohème (La Vie de bohème), with French actors and Matti Pellompää. His film L'Homme sans passé, which won the Grand Prix and Best Actress awards at the Cannes Film Festival in 2002, was nominated for an Oscar in 2003 for Best Foreign Language Film. He then wrote and directed Le Havre, a Finnish-French-German film that was selected for the Cannes Film Festival in 2011 who received also the Prix Louis-Delluc the same year.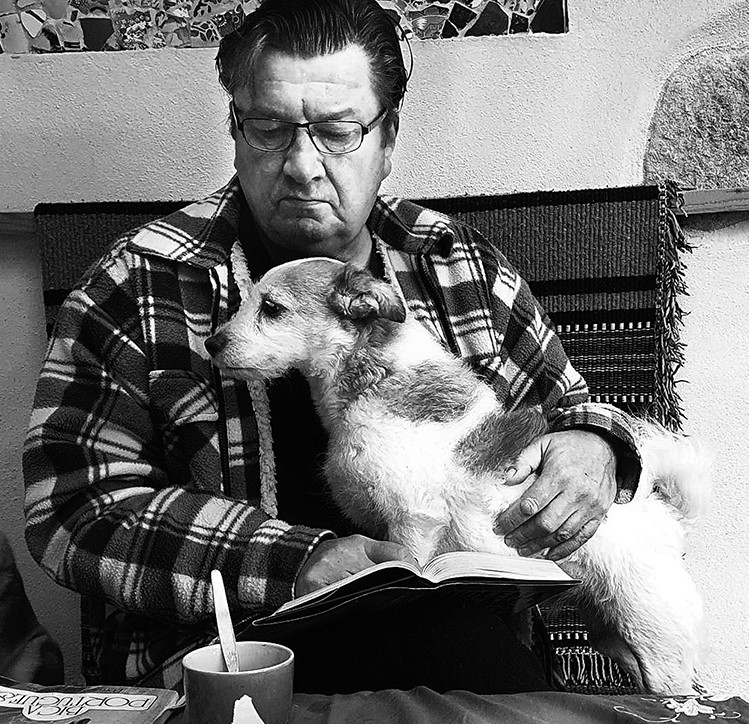 About Aki Kaurismäki
1983 : Crime et Châtiment (Rikos ja rangaistus)

1985 : Calamari Union

1986 : Ombres au paradis (Varjoja paratiisissa)

1987 : Hamlet Goes Business (Hamlet liikemaailmassa)

1988 : Ariel

1989 : Leningrad Cowboys Go America

1990 : La Fille aux allumettes (Tulitikkutehtaan tyttö)

1990 : J'ai engagé un tueur

1992 : La Vie de bohème (Boheemielämää)

1994 : Tiens ton foulard, Tatiana (Pidä huivista kiinni, Tatjana)

1994 : Les Leningrad Cowboys rencontrent Moïse (Leningrad Cowboys Meet Moses)

1994 : Total Balalaika Show (docu.)

1996 : Au loin s'en vont les nuages (Kauas pilvet karkaavat)

1999 : Juha

2002 : L'Homme sans passé (Mies vailla menneisyyttä)

2006 : Les Lumières du faubourg (Laitakaupungin valot)

2011 : Le Havre

2017 : L'Autre Côté de l'espoir (Toivon tuolla puolen)

2023 : Les Feuilles mortes (Kuolleet lehdet)