Sunday
, August 15th, 2021
at 17:00
Sunday
, August 15th, 2021
at 17:00
Wednesday
, August 18th, 2021
at 19:00
Sunday
, August 29th, 2021
at 17:00
August 15th - 29th, 2021
La dolce vita
Location
Main screening room
Date
August 15th - 29th, 2021
Cycle
Centennial Anniversary of Fellini
As an institution with a consistent focus on the history of cinema, a comprehensive Federico Fellini retrospective is the least we can do to mark his centennial. He was a great inventor of cinematic forms and a complex artist – paradoxical, tormented, light-hearted, provocative, introspective, brutal, idealistic and jaded all at once. He recreated the world through his lens, while remaining a sharp observer of his contemporaries and the many sensitivities of his time.
Winner of the Palme d'Or
at the 1960 Cannes Film Festival
La dolce vita
Directed by
Federico Fellini
Actors
Marcello Mastroianni, Anita Ekberg, Anouk Aimée, Yvonne Furneaux, Magali Noël, Alain Cuny, Annibale Ninchi
Synopsis
A series of tableaux and walks through Rome resulting in a captivating, dreamlike portrait of high society and media decadence at the dawn of the 1960s.
"Fellini's masterpiece, La dolce vita, shows us a Rome that embodies human life itself. This is life according to the tabloids, lit by the flashes of paparazzi cameras. What's left are magical moments, as eternal as Rome itself: the Trevi Fountain scene, the walk to the beach after the orgy, Steiner's salon, and so on. And then there's the haunting music of Nino Rota, so perfect that 40 years later I still cannot get it out of my head. Grazie mille, Federico." (Jean Lefebvre, 2000)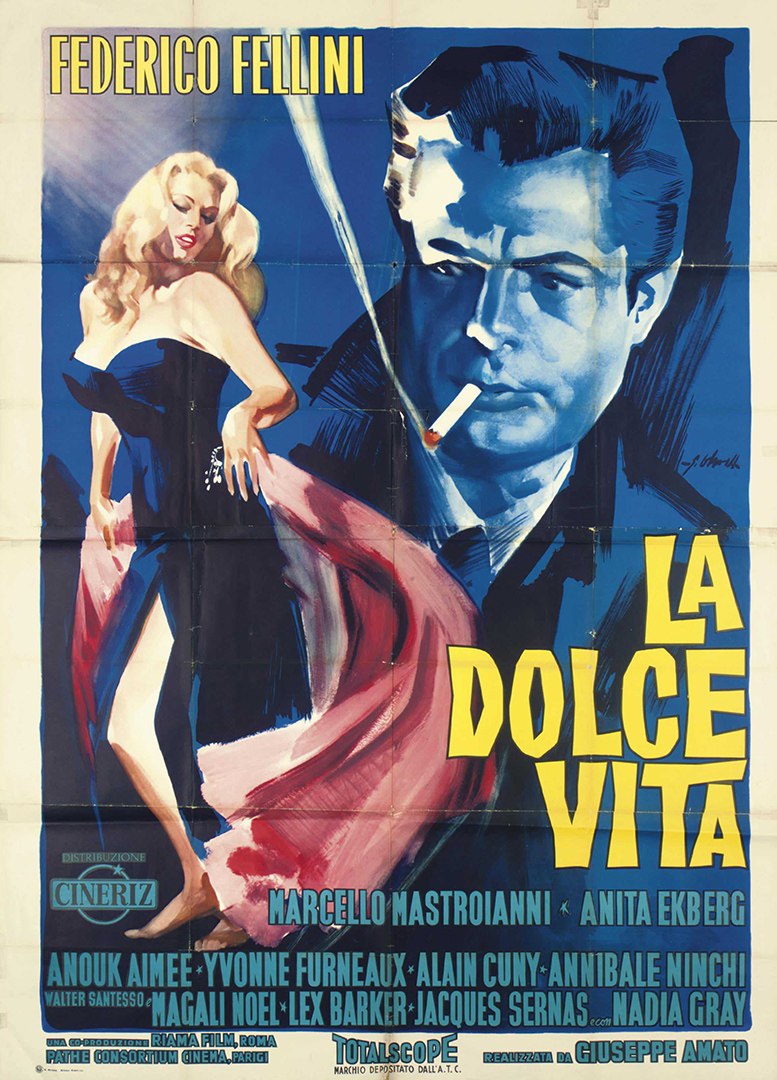 Trailer in VOSTA. The movie will be presented with french subtitles.
Cannes Film Festival 1960
David di Donatello Awards 1960
Winner
Best Director (Migliore Regista) Federico Fellini
Silver Ribbon 1961
Winner
Best Actor (Migliore Attore Protagonista) Marcello Mastroianni

Best Original Story (Migliore Soggetto) Tullio Pinelli, Ennio Flaiano, Federico Fellini

Best Production Design (Migliore Scenografia) Piero Gherardi

Best Director (Regista del Miglior Film) Federico Fellini
Nominee
Best Producer (Migliore Produttore) Angelo Rizzoli, Giuseppe Amato

Best Screenplay (Migliore Sceneggiatura) Federico Fellini, Ennio Flaiano, Tullio Pinelli, Brunello Rondi

Best Supporting Actor (Migliore Attore Non Protagonista) Annibale Ninchi

Best Score (Migliore Musica) Nino Rota
Academy Awards, USA 1962
Winner
Best Costume Design, Black-and-White Piero Gherardi
Nominee
Best Director Federico Fellini

Best Writing, Story and Screenplay - Written Directly for the Screen Federico Fellini, Tullio Pinelli, Ennio Flaiano, Brunello Rondi

Best Art Direction-Set Decoration, Black-and-White Piero Gherardi
New York Film Critics Circle Awards 1961
Winner
Best Foreign Language Film Italy
Golden Goblets, Italy 1960
Winner
Best Director (Migliore Regista) Federico Fellini
National Board of Review, USA 1961
Online Film & Television Association 2014
Winner
OFTA Film Hall of Fame Motion Picture
Satellite Awards 2005
Winner
Golden Satellite Award Best Classic DVD
Nominee
Best Overall DVD

Best DVD Extra For the commentary
Director
Federico Fellini was one of the greatest Italian writers and directors of the 20th century, and one of the most illustrious filmmakers in the history of cinema. He won the Palme d'or at Cannes in 1960 for La dolce vita, and took home the Oscar for Best Foreign-Language Film four times (La strada, Nights of Cabiria, 8 ½ and Amarcord), a record he shares with his compatriot Vittorio De Sica. Initially associated with neo-realism, Fellini's work evolved over the course of the 1960s toward a unique approach related to European modernism, a movement associated with Ingmar Bergman, Michelangelo Antonioni, Alain Resnais, Jean-Luc Godard and Andrei Tarkovsky. His films grew increasingly to embrace a proliferation of themes, deliberate artifice and the complete erasure of boundaries between dream, imagination, hallucination and reality.
On March 29, 1993, the Academy of Motion Picture Arts and Sciences awarded him a lifetime achievement Oscar, "in recognition of his place as one of the screen's master storytellers." (Wikipédia)



Photo : Collections de la Cinémathèque québécoise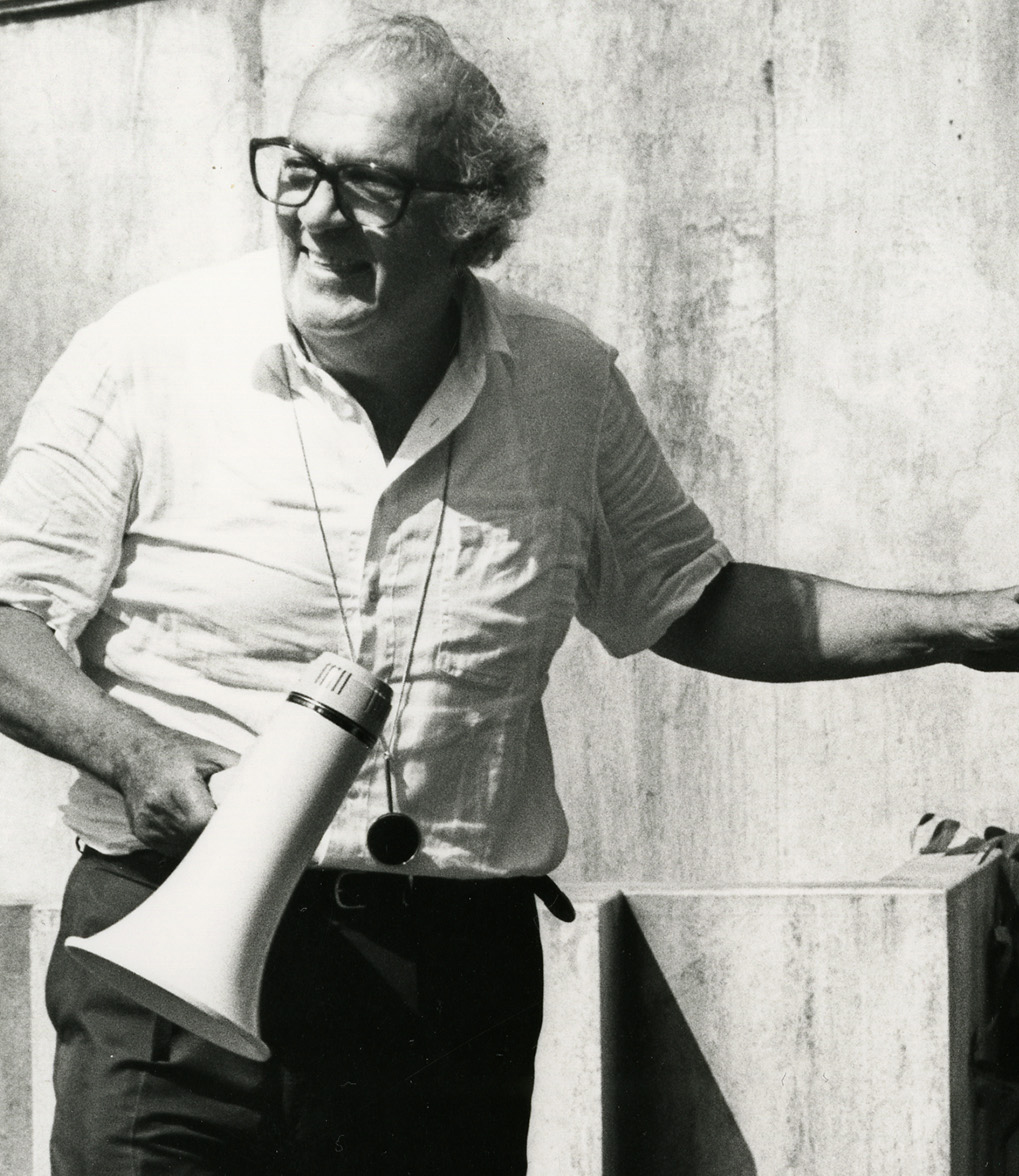 Chef-d'œuvre de Fellini, La dolce vita couvre une Rome qui est, en fait, la vie humaine. C'est la vie selon les journaux à sensation, à la lumière des flashes des paparazzi. Restent des moments magiques, éternels comme Rome : la scène de la fontaine de Trévi, la marche vers la plage après la partouze , le salon chez Steiner, etc. Et la lancinante musique de Nino Rota, si juste, que je ne parviens toujours pas, 40 ans plus tard, à me l'ôter de la tête. Grazie mille, Federico.
Sur notre blogue
Federico Fellini aurait eu 100 ans en 2020. Il a fait partie de ces cinéastes qui ont triomphé de leur vivant, dont la reconnaissance de leur apport au cinéma a été affirmée sans ambages, ce qui en retour a sans doute influencé les films qu'ils ont pu encore faire. Non pas qu'il ait gagné des prix à tout coup...
Marcello Mastroianni as Marcello Rubini

Anita Ekberg as Sylvia

Anouk Aimée as Maddalena

Yvonne Furneaux as Emma

Lex Barker as Robert, Sylvia's fiancé.

Magali Noël as Fanny

Alain Cuny as Steiner

Nadia Gray as Nadia

Annibale Ninchi as Marcello's father

Walter Santesso as Paparazzo

Valeria Ciangottini as Paola

Riccardo Garrone as Riccardo

Ida Galli as Debutante of the Year

Audrey McDonald as Jane

Gloria Jones as Gloria

Alain Dijon as Frankie Stout

Enzo Cerusico as Newspaper photographer

Nico as Nic
Podcast
Masque et la Plume - 1960
Cette émission exceptionnelle du 'Masque et la Plume' était enregistrée à Rome à l'occasion de l'avant-première du film 'La Dolce Vita' de Federico Fellini. Giulietta Masina évoque son tournage à Berlin. La romancière Alba de Cespedes et Marcello Mastroianni décryptent le film 'La vie douce'.
Podcast
Philosopher avec Fellini - France Culture
Pourquoi La Dolce Vita a-t-elle tant marqué le cinéma ? Réponse avec l'excellent Jean Gili.
En 1960 sort La Dolce Vita, du jeune réalisateur, encore peu connu, Federico Fellini. Palme d'or. Scandales. Les catholiques sont interdits de projection, sous peine d'excommunication.
La Dolce Vita de Federico Fellini, documentaire de Thierry Bellaiche
Gros plan sur Federico Fellini (1987) – Les archives de la RTS
Martin Scorsese interview on Federico Fellini
À propos de Federico Fellini
1950: Variety Lights 1952: The White Sheik
1953: I vitelloni
1953: Love in the City (Segment: Un'agenzia matrimoniale) 1954 : La strada
1955: Il bidone 1957: Nights of Cabiria 1960: La Dolce Vita 1962: Boccaccio '70 (Segment: Le tentazioni del Dottor Antonio) 1963: 8 1⁄2 1965: Juliet of the Spirits 1969: Fellini: A Director's Notebook
1969: Fellini Satyricon 1970: I Clowns
1972: Roma
1973: Amarcord
1976: Fellini's Casanova
1978: Orchestra Rehearsal
1980: City of Women 1983: And the Ship Sails On 1986: Ginger and Fred
1987: Intervista
1990: The Voice of the Moon
C'était quoi Federico Fellini ? - Blow Up - ARTE