L'âge d'or + Un chien andalou (VOF)
Location
Main screening room
Cycle
Making lists is an activity moviegoers are fond of. Every year, the same ritual: compilation of the ten best films, with comparative analyses, debates, heated discussions. But what about the ultimate list of the most outstanding films in the history of cinema? That is to say, those films that must be seen, those that have forever transformed the art of cinema, but also our way of seeing a culture, of understanding the world as well as our own lives? This program aims to tackle this challenge with nearly eighty films, produced between 1916 and 1960, while waiting for your lists!
An Andalusian Dog
Directed by
Salvador Dali, Luis Buñuel
Actors
Pierre Batcheff, Simone Mareuil, Luis Buñuel, Salvador Dalí
Genre
Silent, surrealism, horror
Synopsis
After the famous opening of the cut eye, a free series of images evoke dreams, nightmares, desires.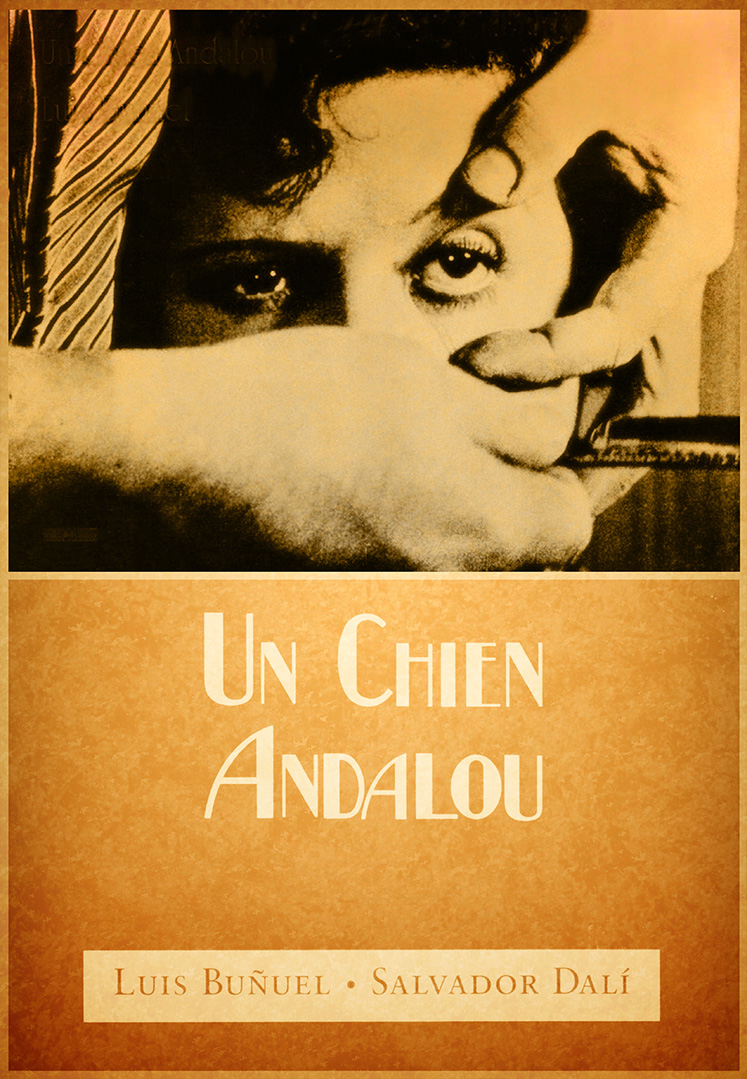 L'Age d'Or
Actors
Gaston Modot, Lya Lys, Caridad de Laberdesque, Max Ernst
Synopsis
The surreal story of a man and a woman who love each other passionately, but whose attempts to consummate that passion are constantly thwarted by their families, the church and bourgeois society.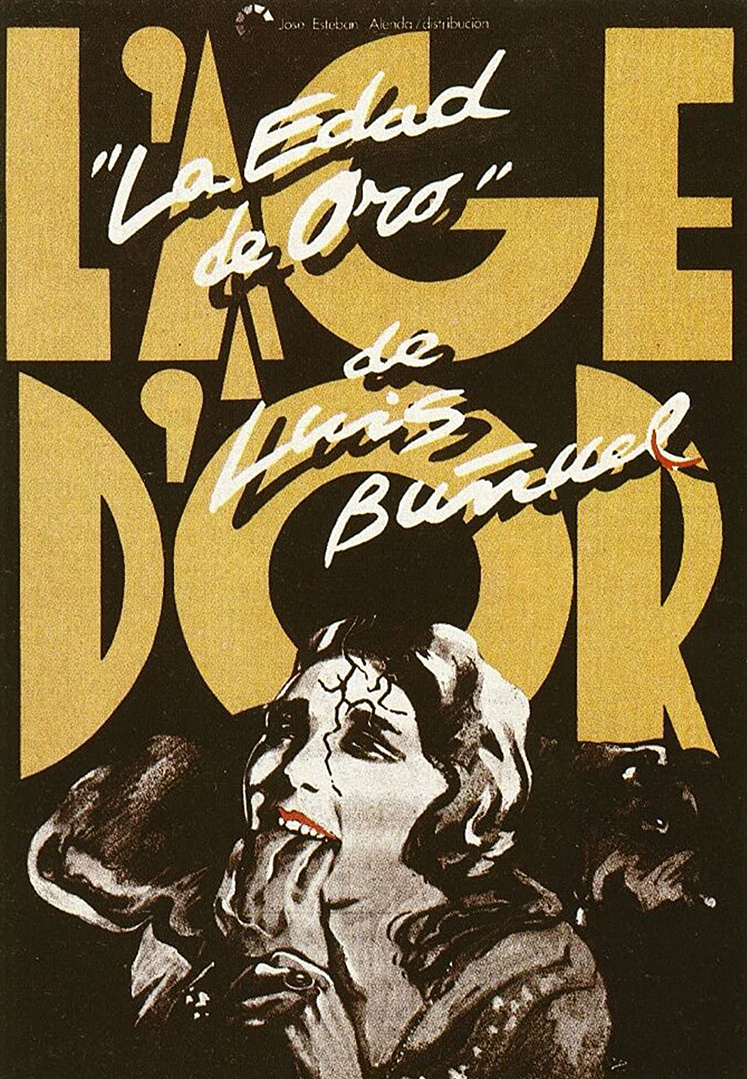 Luis Buñuel
Luis Buñuel Portolés (22 February 1900 – 29 July 1983) was a Spanish filmmaker who worked in France, Mexico, and Spain. He has been widely considered by many film critics, historians, and directors to be one of the greatest and most influential filmmakers of all time.
Salvador Dalí
Salvador Domingo Felipe Jacinto Dalí i Domènech, Marquess of Dalí of Púbol (11 May 1904 – 23 January 1989) was a Spanish surrealist artist renowned for his technical skill, precise draftsmanship, and the striking and bizarre images in his work.
[...] not to accept any idea, any image that could give rise to a rational, psychological or cultural explanation. To open all the doors to the irrational. To welcome only the images that struck us, without trying to know why.
Luis Buñuel
Mon dernier soupir (1982)
About Un chien andalou
Simone Mareuil as Young Girl (as Simonne Mareuil)

Pierre Batcheff as Young Man and Second Young Man (as Pierre Batchef)

Luis Buñuel as Man in Prologue (uncredited)

Salvador Dalí as Seminarist and as Man on Beach (uncredited)

Robert Hommet as Third Young Man (uncredited)

Kieran Agterberg as Seminarist (uncredited)

Fano Messan as Androgynous Young Woman (uncredited)

Jaime Miravilles as Fat seminarist (uncredited)
After having compared it to an American film (for the technique, no doubt), Dali, whose name I kept in the credits, wrote later what were [his] intentions, in composing the script: to expose the ignoble mechanisms of the present society. For me it was also - and above all - a film of crazy love [...].
About L'âge d'or
Gaston Modot as The Man

Lya Lys as the Young Girl

Caridad de Laberdesque as a Chambermaid and Little Girl

Max Ernst as the Leader of men in cottage

Josep Llorens Artigas as Governor

Lionel Salem as Duke of Blangis

Germaine Noizet as Marquise

Duchange as Conductor

Valentine Penrose as a Spirit
About Luis Buñuel
1929 : Un chien andalou (court métrage)

1930 : L'Âge d'or

1933 : Terre sans pain (Las Hurdes ou Tierra Sin Pan) (court métrage)

1936 : ¿Quién me quiere a mí?, coréalisé avec José Luis Sáenz de Heredia + producteur exécutif

1936 : ¡Centinela, alerta!, coréalisé avec Jean Grémillon + producteur exécutif

1937 : Espagne 37 (España leal en armas) (moyen métrage)

1947 : Le Grand Casino (Gran Casino)

1949 : Le Grand Noceur (El gran Calavera)

1950 : Los Olvidados (Les Réprouvés / Pitié pour eux)

1951 : Susana la perverse (Susana, demonio y carne)

1951 : Don Quintin l'amer (La Hija del Engaño)

2e adaptation par Buñuel de la pièce de Carlos Arniches.

1952 : Une femme sans amour (Una Mujer Sin Amor / Cuando los hijos nos juzgan)

1952 : La Montée au ciel (Subida Al Cielo)

1953 : L'Enjôleuse (El Bruto)

1953 : Tourments (Él)

1954 : Les Aventures de Robinson Crusoé (Aventuras de Robinson Crusoe)

1954 : On a volé un tram (La Illusión viaja en Tranvía)

1954 : Les Hauts de Hurlevent (Abismos de Pasión, Cumbres Borrascosas)

1955 : Le Fleuve de la mort (El Río y la Muerte)

1955 : La Vie criminelle d'Archibald de la Cruz (Ensayo de un Crimen)

1956 : Cela s'appelle l'aurore

1956 : La Mort en ce jardin (La Muerte en este Jardín)

1959 : Nazarín

1959 : La fièvre monte à El Pao (Los Ambiciosos)

1960 : La Jeune Fille (The Young One, La Joven)

1961 : Viridiana

1962 : L'Ange exterminateur (El Ángel Exterminador)

1964 : Le Journal d'une femme de chambre, d'après le roman éponyme d'Octave Mirbeau

1965 : Simon du désert (Simón del Desierto) (moyen métrage)

1967 : Belle de jour

1969 : La Voie lactée

1970 : Tristana

1972 : Le Charme discret de la bourgeoisie

1974 : Le Fantôme de la liberté

1977 : Cet obscur objet du désir
Luis Bunuel en 9 minutes - Blow Up - ARTE