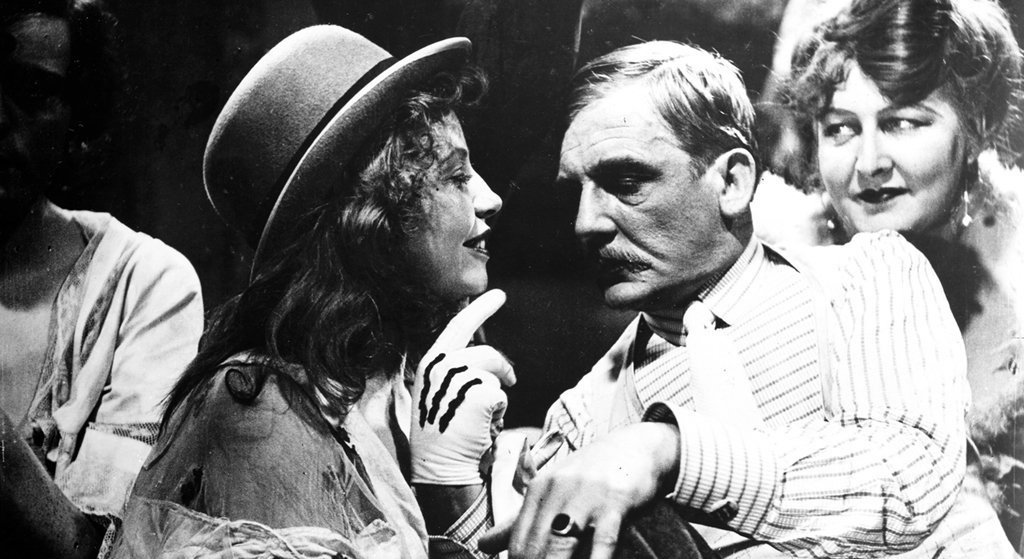 Location
Main screening room
Cycle
Pabst : Masks and Solidarities
On the initiative of the magazine Panorama-cinéma and in partnership with the Goethe-Institut, we present a substantial cycle of around twenty screenings dedicated to the filmmaker Georg Wilhelm Pabst. In addition to his legendary silent films (Loulou, La rue sans joie) and some new restorations, we have also unearthed several rarely shown films from our collections which testify to the richness of an all-out filmography, accompanying the tribulations of his time, for better or for worse. This major cycle is accompanied by a book co-published with Panorama-cinema, with the support of the Goethe-Institut.
L'opéra de Quat'sous
Directed by
Georg Wilhelm Pabst
Actors
Albert Préjean, Odette Florelle, Margo Lion
Genre
Comedy, musical, crime
Synopsis
In London, Mackie, the king of the underworld, marries Polly, the daughter of the king of the beggars, against the latter's wishes. Shot in two versions (French and German), sumptuously photographed, with superb songs, this film, which opposed Pabst to Brecht, offered Antonin Artaud a small role, that of a young beggar.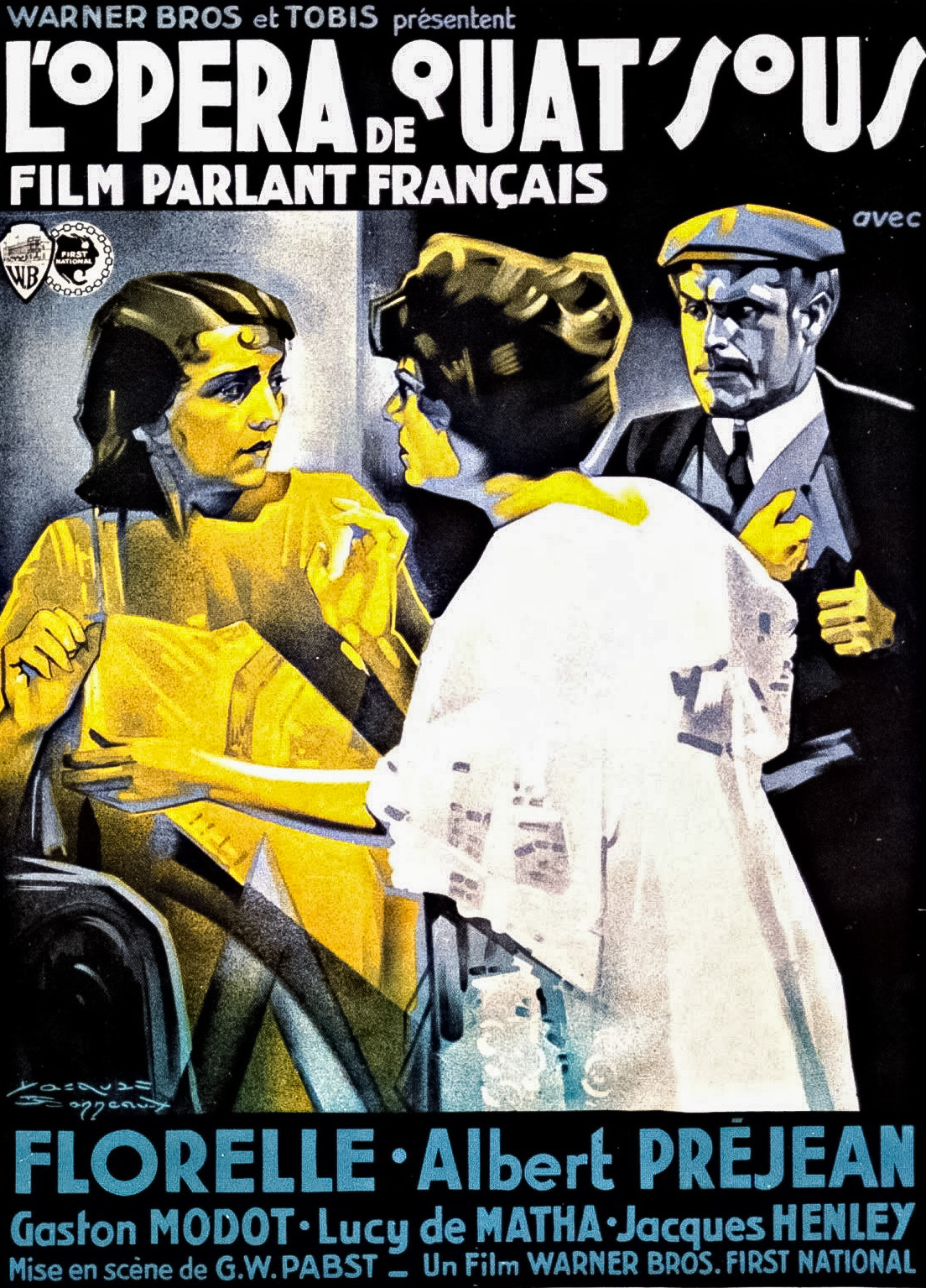 National Board of Review, USA 1931
Georg Wilhelm Pabst
Georg Wilhelm Pabst (1885 - 1967) was an Austrian director, screenwriter and producer. He started out as an actor and theater director, before becoming one of the most influential German-language filmmakers in the Weimar Republic.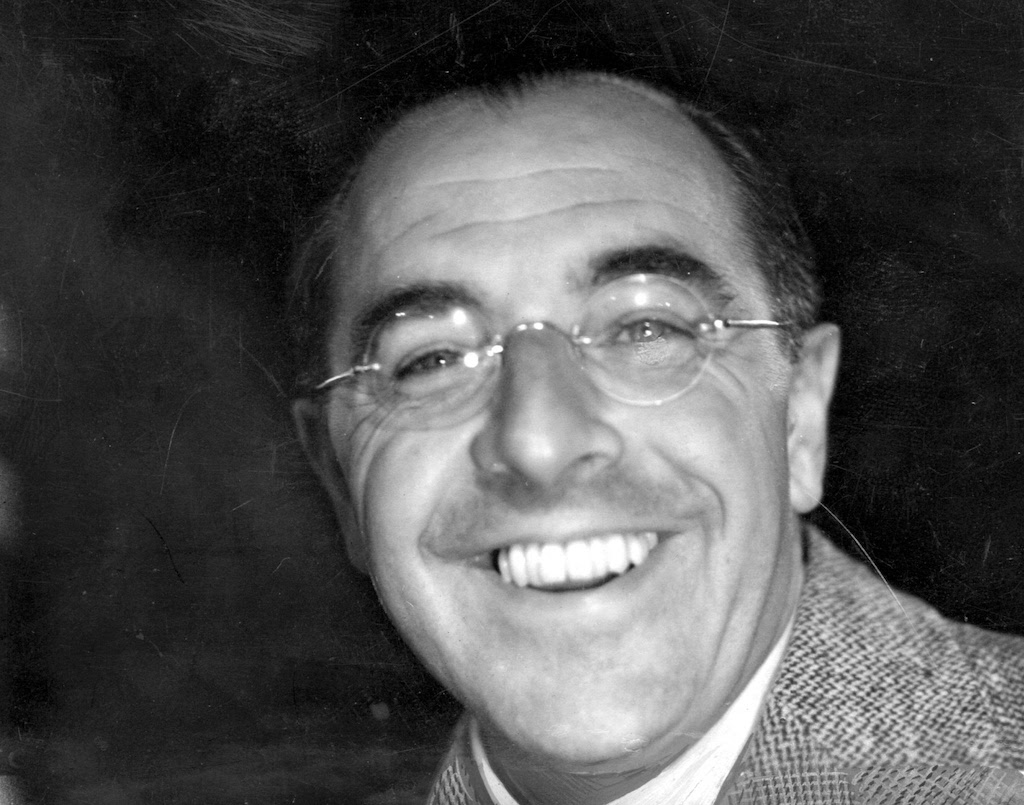 Le film, pour peu qu'on le mette aujourd'hui en parallèle avec M. le Maudit, de Fritz Lang, sorti la même année et drainant des métaphores similaires, peut souffrir de la comparaison. Il demeure que son succès éclipsa celui de la pièce, et qu'à bien des égards il doit être considéré comme une oeuvre-charnière.
(Le Monde, 1995)
Rudolf Forster : Mackie Messer

Carola Neher : Polly

Reinhold Schünzel : Tigre-Brun

Fritz Rasp : Peachum

Valeska Gert : Frau Peachum

Lotte Lenya : Jenny (as Lotte Lenja)

Hermann Thimig : Der Pfarrer

Ernst Busch : Der Straßensänger

Vladimir Sokoloff : Smith (as Wladimir Sokolow)

Paul Kemp : Mackie Messers Platte

Gustav Püttjer : Mackie Messers Platte

Oskar Höcker : Mackie Messers Platte

Krafft-Raschig : Mackie Messers Platte (as Kraft Raschig)

Herbert Grünbaum : Rusard
Georg Wilhelm Pabst
1956 : Durch die Wälder durch die Auen (as G.W. Pabst)

1956 : Rosen für Bettina

1955 : Es geschah am 20. Juli (as G.W. Pabst)

1955 : Der letzte Akt

1954 : Das Bekenntnis der Ina Kahr

1954 : Cose da pazzi

1953 : La voce del silenzio (as G.W. Pabst)

1951 : Ruf aus dem Äther (supervising)

1949 : Geheimnisvolle Tiefe

1948 : Der Prozeß

1945 : Der Fall Molander

1943 : Paracelsus

1941 : Komödianten

1939 : Jeunes filles en détresse

1939 : L'esclave blanche (as G.W. Pabst, supervision)

1938 : Le drame de Shanghaï (as G.W. Pabst)

1937 : Mademoiselle Docteur (as G.W. Pabst)

1934 : A Modern Hero (as G.W. Pabst)

1933 : Cette nuit-là

1933 : Du haut en bas (as G.W. Pabst)

1933 : Don Quixote (as G.W. Pabst)

1932 : The Mistress of Atlantis (as G.W. Pabst)

1932 : Die Herrin von Atlantis

1932 : L'Atlantide (as G.W. Pabst)

1931 : Kameradschaft

1931 : L'opéra de quat'sous (as G.W. Pabst)

1931 : Die 3 Groschen-Oper (as G.W. Pabst)

1930 : Skandal um Eva

1930 : Westfront 1918: Vier von der Infanterie (as G.W. Pabst)

1929 : Die weiße Hölle vom Piz Palü (as G.W. Pabst)

1929 : Le journal d'une jeune fille perdue (as G.W. Pabst)

1929 : Loulou

1928 : Abwege

1927 : Die Liebe der Jeanne Ney

1926 : Man spielt nicht mit der Liebe

1926 : Geheimnisse einer Seele

1925 : Die freudlose Gasse (as G.W. Pabst)

1924 : Gräfin Donelli

1923 : Der Schatz
1949 : Duell mit dem Tod (as G.W. Pabst)

1941 : Komödianten

1936 : White Hunter (uncredited)

1933 : Don Quichotte (screenplay)

1930 : Prix de beauté (Miss Europe) (adaptation)

1929 : Loulou (uncredited)

1923 : Der Schatz

1922 : Luise Millerin
1951 : Ruf aus dem Äther

1949 : Eins, zwei, drei = aus!

1949 : Geheimnisvolle Tiefe

1949 : Duell mit dem Tod

1933 : Don Quichotte

1933 : Cette nuit-là

1933 : Don Quixote

1930 : Moral um Mitternacht

1929 : Le journal d'une jeune fille perdue

1921 : Im Banne der Kralle