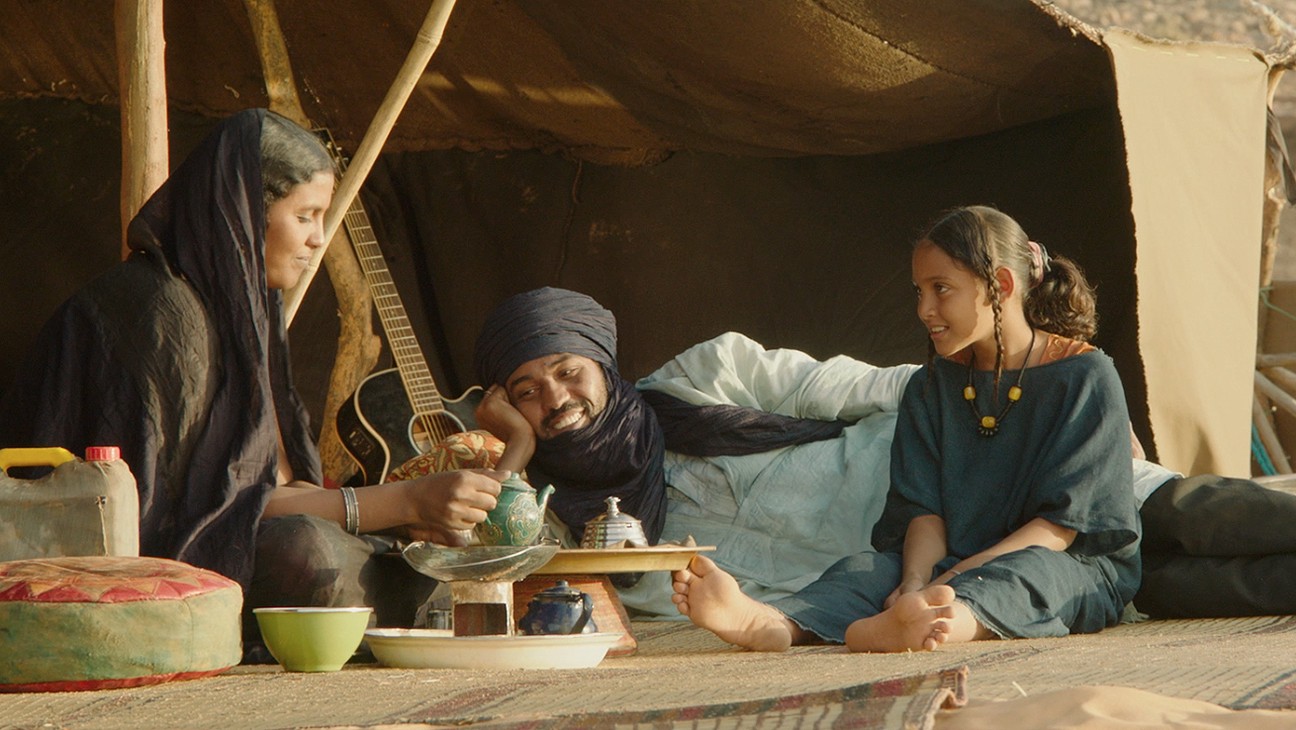 Location
Main screening room
Cycle
Black at the Camera is more than a hundred years of Black cinema. From silent cinema dealing with segregation to films testifying decolonization; from animation to documentaries, including historical reconstructions. The new generation is not left out, expressing itself with aplomb in all forms of contemporary cinema. This ensemble also reflects the work of Canadian and Quebec filmmakers, will be presented to the public at the Cinémathèque québécoise throughout the month of June.
This program, produced in collaboration with the Fabienne Colas Foundation and the Montreal International Black Film Festival, is also supported by the Cinémathèque Afrique of The Institut français.
Tickets will be on sale on May 20.
Timbuktu
Directed by
Abderrahmane Sissako
Actors
Ibrahim Ahmed, Abel Jafri, Toulou Kiki
Origins
Mauritania, France, Qatar
Synopsis
Not far from Timbuktu, now ruled by the religious fundamentalists, Kidane lives peacefully in the dunes with his wife Satima, his daughter Toya and Issan, their twelve-year-old shepherd.
In town, people suffer, powerless, from the regime of terror imposed by the Jihadists, determined to control their faith. Music, laughter, cigarettes, even soccer have been banned. The women have become shadows but resist with dignity. Every day, the new improvised courts issue tragic and absurd sentences.
Kidane and his family are being spared from the chaos that prevails in Timbuktu. But their destiny changes when Kidane accidentaly kills Amadou, the fisherman who slaughtered "GPS", his beloved cow. He now has to face the new laws of the foreign occupants.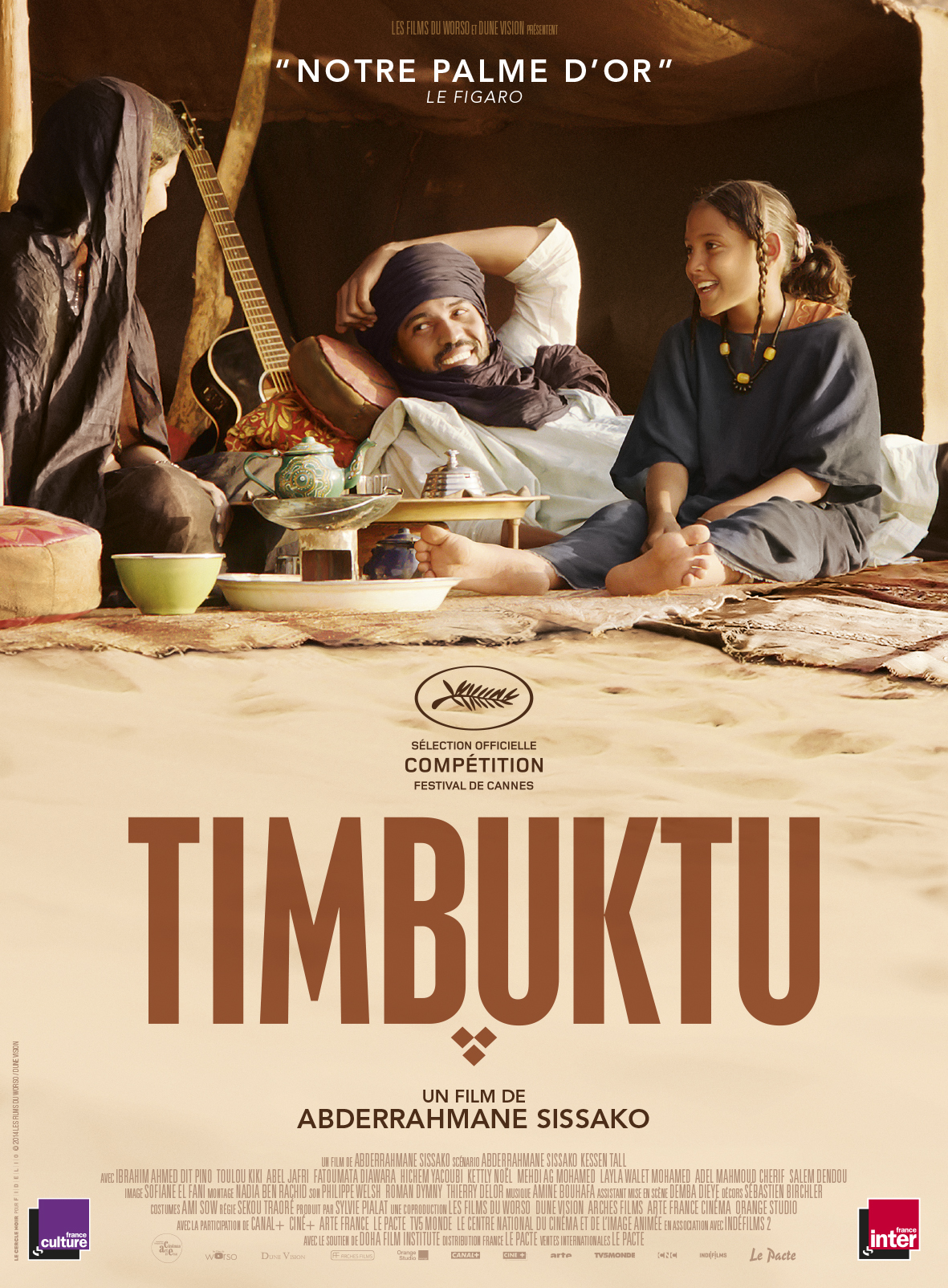 Festival de Cannes 2014
Prix du jury œcuménique et Prix François-Chalais (sélection officielle)
Festival international du film francophone de Namur 2014
Bayard d'or du meilleur film, Bayard d'or du meilleur scénario et Prix du jury junior
Grand prix de l'Union de la critique de cinéma
Union de la presse cinématographique belge
Prix Humanum 2014 de l'UPCB / UBFP
20e cérémonie des Prix Lumières
Prix Lumières du meilleur film et du meilleur réalisateur
Syndicat de la critique de cinéma 2014
Prix du meilleur film français
40e cérémonie des César 2015
Meilleur film

Meilleur réalisateur

Meilleur scénario original

Meilleure photographie

Meilleure musique

Meilleur montage

Meilleur son
Abderrahmane Sissako
Abderrahmane Sissako (born 13 October 1961) is a Mauritanian-born Malian film director and producer. His 2007 film Bamako received much attention. Sissako's themes include globalisation, exile and the displacement of people. His 2014 film Timbuktu was selected to compete for the Palme d'Or in the main competition section at the 2014 Cannes Film Festival and nominated for an Academy Award for Best Foreign Language Film. (Wikipedia)
Image : Télérama
A cry from the heart
Sissako diversifies aspects of the event into separate fictional scenes, and finds something more than simple outrage and horror, however understandable and necessary those reactions are. He gives us a complex depiction of the kind you don't get on the nightly TV news, even trying to get inside the heads and hearts of the aggressors themselves...
Ibrahim Ahmed dit Pino : Kidane

Toulou Kiki : Satima

Abel Jafri : Abdelkrim

Fatoumata Diawara : Fatou, the singer

Hichem Yacoubi : a djihadist

Kettly Noël : Zabou

Layla Walet Mohamed : Toya

Adel Mahmoud Cherif : Tombouctou's Imam

Salem Dendou : a djihadist
More on Abderrahmane Sissako
1989 : Le Jeu

1993 : Octobre

1995 : Le chameau et les bâtons flottants

1996 : Sabriya

1997 : Rostov-Luanda

1998 : La Vie sur terre

2002 : En attendant le bonheur (Heremakono)

2006 : Bamako

2014 : Timbuktu (ou Chagrin des oiseaux)