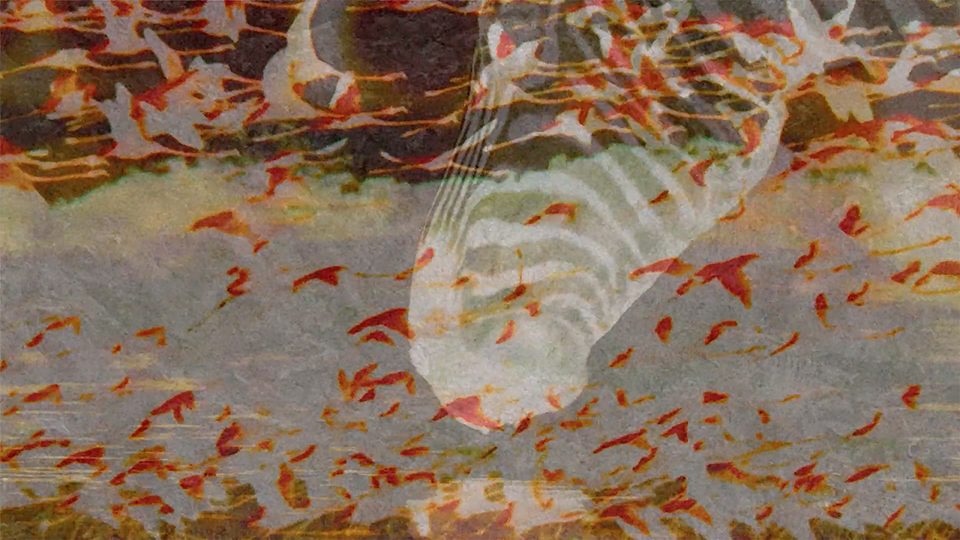 Location
Salle Norman-McLaren
Artist(s)
Sylvain L'Espérance
Cycle
Experimental Cinema Symposium: creating / performing / preserving
In 2015, we proposed a first symposium on experimental cinema. Under the same title (Creating/performing/preserving) we are using the same formula: inviting filmmakers, researchers and specialists in experimental cinema to discuss current practice, the history of the practice and its place in our programming. We also offer, in the evening, high-level programs that intertwine recent short films, performances and screenings of films from the Songs series by Stan Brakhage, in 8mm, kept in our collections.
June 9th - August 14th, 2022
Animal Macula is based on a colossal archaeological work, in search of occurrences of animal representations in the archives of world cinema of the last 125 years. From this considerable sum of shots, memorable or forgotten, Sylvain L'Espérance proposes a thoughtful montage from which emanates a complex and troubled, often violent, relationship between humans and animals. The installation presented at the Cinémathèque is a confrontation between this animal memory and the visitor-spectator.
Exhibition opening on June, 9 at 5:00 pm.
Nous assistons dans cette installation à une trajectoire, celle d'un spectateur créatif, attentif aux nombreuses itérations de l'animal à la merci ou captif de l'objectif de la caméra de cinéma. Bien entendu, les motivations de la chasse alimentent diverses variations des représentations animales dans les images qui sont montrées, mais ce qui fascine nettement dans le travail de montage et de recherche opéré de façon souvent virtuose par Sylvain L'Espérance a trait à l'accumulation, à la répétition jusqu'à une forme de compulsion du regard de l'œil humain, transmué en caméra. Ainsi l'animal, régulièrement, occupe la place de la proie.
Cette violence parfois insupportable pour le spectateur d'aujourd'hui confronté aux images qui ont nourri le cinéma pendant des décennies suppose aussi cette conséquence implacable, posée en creux sans pour autant qu'elle nous échappe : la disparition des espèces. Il y a dans la nature même du point de vue cinématographique cette objectivation de la vie dans sa dimension éphémère, d'autant plus vibrante lorsqu'elle apparaît ici, dénuée de ses effets narratifs au long cours, chaque plan de film emprunté faisant effet pour lui-même, dans sa juxtaposition avec d'autres, sans autres histoires à raconter que celles du cinéma.
La fin d'une aventure, donc, diverse et foisonnante ? Aux portes d'une sorte de désespoir, nous reculons d'un pas, nous revoyons des bouts de films connus, nous en revoyons d'autres inédits, oubliés, et ce qui se réanime sous nos yeux, par une alchimie mystérieuse, fait parfois l'effet d'un enchantement.
Quelque chose comme un code Morse silencieux : Entretien avec le réalisateur Sylvain L'Espérance autour de l'installation Animal Macula
Fruit de deux années de travail et du visionnement de plus de 500 œuvres, l'installation Animal Macula, présentée gratuitement à la Cinémathèque québécoise du 9 juin au 14 août 2022, est un miroir de notre cohabitation trouble avec le règne animal. Composée de fragments de 180 films qui traversent 125 ans d'histoire du cinéma, cette œuvre - initialement présentée comme un long-métrage - donne à voir la manière dont l'histoire du septième art porte en elle, comme un inconscient souterrain, les traces d'une disparition, les révélations d'une violence sourde. Pour Sylvain L'Espérance et pour sa collaboratrice Marie-Claude Loiselle, là où nous détournons le regard, le cinéma rend visible - souvent sans le vouloir - cette violence qui autrement demeurerait occultée. Ce que le cinéma nous dit tient peut-être en ces trois mots : « Je veux voir ».
Sylvain L'Espérance
Born in Montreal, Sylvain L'Espérance studied visual arts and cinema. He has made a dozen films that combine direct cinema and experimental research in a poetic exploration of reality. His films have been presented in major documentary festivals around the world. The film Intérieurs du delta won the Best Director Award at the Festival dei Popoli in Florence (2010) and Sur le Rivage du monde won the Grand Prize in the International Competition at the DOK.fest in Munich (2013). Combat au bout de la nuit was presented in the Panorama section of the Berlinale (2017). Animal Macula won the Special Jury Prize in the National Feature Film Competition at RIDM 2021.