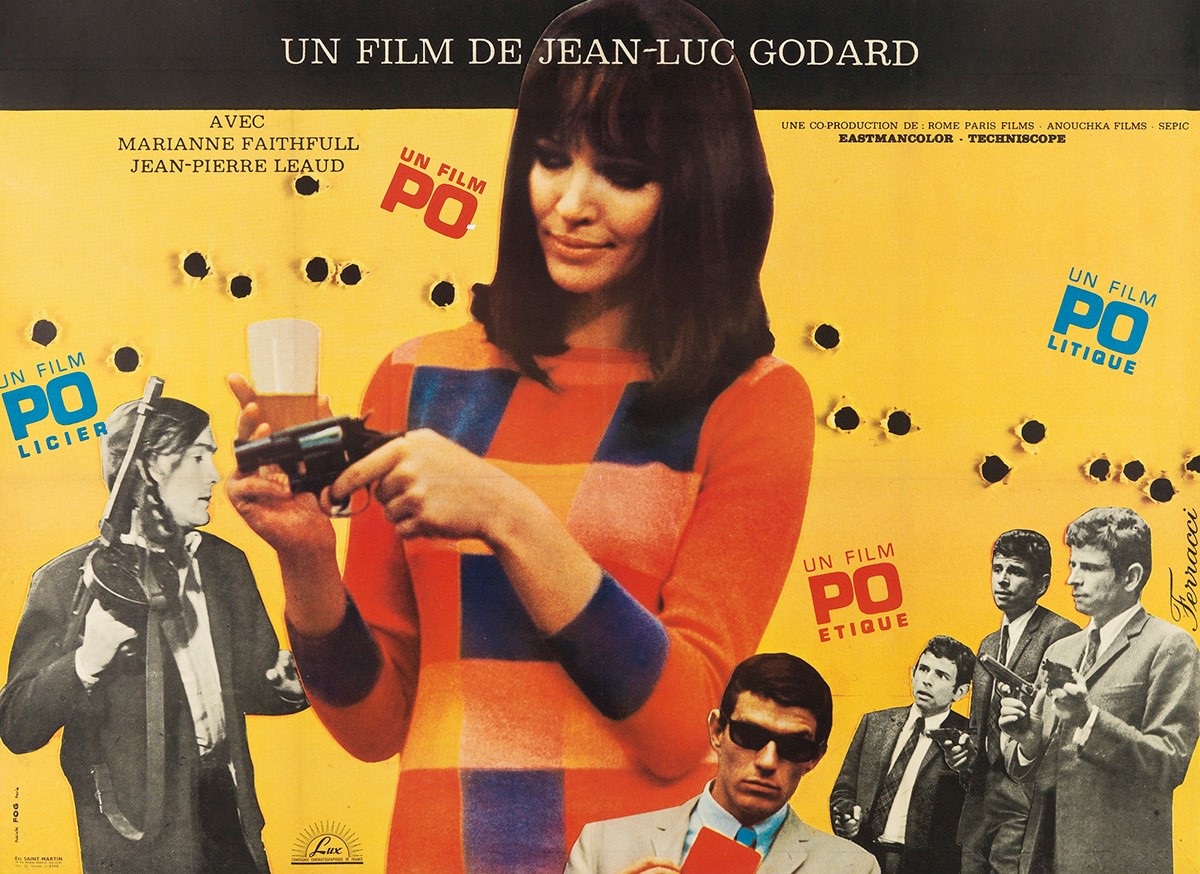 Location
Foyer Luce-Guilbeault
Cycle
Jean-Luc Godard, premières manières
In 1960, Jean-Luc Godard directed his first feature film and joined the nascent French New Wave, of which he would become the emblematic figure. In the following years, he shot nearly two films a year, drawing on his rich cinephilia to revolutionize cinema in his own way. Even the works that would later become his most famous and acclaimed were then received as a small earthquake, disconcerting more than one critic. From 1960 to 1965, from Breathless to Pierrot le fou, this first period will be called "the Karina years" but it is not a homogeneous whole; in fact, it already shows what will always characterize Godard: constantly reinventing himself, with as much playfullness as intelligence, refusing to freeze the cinema in any way whatsoever.
December 8th, 2022 - February 5th, 2023
In addition to the screenings devoted to Jean-Luc Godard this winter, we wanted to push further our tribute to the filmmaker with an exhibtion of the famous colors of his early years. Through the superb posters from the Roger Frappier collection, preserved by the Cinemathèque, we are revisiting films that have so much inhabited our collective and cinephile imagination.
Among these fifteen posters, we find almost all of Godard's work from the 1960s (and one film from a slightly later period). This selection is therefore an opportunity to embrace in a single glance this sumptuous decade, which remains the most famous, but also to see to what extent, from the very beginning, Godard refused to be the filmmaker of a single "way". Love affairs, political questioning and dialogue with America are all lines of flight that run through a moving work, always ready to branch out and refusing to be locked into the comfort of good finds.
This exhibition is also an opportunity to salute the often-obscured profession of poster artist, and to take our hats off to the authors of these iconic posters: their formal discoveries are, so to speak, inseparable from the "image" we have of the French New Wave and, to a certain extent, of its era. With intuition and style, they anchor the modernity of their subject: the dynamic structure chosen by Clément Hurel for Breathless seems to respond to the innovative editing of the film; René Ferracci begins a small visual revolution with his practice of collage; the elegant illustrations of Georges Kerfyser bridge the gap with the tradition of the painted poster... These great names of the profession as well as all the artists exhibited here - Chica, Jean Barnoux, Guy Bourduge and Guy Jouineau, Jean-Michel Folon, Tito Topin, Jacques Vaissier - compete with each other in terms of inspiration, testifying to the creativity that surged with this French New Wave.