Program

Les incontournables : 5 x la vie en Technicolor

Apolline Caron-Ottavi

July 22nd, 2022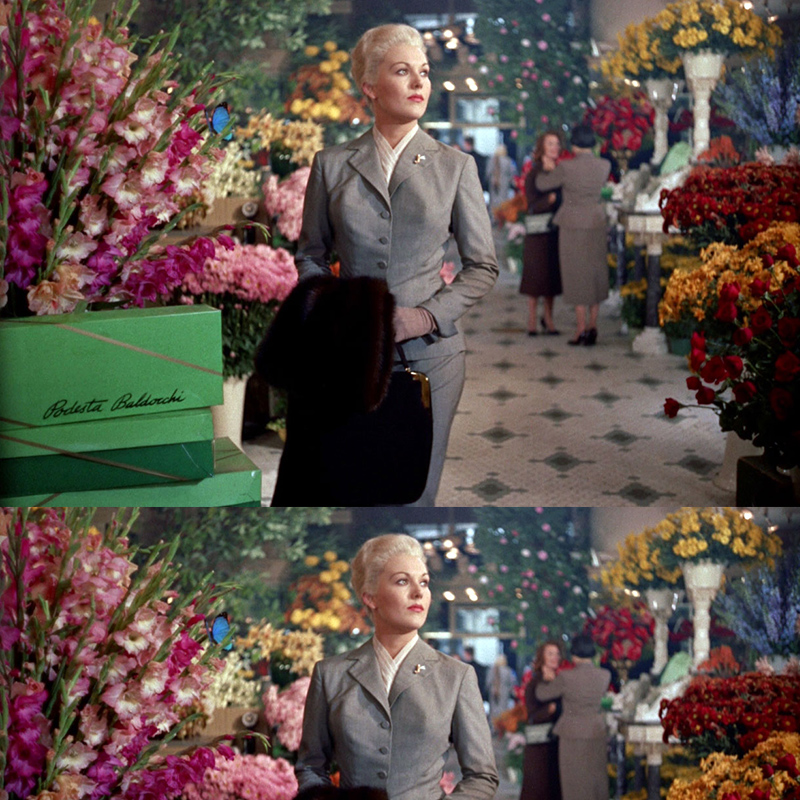 Si les tentatives de coloriser les films ont existé depuis les débuts du cinéma, la couleur prend un nouvel essor à Hollywood avec les nouveaux procédés des années 1930. Bien plus qu'un simple vernis, elle devient un outil majeur de la mise en scène et raconte ses propres histoires…
1. Gone With the Wind
Bien qu'il soit loin d'être le premier film en Technicolor, dont le révolutionnaire procédé à trois bandes chromatiques est mis en place et utilisé dès le début des années 1930, Gone With the Wind (Victor Fleming, 1939) en est une des démonstrations les plus épiques. Et la couleur est déjà ici une ligne de récit et un personnage à part entière. Dans une mémorable scène du bal, Rhett Butler fait scandale en invitant Scarlett O'Hara à danser alors qu'elle est en deuil – et donc habillée tout de noir. Magnifique idée chromatique : dans cette séquence orgiaque de couleurs, où les tenues des femmes sont toutes plus chatoyantes les unes que les autres, on ne voit plus que Vivien Leigh dans sa robe de jais, telle un sublime oiseau de mauvais augure. Cette scène annonce aussi un phénomène au long cours : la couleur, au cinéma, sera souvent une affaire de femmes.
2. The Barefoot Contessa
Les années 1950 sont peut-être celles où la couleur a régné avec le plus d'éclat, dans l'univers extravagant, loin de toute volonté réaliste, du cinéma hollywoodien de l'époque. En témoigne The Barefoot Contessa (J.L. Mankiewicz, 1954) dans lequel Ava Gardner, en Maria Vargas toute droit sortie d'une Espagne exotisée, ne cesse de briller par les couleurs qu'elle arbore. Incarnation moderne de la Galathée de Pygmalion (la référence au mythe est explicite), Maria semble prendre vie aux yeux des hommes – malgré elle et de façon incomplète, c'est tout le sujet du film – grâce aux fourrures, tenues, robes et voiles blancs, jaunes, roses et turquoises qui se succèdent dans un défilé incessant de teintes éblouissantes. Encore une fois, cela inclut le noir qui, dans un monde en couleur, permet des contrastes spectaculaires : ici par l'entremise inattendue d'un maillot de bain, absorbant la lumière, attirant les regards et criant la colère de celle qui le porte.
3. Johnny Guitar
La même année paraît un chef d'œuvre du western en général et de Nicholas Ray en particulier : Johnny Guitar. La particularité de ce film-ci est d'avoir été tourné en Trucolor, procédé moins coûteux que le Technicolor et de fait moins performant. Mais le film compose à merveille avec sa palette plus restreinte, la transformant en atout. L'uniformité des tons ocres et ternes traduit le caractère poussiéreux et mesquin de la petite ville de l'Ouest, dont les habitants semblent prêts à ostraciser le premier qui sort du rang. Les couleurs éclatantes – rouge, fuchsia, jaune – sont réservées à Vienna (Joan Crawford), propriétaire de saloon émancipée, libérée et jalousée par sa rivale Emma (Mercedes McCambridge). L'opposition des deux femmes prend des proportions épiques, incluant par le spectre chromatique, jusque dans un affrontement final très symbolique entre une Emma tout de noir vêtue et une Vienna portant une aveuglante robe blanche.
4. Written on the Wind
Le grand maître du mélodrame, Douglas Sirk, n'a jamais exploité la couleur avec autant d'exubérance et d'expressivité que dans son chef d'œuvre Written on the Wind (1956). Pour ainsi dire hystérique, la couleur marque le territoire des Hadley, famille enrichie par le pétrole, mais dont les héritiers (Robert Stack et Dorothy Malone) sont pour le moins perturbés. Pour combler leur détresse affective, les Hadley exhibent leur richesse en s'entourant d'objets aussi coûteux que bigarrés. Des extravagants paniers de fruits et bouquets de fleurs qui occupent les tables à la décapotable jaune vif, du téléphone rouge sang à l'inoubliable déshabillé rose de Dorothy Malone, le film est une débauche de couleurs agressives prêtes à dévorer les personnages sains d'esprit et plus modestes, interprétés par Lauren Bacall et Rock Hudson, pris au piège de l'assortiment envoûtant, enivrant et étourdissant de la cage dorée des Hadley.
5. Vertigo
Enfin, impossible de ne pas dire un mot du Vertigo d'Alfred Hitchcock (1958), dans lequel la couleur est un élément pictural savamment choisi : au sein même du récit, elle vient parfaire la composition de tableaux sciemment construits pour ensorceler Scotty (James Stewart). Lorsque ce dernier aperçoit Madeleine (Kim Novak) pour la première fois, elle est une véritable apparition dans sa robe vert émeraude qui se découpe sur le rouge des tentures du restaurant. Plus tard, quand Scotty tente à son tour de recréer à la perfection l'image fantasmatique qui le hante, il cherche le gris exact du tailleur et l'impeccable blond cendré de Madeleine, qui viennent remplacer l'apparence fardée et la chevelure rouquine de son sosie Judy. Dans sa mise en abyme de la mise en scène comme un art à la fois obsessionnel et magique, capable de créer des images dont on s'éprend pour l'éternité, Hitchcock offre à la couleur un rôle de premier plan.